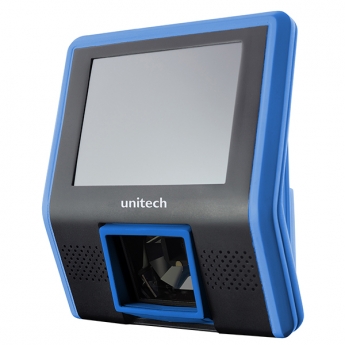 PC88
Price Checker Kiosk (1D/2D)
The Unitech PC88 is a color-screen price checker with a 5.7 inch color display. The PC88 provides the price verifying functionality for customer self-service, allowing store employees to do more.

• Spacious 5.7-inch screen allows for easy reading

• Multiple ways to connect through WLAN, Ethernet, Power-over-Ethernet

• Multimedia support with speakers for mobile coupons, video playback
With the 5.7 inch color screen, the PC88 has a built-in broadcasting function with the ability to play multi-media formats (including picture and video), which can easily display store promotions and advertisements to the customers.
Features
• 5.7-inch color screen price verifier
• Multimedia support with high quality speakers
• Compact dimension to easily deploy virtually anywhere in the store
• Digital promotion image/video media (Optional by project base)
• Rotatable scanner window for installation
• Comprehensive networking options: IEEE 802.11 A/B/G/N 2.4GHz
• WLAN (Linux only) / Ethernet / POE (Power Over Ethernet)
• Entry/Exit-Gate control function support (optional) / RFID support (optional)
• Database system applicable to PC Server Edition
• Browser display technology for user friendly access to remotely diagnose, monitor and troubleshoot devices
Powerfully Efficient
The PC88 price checker supports remote web configuration management; allowing the IT Manager to deployed store-wide updates at anytime at any location. The PC88 comes equipped with a rotatable scanner window, providing flexibility to adjust the angle of the barcode scanner; which comes in either a Omni-directional 1D Laser or 2D Imager option.
Model Numbers
SKUs

PC88-1UCRE0-SG:
PC88, Laser Scanner, CE 6.0, Ethernet, Red

PC88-2UCRE0-SG:
PC88, 2D Imager Scanner, CE 6.0, Ethernet, Red
System Features
Processor

Super RISC Processor 400MHz

Operating Platform

Standard Linux 2.6 Kernel or Win CE 6.0

Memory Flash

256 MB

Memory RAM

128 MB
Output Media
Display

5.7" Touch screen

Brightness

400 nits

Resolution

640 x 480 pixels (65.535 colors)

Graphics Supported

PNG, JPEG, GIF, BMP

Audio

Audio Ports:
WAV, WMA, MP3

Headphone:
3.5 mm standard jack
Power Requirements
Power Supply

+12 VDC 10% / 1.5A

Power Consumption

Nominal: less than 1000mA @ 12VDC
Physical
Dimensions

7.6 in. H x 6.9 in. W x 3.3 in. D
193 mm. H x 175 mm. W x 84 mm. D

Weight

2 lbs. / 907.2 g

Mounting Options

Wall mount with 2 screws compatible to SG-15 and VESA 75mm mounting bracket
Network Interface
Wired LAN

Ethernet: 100MB Base-TX / 10MB Base-TX
Power over Ethernet IEEE 802.af optional
Two network LED indicators in USB Wi-Fi stick

Wireless LAN

Through USB Wi-Fi stick
802.11 B/G/N 2.4 GHz

Encryption Protocols

WPA, PSK and WPA enterprise security
Data Input
Scan Options

1D Laser Omni-Directional or 2D Imager

Symbologies Supported

1D Laser Omni-Directional:
EAN/UPC/JAN + Add-on, ISBN, Code 128, EAN 128, Code 93, Code 39, Code 32, Codabar, Interleaved 2 of 5, MSI-Plessey and GS1 DataBar

1D Laser:
Visible laser diode 635 nm
Scan pattern: 6 direction scan field, 6 lines
Scan rate: 2000 scans/sec
Up to 300 mm @ UPC/EAN 100%, PCS 90%

2D Imager:
1D supported: EAN/UPC, Australian Post, Aztec, BPO, Canada Post, Dutch Post, EAN.UCC Composite, Interleaved 2 of 5, Japan Post, MSI Code, Planet, Plessey Code, Postnet, GS1 Databar, Standard 2 of 5, Telepen, TLC 39
2D codes: Datamatrix, Matrix 2 of 5, Maxi 2 of 5, Micro PDF417, PDF417, Maxicode, QR Code

2D Imager:
Visible red light 650 nm
Scan rate: 200 scans/sec auto adaptive
56 images/sec in 2D mode
Resolution: 752 x 480 pixels, 256 gray levels

Scan Pattern Orientation:
Adjustable over an angle of 30° and locked
with steps of 5
Environmental
Operating Temperature

0° - 40°C (32° - 104°F)

Storage Temperature

-20° - 60°C (-4 - 140°F)

Humidity

5% - 95% RH (non-condensing)
Regulatory Approvals
Regulatory

Electrical safety: UL-CE EN 60950
Laser safety: CDRH 21 CFR part 1040; IEC825 Class 1-EN60825-1
EMI/RFI: CE EMC 89/336/EEC
Data Ports
SD Card Slot

x1

USB 2.0

x2 (back compartment)
x2 (side compartment)

LAN Port 10/100 MB

x1

RS-232 Port

x1 (+5V DC Power)

Power-Over-Ethernet Module

Optional

Entry / Exit Gate Control
Function GPIO

Optional (2-pin)