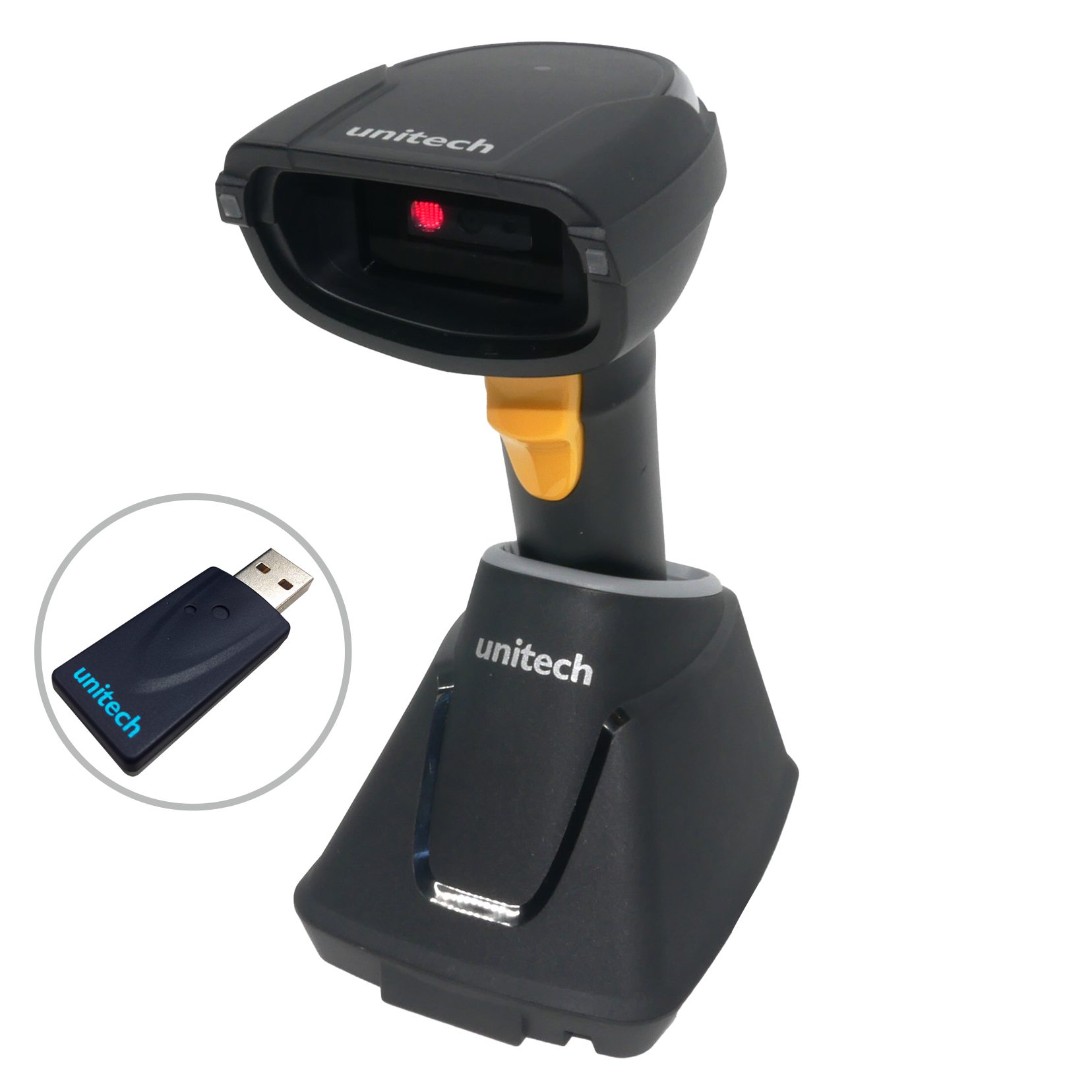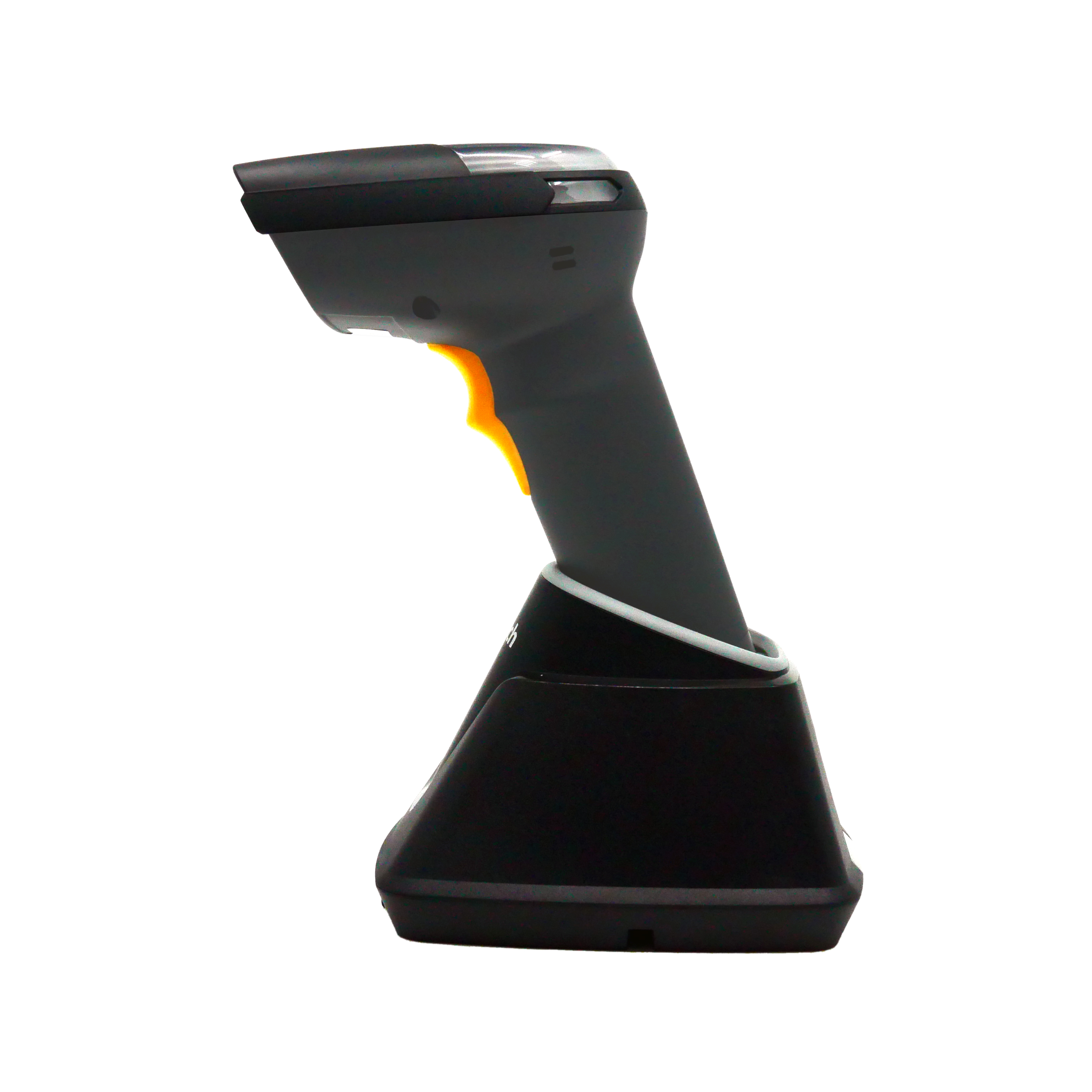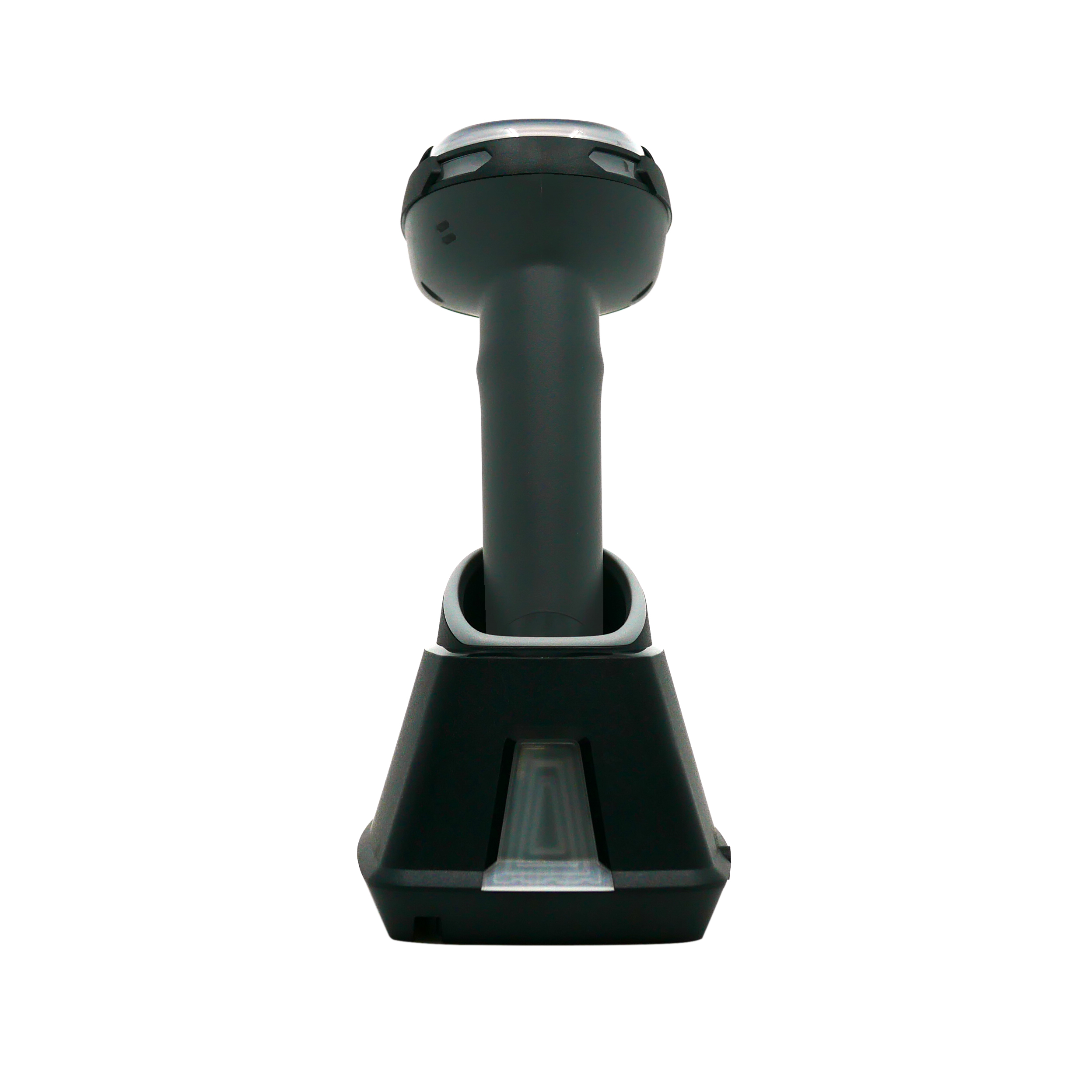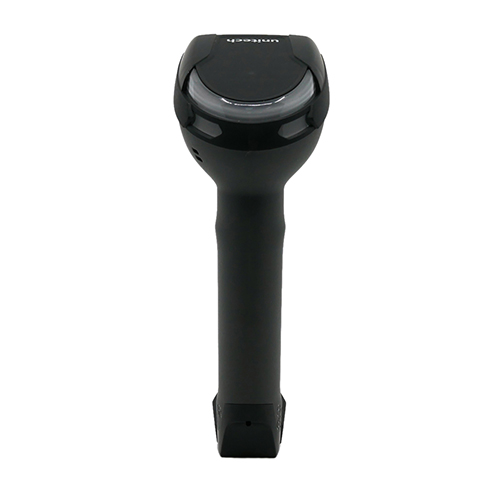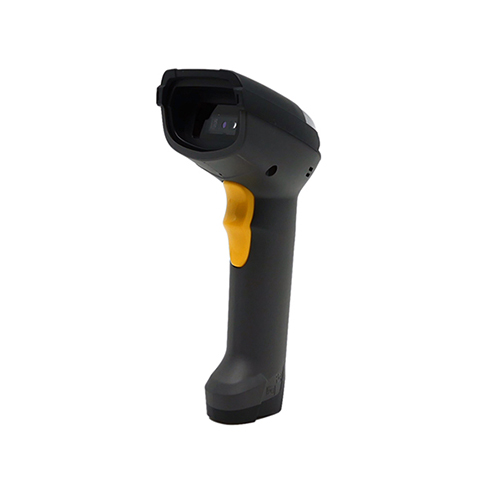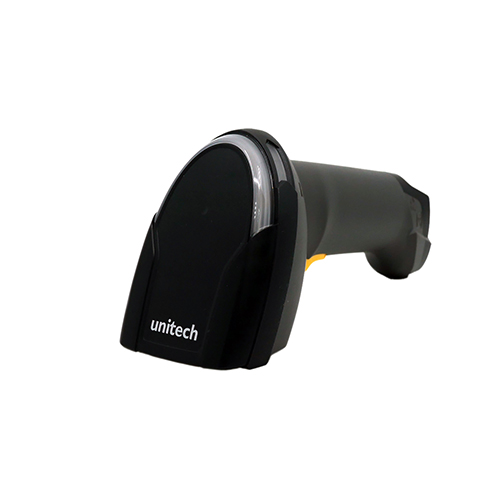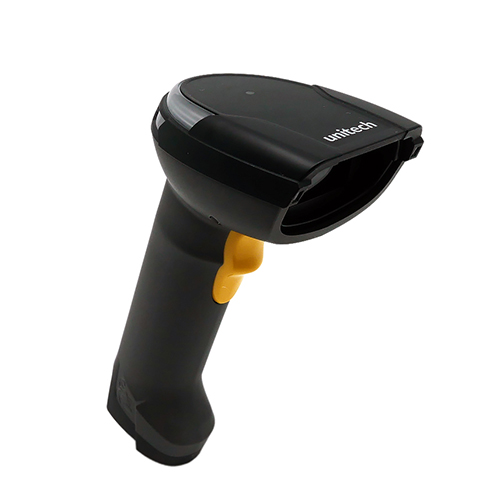 With reliable 2D barcode scanning performance, MS852P can read most 1D/2D barcodes, even when it comes to poorly printed or damaged ones. Special symbology such as OCR code is also supported. With its durable design and quick pairing dongle, MS852P makes users' daily tasks much easier.
Features
• Reads all major 1D and 2D barcodes on mobile screens, even damaged or poorly printed barcodes
• Rugged design with IP42 and 2.1m drop protection
• Easy plug-and-play function with a dongle
• Long-life and durable trigger design
• Wireless transmission range up to 10m in the line of open sight
• Long battery life up to 15 hours by a fully charged battery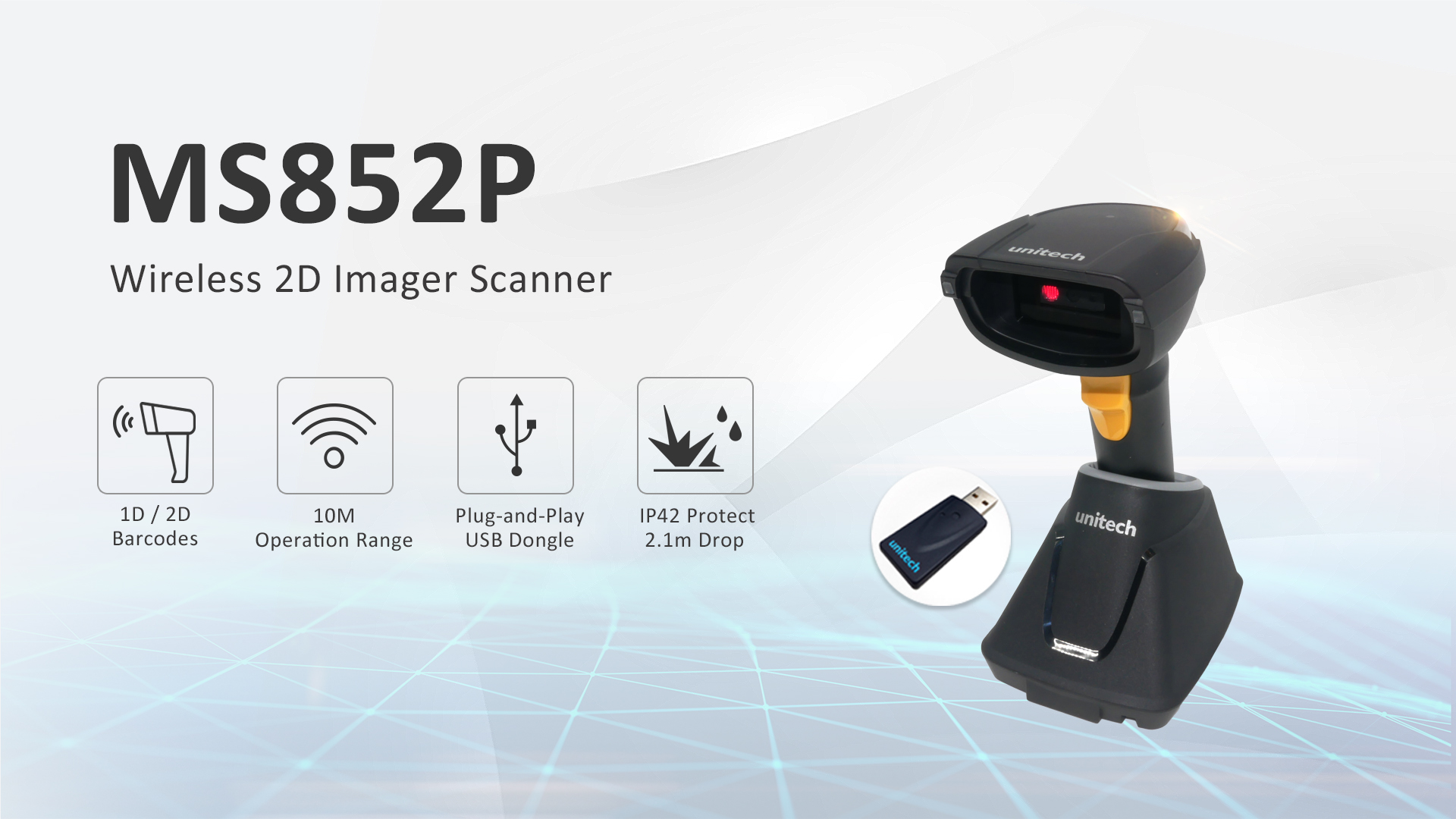 High Level of 2D Barcode Scanning Performance

MS852P can read most 1D/2D barcodes, and supports OCR symbology which can be applied in reading ID numbers on passports. Even when the barcodes are poorly printed or damaged, MS852P is able to read them. From scanning barcodes on test tubes to inventory checking, its reliable 2D scanning performance makes it an ideal tool for the hospital, warehousing, manufacturing and government applications, and help users to optimize overall workflow and enhance working efficiency.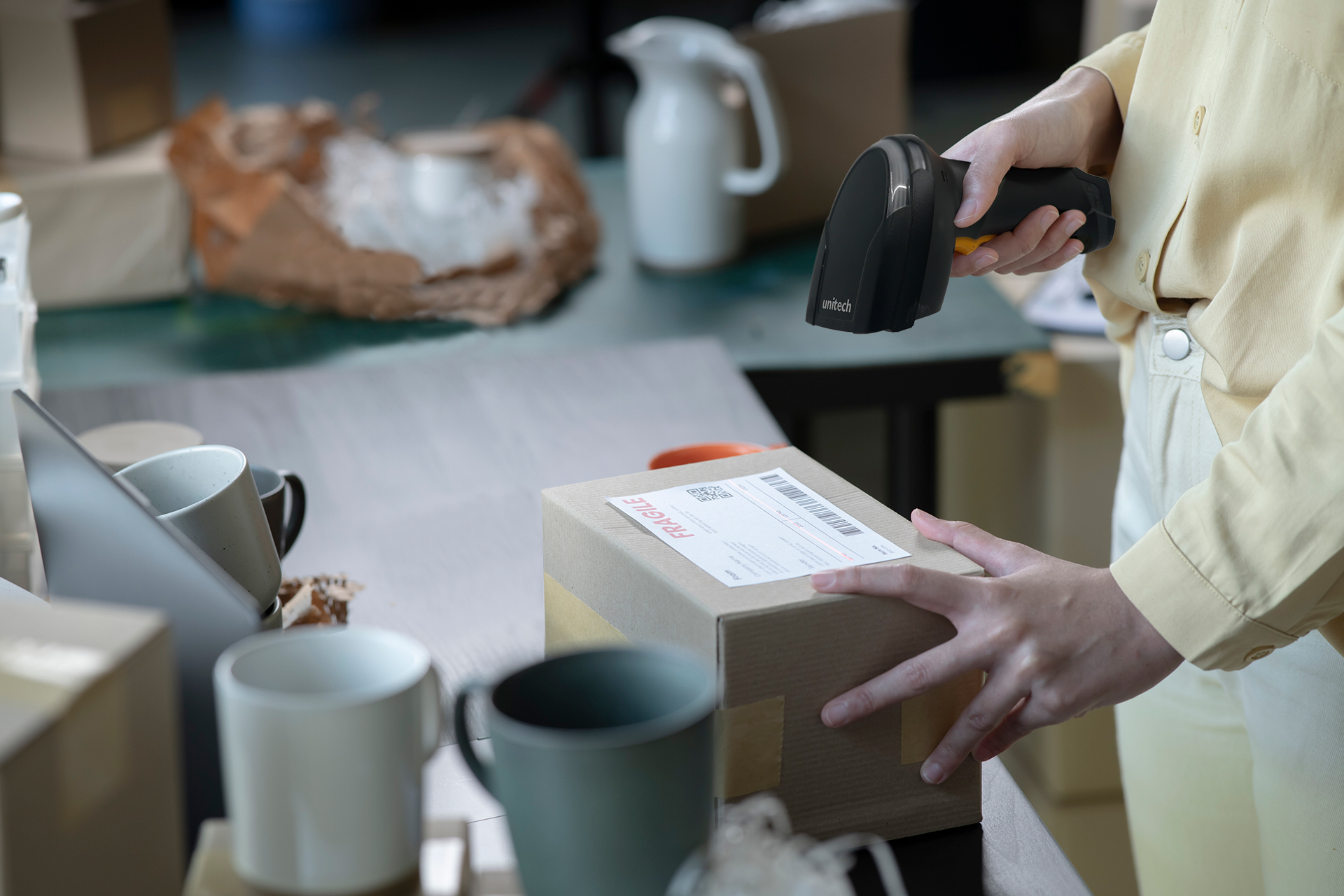 1D / 2D


Barcode Scanner

1280 x 800 pixels




High resolution
Move with Flexibility

Comes with a dongle, the easy plug-and-play function of MS852P enables quick pairing with laptop or PCs, and allow users to move freely without restrictions. Besides, it allows users to transmit data to the host from up to 10 meters from the base.

10 meters




Transmission range

Dongle
Easy Plug-and-Play

Durable and User-friendly Design

Combined with a 2.1m drop sustainability onto concrete and IP42 protection, MS852P allows users to work with ease. The replaceable lithium-ion battery which is charged via cradle guarantees 15 hours of operation time. More than that, the built-in long lifecycle trigger key ensures 10 million times of pressing.

IP42
Certification

2.1m


Drop Protection

TAA Compliant Barcode Scanners




TAA refers to the Trade Agreements Act, which is a law that was passed for the purpose of making international trade more open and fair. One of the main requirements of the TAA is products purchased by the United States government can only be made in the U.S. or by a designated country such as Taiwan.

Founded in 1979 in Taiwan, Unitech is a global provider of AIDC technologies with over 40 years of experience. Our factories were built in Taiwan, and all the SMT and assembly are done in Taiwan as well. We offer a series of quality barcode scanner products to comply with the Trade Agreements Act (TAA) for U.S. government GSA (General Services Administration) Schedule contracts

Optical & Performance

Sensor

CMOS Sensor, 1280 x 800 pixels

Aiming Element

655 nm Laser

Illumination

One (1) Hyper Red 660 nm LED

Skew Angle

±60°

Pitch Angle Sensor

±60°

Roll Angle

360°

Optical Resolution

3 mil (code 39), 5 mil (code128), 5 mil (PDF417)

Depth of Field

Symbology/Resolution Near/Far
Code 39: 3 mil 7.6 cm to / 14.7 cm
Code 128: 5 mil / 5.8 cm to / 24.9 cm
PDF417: 5 mil / 7.6 cm to / 20.1 cm
PDF 417: 6.67 mil / 6.3 cm to/ 25.7 cm
DataMatrix: 10 mil / 5.3 cm to / 27.8 cm
UPCA (100%) / 4.1 cm to / 63.2 cm
Code 128: 15 mil / 6.1 cm to/ 70.6 cm
Code 39: 20 mil / 4.1 cm to / 91.7 cm
QR Code: 20 mil / 2.8 cm to / 44.5 cm

Communication

Radio

Unlicensed 2.4GHz

Wireless Coverage

10M( line of sight)

Host Interface supported

USB(via dongle)

Mechanical

Dimension

87.8 L x 71.6 W x 177.7 H (mm)

Weight

213g without cradle

Trigger Switch Life

10 million times

Cradle Dimension

120.6 L x 88.7 W x 86.0 H (mm)

Symbologies

1D Barcodes

Code 39, Code 128, Code 93, Codebar/NW7, Code 11, MSI, UPC/EAN, I 2 of 5, Korean 3 of 5, GS1 DataBar, Base 32 Italian Pharma)

2D Barcodes

PDF417, Micro PDF417, Composite Codes, TLC-39, Aztec, DataMatrix, MaxiCode, QR Code, Micro QR, Chinese Sensible (Han Xin), Postal Codes. Supported OCR Symbologies: OCR-A, OCR-B

Data Formatting

Prefix, Suffix, Code ID, Reformatting Date

Electrical

Operation Voltage

DC 3V to 5V

Current Consumption

Operation mode:80.6mA ,
Standby mode:14.6mA

Indicator

LED & Beeper & Vibrator

Battery Type

Lithium-ion

Battery Capacity

2850 mAh charged via the cradle

Battery Charging time

7 Hours

Operating Time

15 Hours

Environmental

ESD Protection

Functional after 8K Contact and 15K Air

Mechanical Shock

2.1M onto concrete (scanner only)

Operating Temperature

-10°C to 50°C (14°F to 122°F)

Storage Temperature

-40°C to 70°C (-40°F to 158°F)

Relative Humidity

95% non-condensing

IP Rating

IP42

Accessories

Accessories(Optional)

■ Battery (PN# 1400-900055G)
■ Dongle (PN# 5500-900086G)
■ USB Cable for cradle (PN#1550-905920G)
■ Cradle (PN# 5000-900104G)
■ Power Adaptor (PN# 1010-900058G)

Regulatory Approvals

Regulatory Approvals

CE, FCC, BSMI, VCCI, TAA Compliant

What comes in the box

The standard package contents

■ MS852P with battery
■ Dongle
■ USB Cable for cradle
■ Cradle
■ Power Adaptor