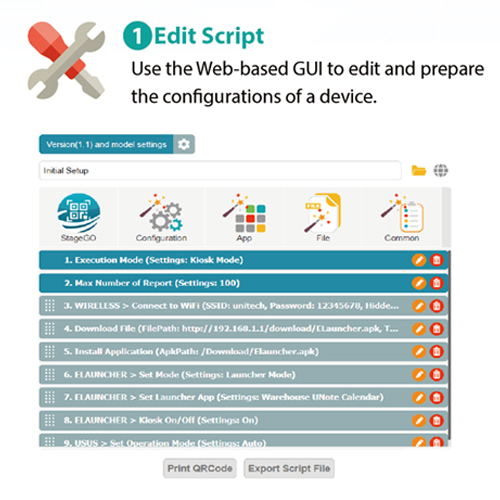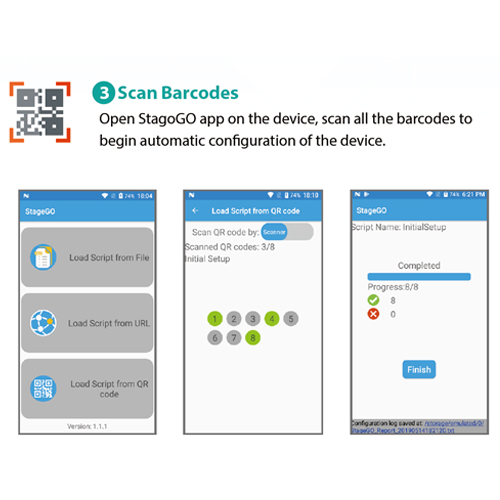 StageGO is a barcode-based device staging solution from unitech. StageGO helps IT admins to swiftly set up a device by just a few barcode scans, or with the 1-click auto-configuration feature.
Features
• Swift and Effortless Device Staging for Unitech Android Mobile Devices
• Device Staging Becomes More Accessible, Time-Efficient, and Secure
• Complete Device Control at your Fingertips
• Data Compression
• Security and Privacy
• No Installation Required
Swift and Effortless Device Staging for Unitech Android Mobile Devices

One of the most tedious jobs of setting up tens of hundreds of devices is to repeatedly perform USB plug in and outs, file copying, and tap through dozens of onscreen menus just to setup one device. StageGO is here to help simplifying those work by allowing IT administrator to use the barcode scanners inside unitech devices, and with a few simple barcode scans, a device is ready to go to work.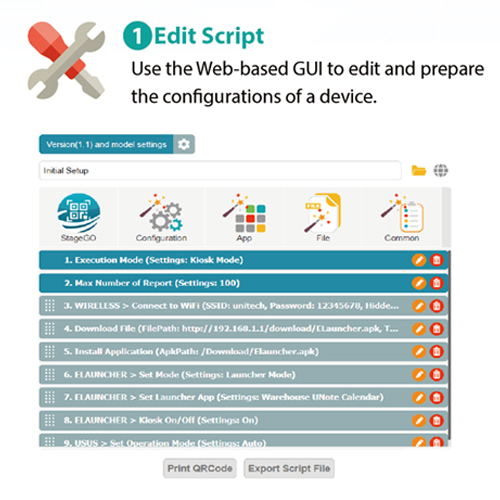 Device Staging Becomes More Accessible, Time-Efficient, and Secure
StageGO opens the opportunity to stage devices by following 3 easy steps: Edit, Print, and Scans. IT admins can use StageGO's web-based Configuration Script Editor and the Barcode Generator to generate the configuration barcodes, and then send the barcode printouts to the users in the fields. The field users can effortlessly open the StageGO application and scan all the barcodes on the printout to configure their devices with ease. The StageGO application shows visual cues to indicate the next barcode to scan in the sequence, so that no one will ever get overwhelmed and lost count of the scans. The StageGO barcodes and script files are always encrypted to prevent sensitive data in the configuration such as passwords, account name, or web links from being exposed to the prying eyes: a piece of mind for the IT administrators.
Complete Device Control at your Fingertips
StageGO supports a variety of configuration commands, and they are always being expanded to meet your needs. Commands from the general Android Settings such as WiFi connections, Language , Screen Timeout, and Security settings etc, or to the unitech specific configurations such as Autoexec, MoboLink, ELauncher, and Software Update etc, and finally commands for script ow control such as Pause and Wait for App Launch etc. All the commands are available at your fingertips and you are welcome to show your creativity mix-and-matching the commands to suite your needs.

Another Enterprise-Ready feature of the StageGO application is that the ability to run in different Operation Modes. Different corporate policies may require that the device staging application to run as kiosk application or to run silently when configuring a device. StageGO application can also be setup to auto-run and re-run a configuration script file every time the app is launched, make the device configuration is always up-to-date with only just 1-click of the StageGO application icon.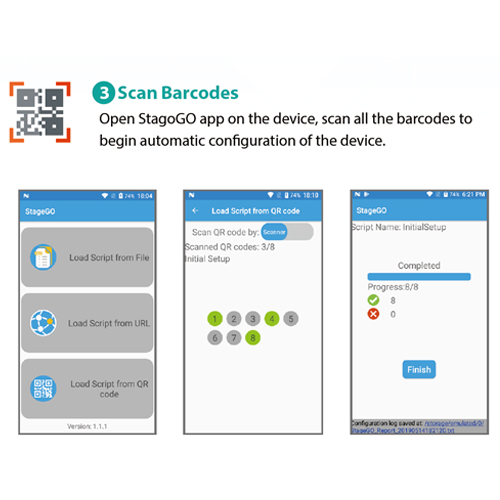 Data Compression
A barcode is designed to contain only a finite amount of information. One of the StageGO's technological highlight is that the script commands are compressed and optimized in a way that only the least amount of barcodes are required to represent the script. The device users who are scanning the staging barcodes on a mobile device would be pleased to know that they are working under a streamlined and optimal work ow.
Security and Privacy

Another highlight of StageGO is how it tries to combat the issue of privacy with a typical barcode when anyone can pick up a barcode scanner to reveal the content of the barcode in clear text. StageGO takes the industrial standard strong AES encryption that often seen in the finance applications, and employs onto the StageGO scripts and barcodes. The IT administrators could then feel comfortable in placing corporate sensitive information such as accounts, passwords, and web links etc. into the script, and knowing that those sensitive information will be almost impossible to be cracked.

For an extra layer of security and privacy, the web-based StageGO Script Editor also stores no user and script data on our web servers. When you have an unfinished script in the editor, export the script to an encrypted script file onto your own storage space. Safely store the script itself with you until the next time when you are ready to resume working on it, then import the script back into the web-based StageGO Script Editor to continue editing.
No Installation Required
With the StageGO web services provided by unitech, there will be no software to install and it supports RWD designs for IT admins to work on the script with both desktop and mobile environments. In addition, unitech mobile devices that support StageGO will have the application built into the firmware, ready to work when the device is boot up from factory.
StageGO Specification
Supported Browsers
Tested with Chrome 70 and later
 
Supported Android Platforms
Selected unitech mobile devices with Android 5.0 or later. For a list of supported
devices please refer to the StageGO User Manual.
 
Supported Commands
StageGO, Application Data, Autoexec, Date & Time, ELauncher, Location, MoboLink,
Programmable Keys, ScanService, Sound, System Settings, Touch Screen, Software
Update, Vibrator, Wireless, Application Clear Data, Enable/Disable Application,
Install Application, Execute Application, Uninstall Application, Update Application,
Download File, Create File, Copy File, Delete File, Rename File, Move File, Unzip File,
Factory Reset, Reboot, Pause, Wait for App Launch, Self Update.