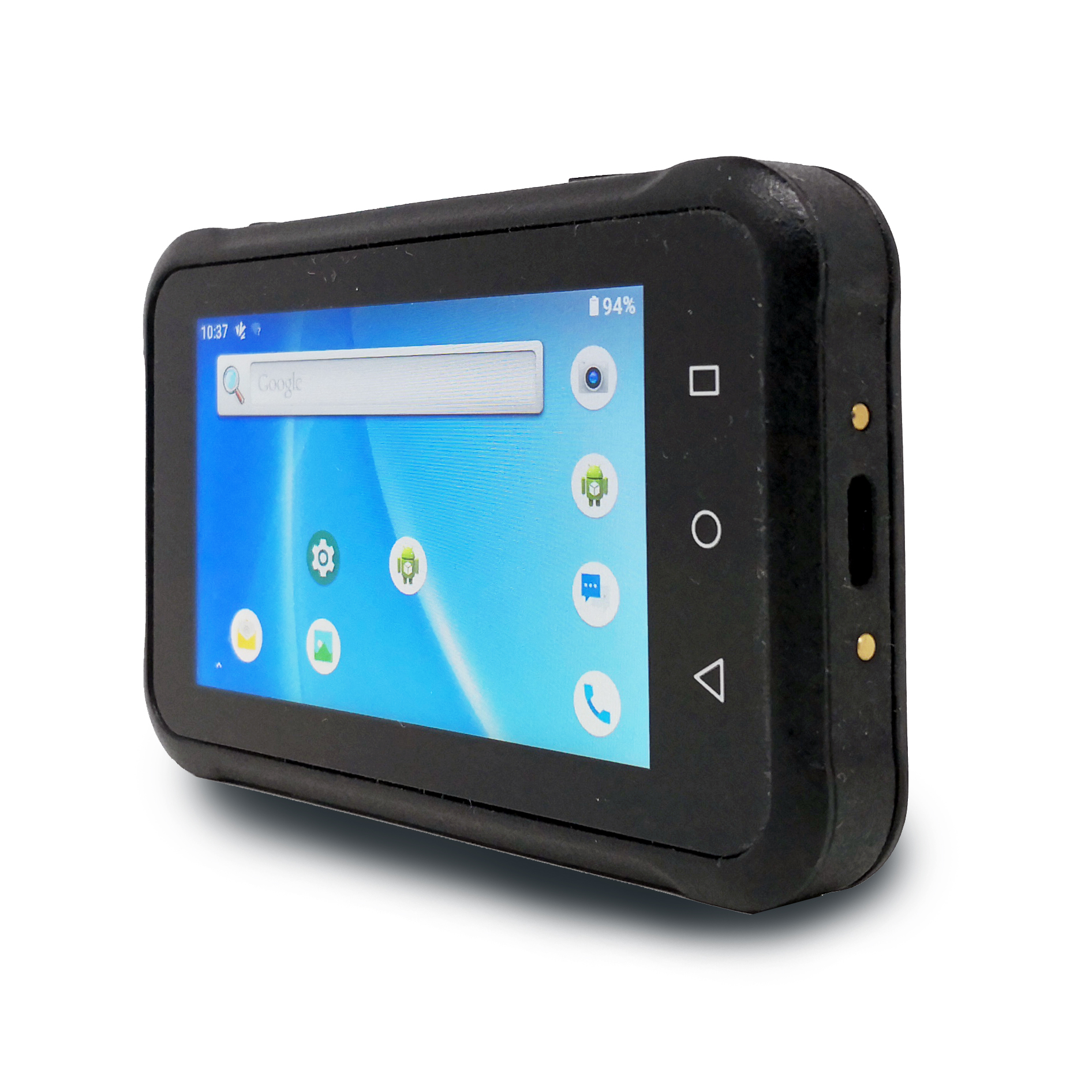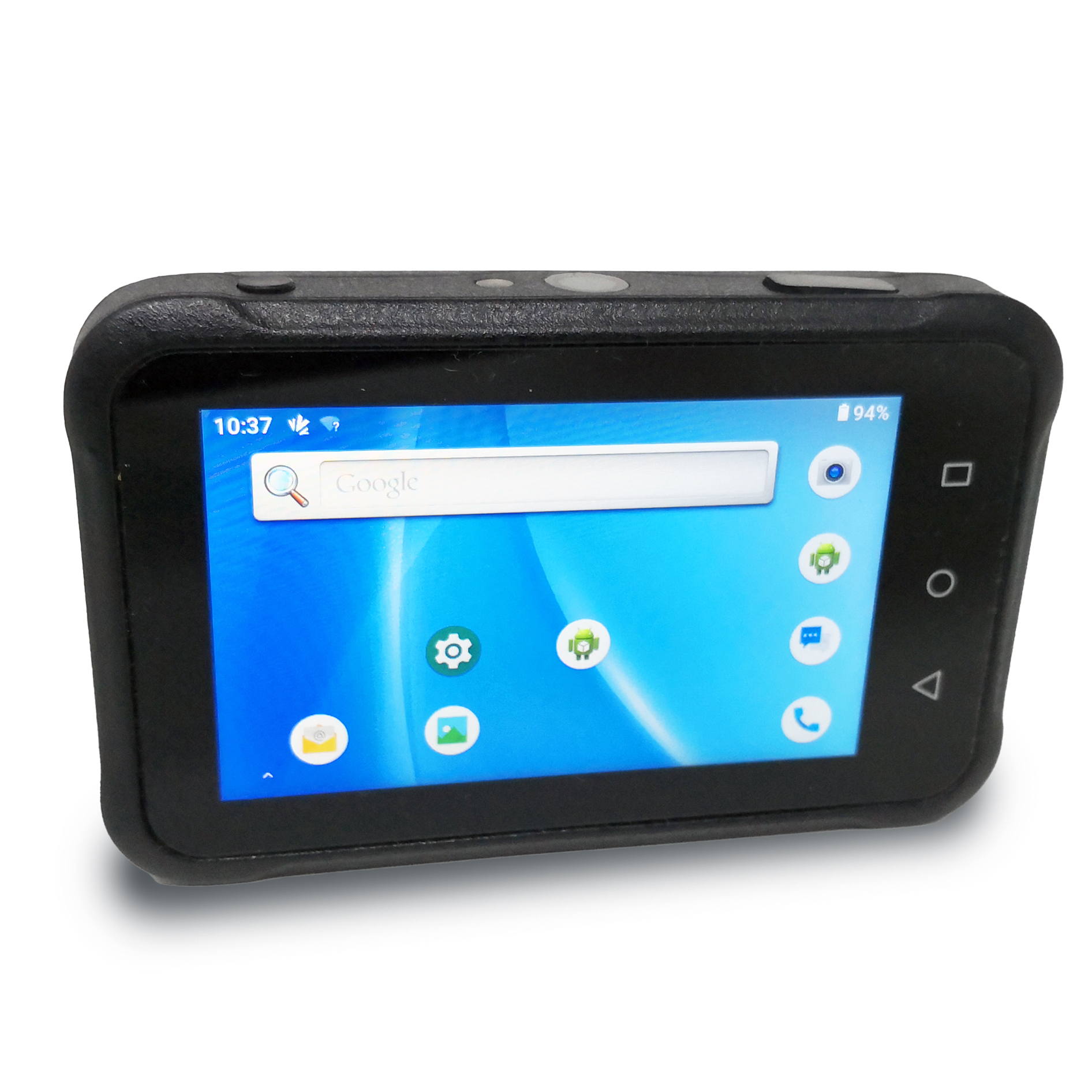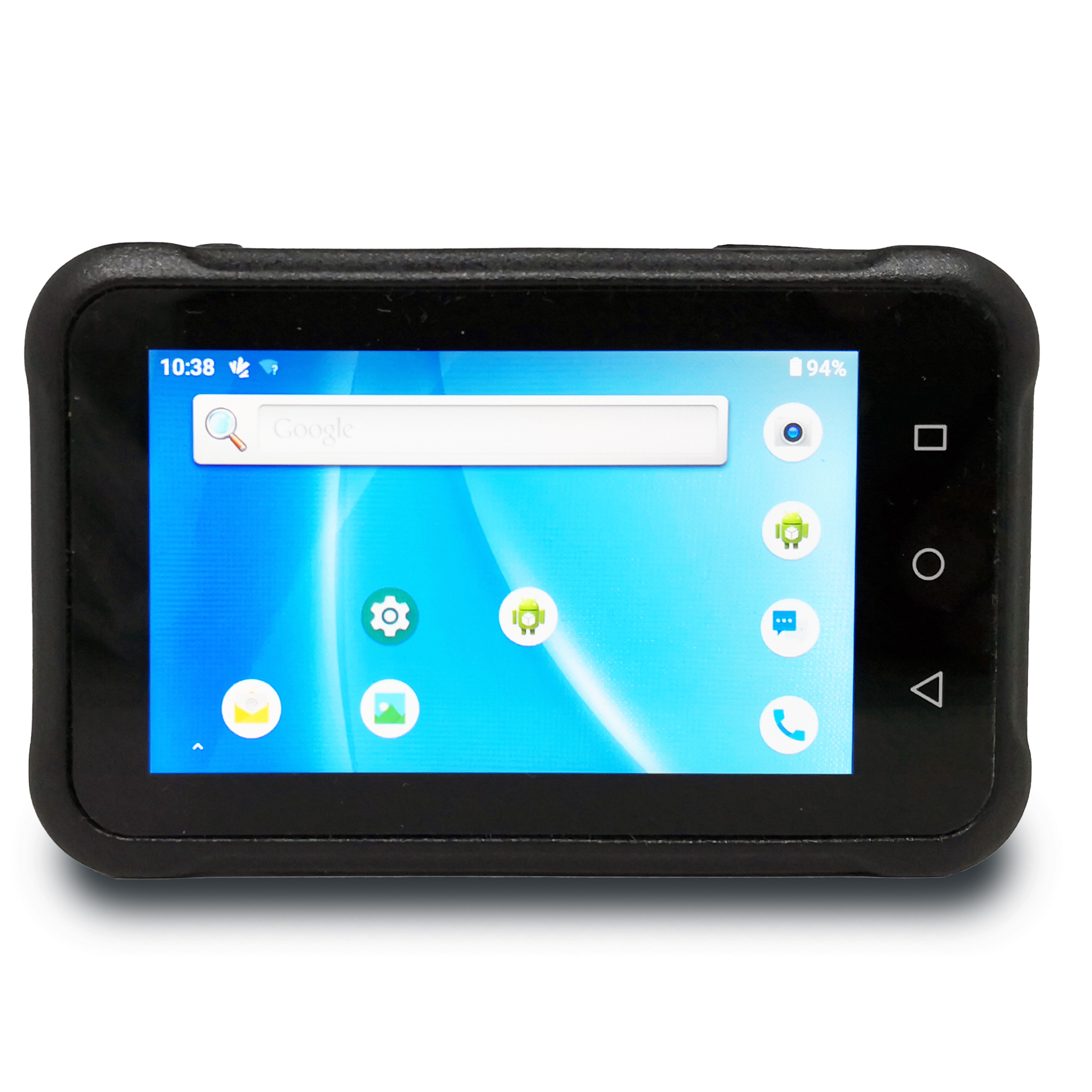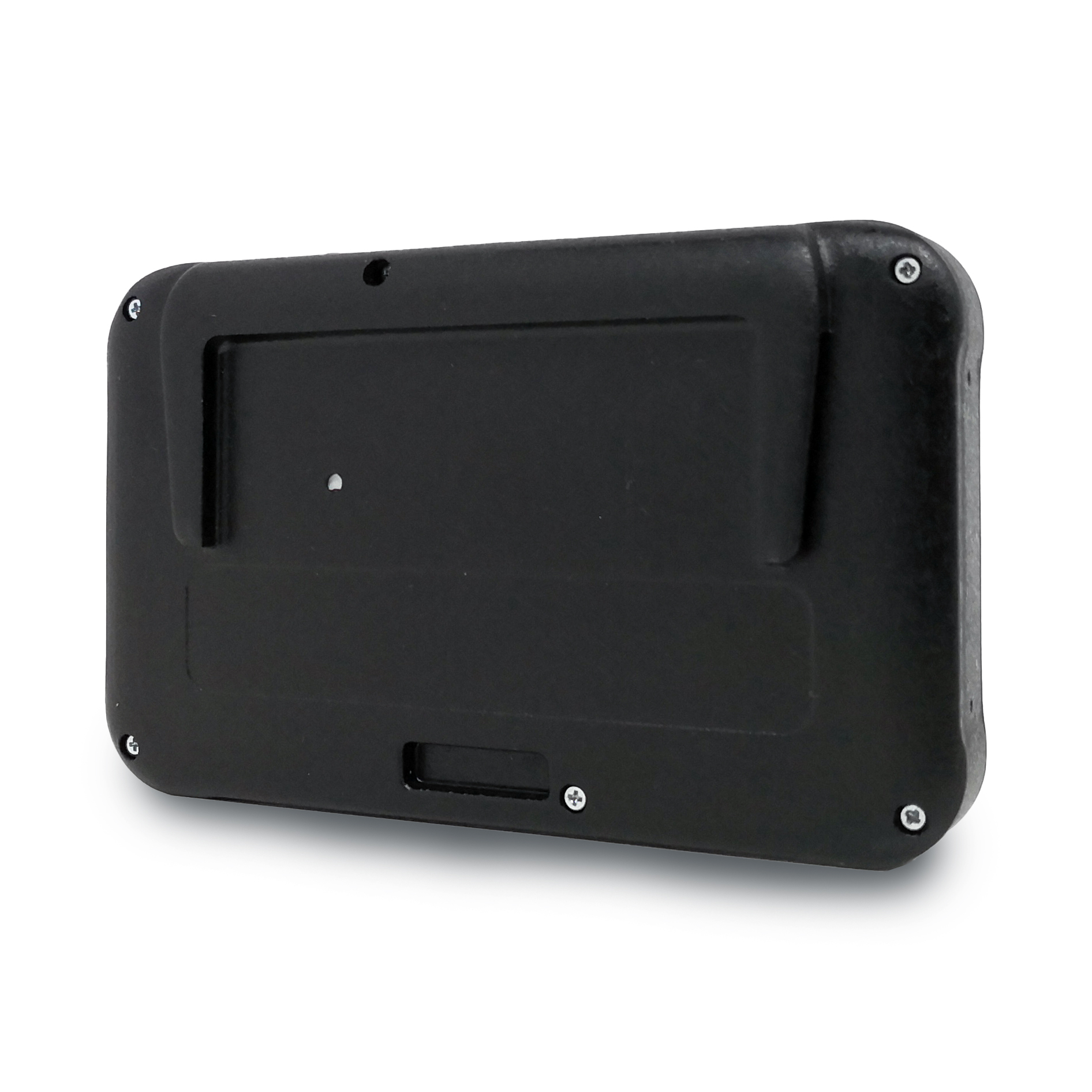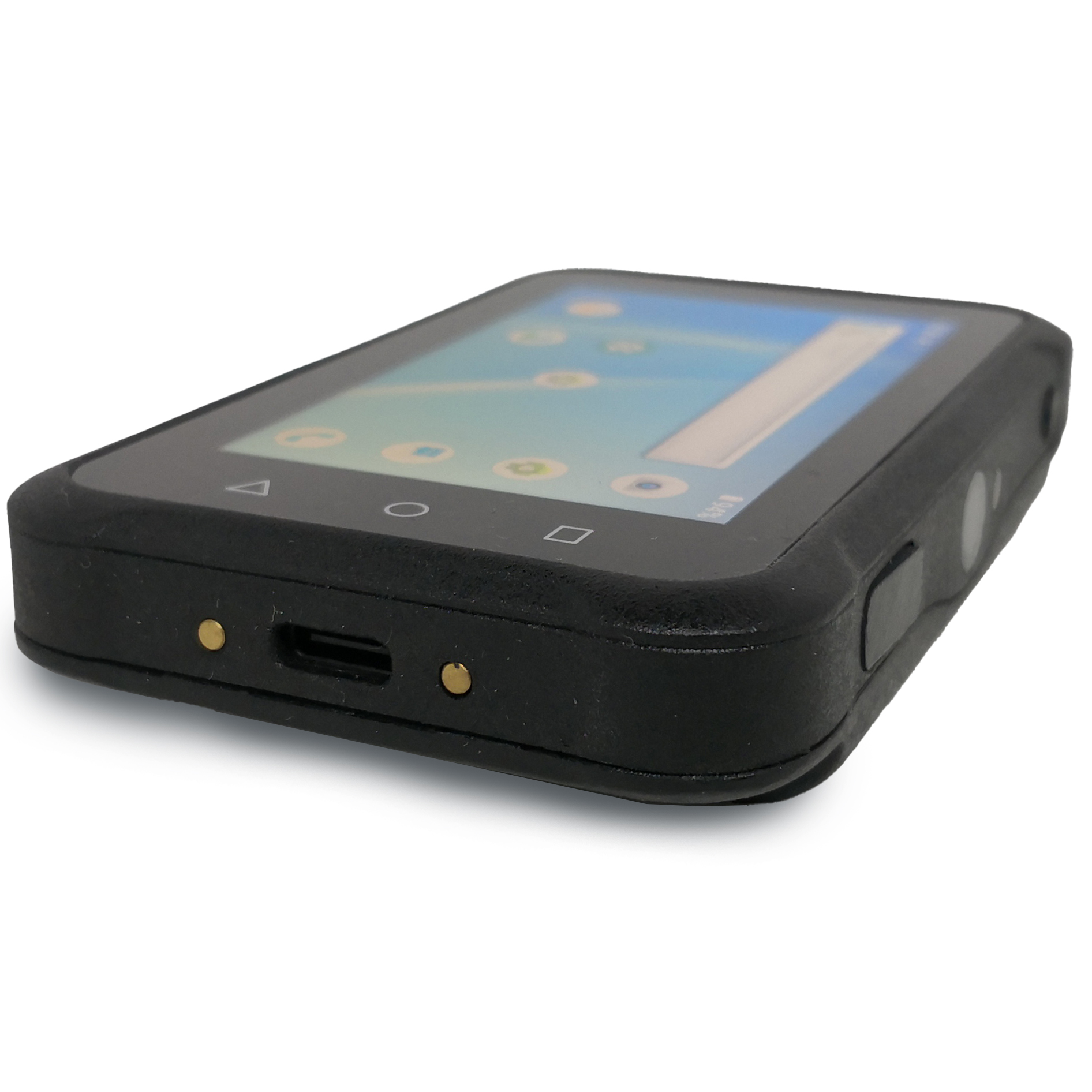 Power your data collection with a device that optimizes the way you work. Browse the Internet and web-based apps faster with the user-friendly Android 10 OS with GMS certification. Experience heightened device performance with a 2.2GHz Octa-Core processor and ease of use with a wearable that fits wrists, necks, and belt loops. A 3.1inch touchscreen offers easy viewing and a 13MP camera captures barcodes and delivery confirmations
Features
• Android 10 with GMS certification
• Lightweight, ergonomic wearable computer
• 3.1" color display (800x480, 450nits). Supports gloves and wet resistance
• Powerful Qualcomm® 660 2.2GHz Octa-Core processor
• Support Bluetooth® 5 / NFC / WLAN 802.11 ac support 2X2 MU-MIMO Antenna / 4G LTE
• 13MP camera captures barcodes and delivery confirmations
• Ease of use with a wearable that fits wrists, necks, and belt loops
• IP67 rated, and 1.5m drop specification
• Dual MIC design, clear voice even in a noisy environment
• Long-lasting embedded 2050mAh battery (Up to 11 hours working time)
• Device supported versatile: SOTI, AirWatch, 42Gears, Ivanti Wavelink, and MoboLink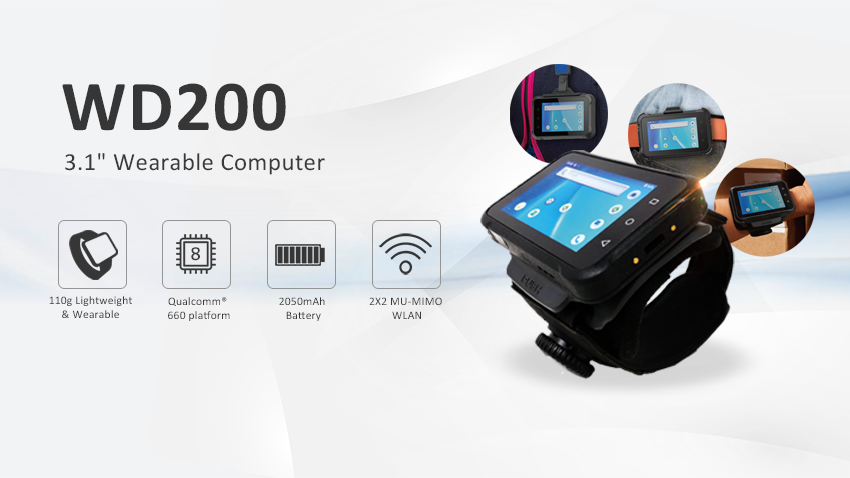 Powered by Android 10 OS with GMS Certified
Power your data collection with a device that optimizes the way you work. Featuring a lightweight and ergonomic wearable design, the WD200 is a 3.1" Android 10 wearable device with GMS certification that supports users to work in an intensive picking environment that requires all hands to be free. A 3.1-inch sunlight-readable touchscreen offers easy viewing with 450 nits brightness and supports gloves and wet resistance, also comes with a 13MP camera that gives the flexibility to capture barcodes and delivery confirmations for applications in the warehouse, retail, logistic, transportation, and shipping yard.

Android 10


Operation System

GMS
Certification

3.1 inch

Display

450 nits

Brightness
Smart, Hands-free Mobility
 

Want more efficiency without losing flexibility? The WD200 is designed to meet your expectations! Ease of use with a wearable that fits wrists, necks, and belt loops. The terminal is lightweight of 110g with a battery and it features EZ Lock arm strap design, easy to replace the main unit in a few seconds. Combined with one of our featured ring scanners, both hands can remain free during work without interfering with the workflow.

 

Wrist




Wearable

Neck




Wearable

Belt Loop




Wearable

110g


Lightweight
 
Experience Heightened Device Performance
Browse the Internet and web-based apps faster and experience heightened device performance with a Qualcomm 660 2.2GHz octa-core processor. Power your data collection with a device that optimizes the way you work. 

2.2GHz
Qualcomm Octa-core

3 GB RAM
32GB Flash
 
Long-Lasting Battery Life

The WD200's powerful 2050mAh battery is designed to have up to 11 hours of operating time, giving you the flexibility to work through the day.

Up to11 hours


Operating Time

2050

mAh


Battery
Get Connected
Together with extended connectivity, the WD200 supports Bluetooth®5, NFC, 4G LTE, and WLAN 802.11 AC with 2X2 MU-MIMO Antenna that boosts the performance by allowing devices to be connected simultaneously.


Bluetooth

®

5

NFC

4G LTE

2X2 MU-MIMO




WLAN
Durable Design
It is not only equipped with dual MIC design, giving clear voice even in a noisy environment but also enhances the industrial durable protection with features including IP67 dustproof and 1.5m drop resistant of fall protection. The WD200 is a reliable tool to improve business productivity.
IP67

Certification

1.5 m

Drop Protection

MIL-STD 810G
SmartPA: Better Audio Output

SmartPA(Power Amplifier) takes full advantage of the relatively smaller speaker to enhance better sound quality with maximum volume. Under distracted scenarios or noisy environments, outdoor workers access messages through a clearer, more natural, and high-quality audio experience while speaking on the mobile computer. The built-in SmartPA solution detects the current and voltage in speaker mode and minimizes circuit/ temperature damage, providing seamless communication between coworkers to achieve productivity.




Power Amplifier

Better Audio Output

Built-in Algorithm

Lessen Circuit / Temperature Damage
Operation System
OS

Android 10

GMS certified

GMS certified

CPU

Qualcomm Snapdragon™ 660 Octa Core, 2.2 GHz , 64bits

Memory

3 GB RAM / 32GB Flash

Languages support

English, Simplified Chinese, Traditional Chinese, Japanese, Spanish, German, French, Italian, Portuguese, Korean and multiple languages
Display
Screen Size

3.1" Color TFT-LCD (800 X 480) High Resolution Display (450 nits)

Touchpanel

Ultra sensitive capacitive touch screen, compatible with gloves and support wet resistance
Buttons / Keypad
Buttons / Keypad

ON / OFF button , 1x User-defined function button, 3x touch buttons
Camera
Camera

13 MP Rear and Flash Light
Indicator Type
Type

LED, Speaker, Vibrator
RFID
HF RFID

Support HF/NFC
Frequency 13.56Mhz
Support: ISO14443A/B, ISO15693 standard
Communication
Bluetooth®

Bluetooth® 5

WLAN

IEEE 802.11 a/b/g/n/ac/d/h/i/k/r/v, IPv4, IPv6
Security of WLAN : WEP, WPA/WPA2 PSK, 802.1x EAP,OWE, SAE
Fast Roaming : PMKID caching, 802.11r, OKC
2x2 MU-MIMO

WWAN

LTE:
FDD-LTE (B1/B3/B4/B7/B20)
TDD-LTE (B38/B39/B40/B41)

GPS

GPS/GLONASS/Gallileo/Beidou

Sensors

Gyroscope, G-sensor, E-compass, Light Sensor
I/O Interfaces
USB

USB 3.1 (Type-C) support USB OTG
Support Display Port Mode
Ethernet/USB-Host via cradle

OTG

Yes, over USB Type-C

POGO PIN

Charging via cradle

SIM Slot

Nano SIM Slot

Audio

One 1W speaker ,
Dual noise-cancelling microphones
Enclosure
Dimensions ( W x D x H )

96.7mm x 60.7mm x 14.43 mm

Weight

110g (with battery)
Durability
Drop Specification

1.5 meter, MIL-STD 810G

Sealing

IP67
Environmental
Operating temperature

-4°F to 122°F (-20°C to 50°C)

Storage temperature

-4°F to 158°F (-20°C to 70°C)

Charging temperature

0°C to 45°C

Relative Humidity

5% ~ 95% (non-condensing)
Power Source
Main battery

3.85V, 2050mAh Li-polymer battery (embedded, can be repaired)
Software
MDM Software

SOTI, 42Gears, MoboLink, Airwatch, Ivanti Wavelink
Regulatory Approvals
Regulatory Approvals

CE, FCC, NCC, BSMI, VCCI, CCC, RoHS, CEC, BQB, N-Mark
compliance.
What comes in the box
The standard package contents

■ WD200 Terminal
■ USB 3.0 Cable (Type C)
Accessories
Accessories

■ Bluetooth noise cancellation headset (PN#B450-XT)
■ Wrist Holder (PN#3210-900026G)
■ Wrist Holder pad (PN#386215G) Wrist Holder strap (PN#609032G)
■ Wrist Bracket (PN#608941G)
■ Necklace Holder (PN#3210-900029G)
■ Belt Holder (PN#3210-900030G)
■ 9H glass screen protector (PN#401613G)
■ Professional armband strap-Normal size(28cm) (PN#5500-100002G)
■ Professional armband strap-Small size(16cm) (PN#5500-100004G)
■ Professional armband strap-Large size (30cm) (PN#5500-100003G)
■ USB 3.0 type-C cable(PN#1550-905908G)
■ Power Adaptor (PN#1010-900061G(US) PN#1010-900062G(EU)
■ Power Adaptor (PN#1010-900065G(UK) PN#1010-900064G(AUS)
■ 4 slot cradle(PN#5100-900030G)
■ MS650 1D Bluetooth Ring Scanner (PN#MS650-5UBB00-SG)
■ MS652 2D Bluetooth Ring Scanner (PN#MS652-2UDB00-SG)
■ MS622 2D Cord Ring Scanner (PN#MS622-2UCB00-SG)
■ WD200 2D Engine Extended module
Marketing Material
for PA760, EA630 Plus, EA520, RP902/MFi, HT730, HT330, WD200, TB85 Plus, TB110