Unitech has been ranked Top 2000 manufacturer companies in 2021
微信扫描二维码分享文章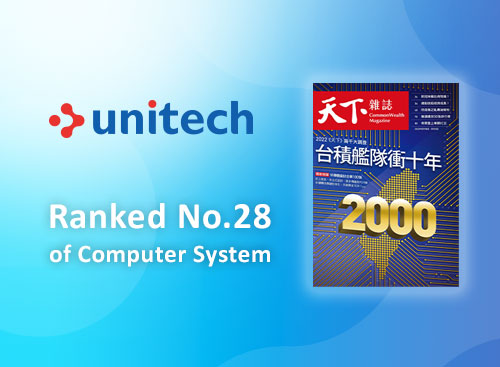 According to Common Wealth magazine, the Unitech electronics co., ltd. has been ranked as 960th among the Top 2,000 manufacturer companies, and ranked 28th place in the subcategory of computer in 2021 in Taiwan, upon its NTD 2.35 billion consolidated revenue.



Learn more about Unitech Mobile Solutions
Choosing a rugged mobile device over a consumer-grade product is a smart choice. Our built-tough mobile computers are a powerful force against the elements so you can keep working without worrying about any data loss.

Learn more about Unitech Scanner Solutions
Our scanners are purpose-built for high-volume barcode scanning, and are designed for durability with sturdy materials guaranteed to perform reliably, quickly, and accurately.

Learn more about Unitech RFID Solutions

Our line of RFID products help you do more, faster. From a pocket-sized handheld reader that can perform up to 6,000 reads per shift to a 16-port fixed reader that widens the range at your desired location, we've got you covered.

Learn more about Unitech Wearables

Whether on the sales floor or in the stock room, barcoding devices are less likely to be dropped or lost when worn. Our tiny footprint barcode scanners and mobile computers are designed to comfortably fit hands, fingers, and necks.