A Greater Barcode Scanning Experience in Retail Solution: MS852 2D Barcode Scanner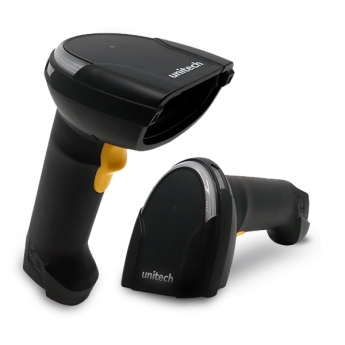 Easy and intuitive design combined in one scanner, the new unitech MS852 handheld scanner delivers the simple way to make your checkout line faster and efficiency for all retail solutions from point-of-sale systems, loyalty cards, mobile payments and electronic coupons in retail store to general purpose hospitality scanning.
Simple and Affordable
Specially built for retail environment, the MS852 has the ability to capture most 1D / 2D barcodes on mobile screens, even damaged or poorly printed barcodes.Featuring a compact size in an ergonomic housing, the MS852 handheld scanner is easy to hold and operate, just plug-and-play and connect it to your computer via USB cable. There is no need to do any additional installation or training, it's ready to work. This device enhances the workflow efficiency in an affordable price.
User-Friendly
Featuring an automatically switching function for best customer experience, the handheld device can be detected via sensor on the stand to switch auto-sensing mode or trigger mode. Equipped with a louder beeper and brighter LED indicators, the MS852 allows users to recognize the feedbacks easily even in dark environment.
Compact but durable
While sustaining a 1.8 meter drop to concrete, MS852 incorporated with IP42 rugged design for protection against dust and moisture. Moreover, the built-in long lifecycle trigger of 10 million times guarantees a continuous productivity for best reliability. This scanner can be used in the most practical way depending on the scanning task in various solutions in retail, hospitality and government.
Features
• Lightweight design: Only 165 grams
• Support most 1D / 2D barcode on mobile screens, even damaged or poorly printed barcodes
• Long lifecycle trigger design: Up to 10,000,000 times.
• Auto switching function between trigger mode and auto-sensing mode with its stand
• Ultra-rugged design : IP42 and 1.8m drop spec
• Louder beeper and brighter LED indicators for easily recognizing feedbacks