Keep Precise Track of Inventory with unitech's Smart Warehousing Solution
微信扫描二维码分享文章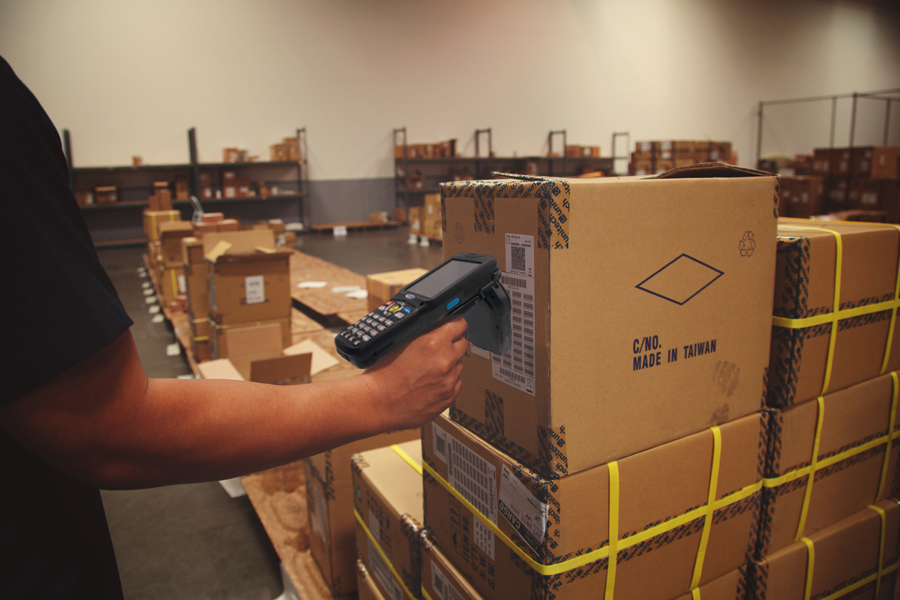 In today's competitive global business environment, corporations are facing a market filled with exploding amounts of information and rapid changes. Take warehousing management as an example. Here, the ability to quickly handle complicated operation processes such as purchasing, storage, inventory, picking, and shipping within a short period of time is key to success.

In a traditionally managed warehouse, manual paperwork was the mainstream practice. Goods arrival and delivery were recorded by hand, and handwritten labels were used to mark storage locations. This often resulted in unclear classification of the goods stored. Staff members faced issues such as repeated receipt of goods, no goods found, shortage of stocks, actual inventory not matching the accounts, erroneous items picked, and time-consuming and labor-intensive inventory checks which are in themselves error-prone. Warehouse staff had to spend a lot of time on repeated efforts on mending the errors, while managers were rendered unable to effectively control the flow of warehousing resources, resulting in higher operating costs and low work efficiency.
To address the pains of the warehousing industry, unitech provides smart and efficient warehousing solutions, using its core technology in automatic data collection to provide multiple types of industrial handheld mobile computers (PDAs), handheld and wearable barcode scanners, RFID readers, and MoboLink cloud device management platform. In Taiwan, it introduced the uWMS warehousing management system to provide a full range of digital warehousing solutions that integrate with both hardware and software.

Digital information reduces errors from manual tasks
In the field of portable mobile devices, unitech launched its HT510 handheld mobile device specifically for warehousing applications. Equipped with the intuitive and easy-to-use Android 7.1 operating system, built-in 2D barcode reading, and RFID reader, the device helps facilitate warehouse entry and exit by warehousing personnel, with automatic identification to scan the entry-exit records and the barcodes on the outer box for the goods, after which the information for the goods stocked and shipped is synchronized on the screen for confirmation to enable faster comparison, stock in, and other processes. The use of a large-size on-screen keyboard and an ergonomic single-hand holding design enables the users to easily pick up and quickly operate the keyboard to enter the quantity of goods for real-time recording. The system can also perform comparison check for the storage location or items picked. Through unitech's smart warehousing solution, employees can quickly carry out inventory checks and process stock in and shipments with fewer errors than with manual operation. This enhances the accuracy of tasks and reduces operating costs for warehousing management.

Networked transmission accurately tracks inventory status
Through wireless communication functions such as Bluetooth, WLAN, and 4G LTE and others, HT510 handheld mobile computer instantly uploads stock in and shipment information to the cloud system to be saved as files. Customer orders can also be synced in real time with the warehousing system that generates notification for warehouse picking and shipment. Such data synchronization improves the efficiency of shipment. Through the content management system, management staff can accurately track the status of inventory, including verification of numbers for inbound and outbound items, product placement, quantity of items stocked in and shipped, and so on, thus accelerating inventory processes and enabling quick check on timing for each item in the workflow.

Industrial grade sturdiness improves overall durability
Taking into account the needs of corporate users, rigorous testing was conducted during the development of unitech's HT510 handheld mobile device. It passed the 1.5-meter drop and IP65 dust and water resistance tests to offer corporations high durability and stability. The product also features a built-in 5-megapixel camera (with flash and autofocus function) that provides photo recording of the status of goods in storage. The HT510 also features a variety of accessories such as USB cradle, 4-slot battery charger, leather folio, and gun handle to enhance ease of operation.

unitech's all-round smart warehousing solution assists warehousing operation by introducing digital information that enhances overall efficiency of work, reduces errors in operation, and accurately tracks inventory. By effectively integrating allocation and turnover for warehousing resources, it helps to enhance the overall management and operation of the corporation.
For more information about unitech, please visit www.ute.com