EA520 (WLAN Only)
Rugged Handheld Computer
IP67 Rating + 1.5m Drop Protection | Removable 4250mAh Battery | Superior Barcode Reading (30 scans/sec)
Android 11

2D

DPM Code

5"

NFC

13MP

IP67

1.8 m

1.5 m

Wireless

Bluetooth

GMS certified

Retail

Hospitality

Logistics

Field Service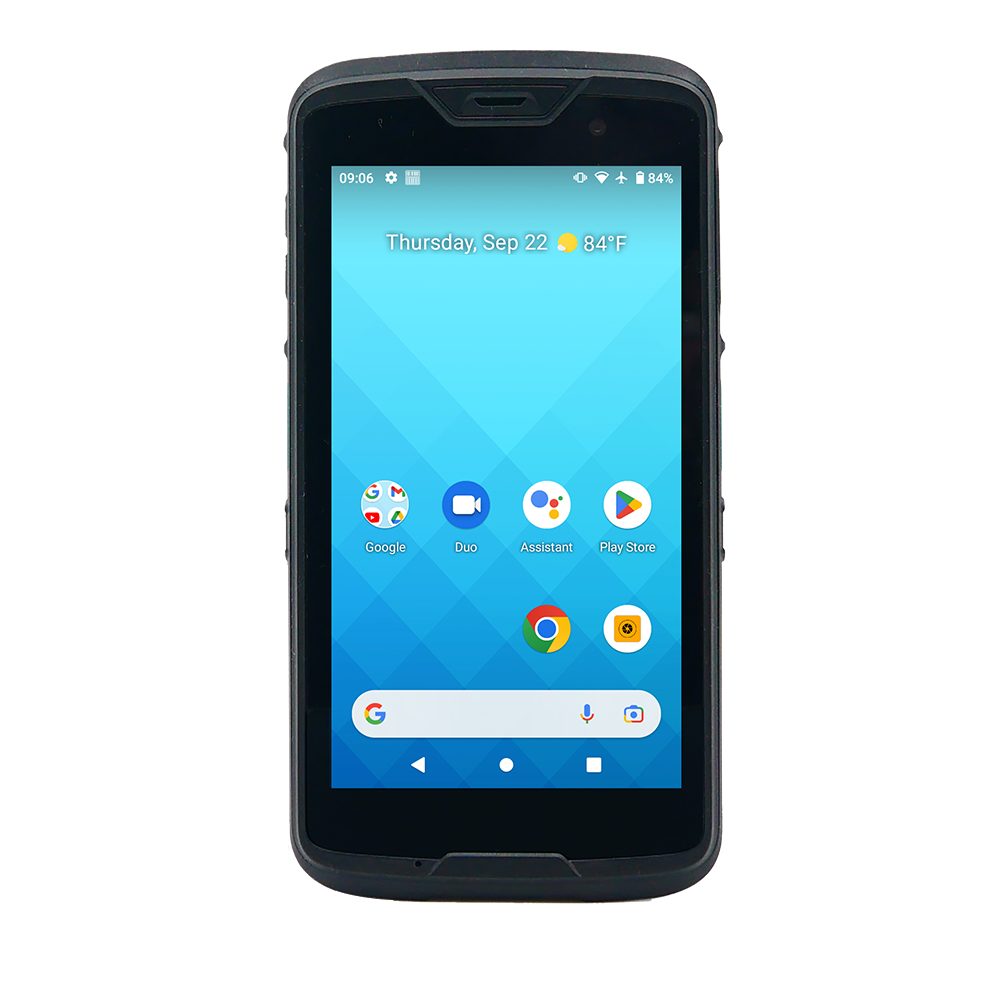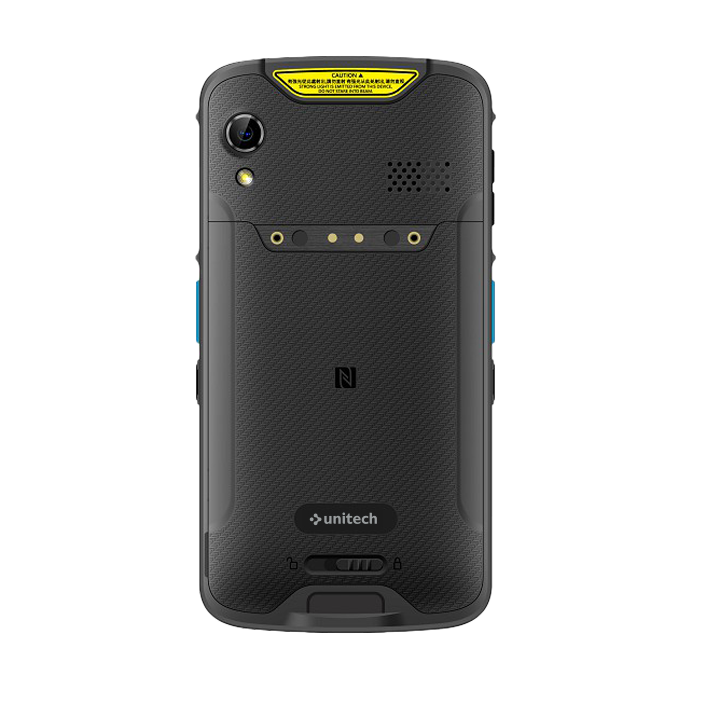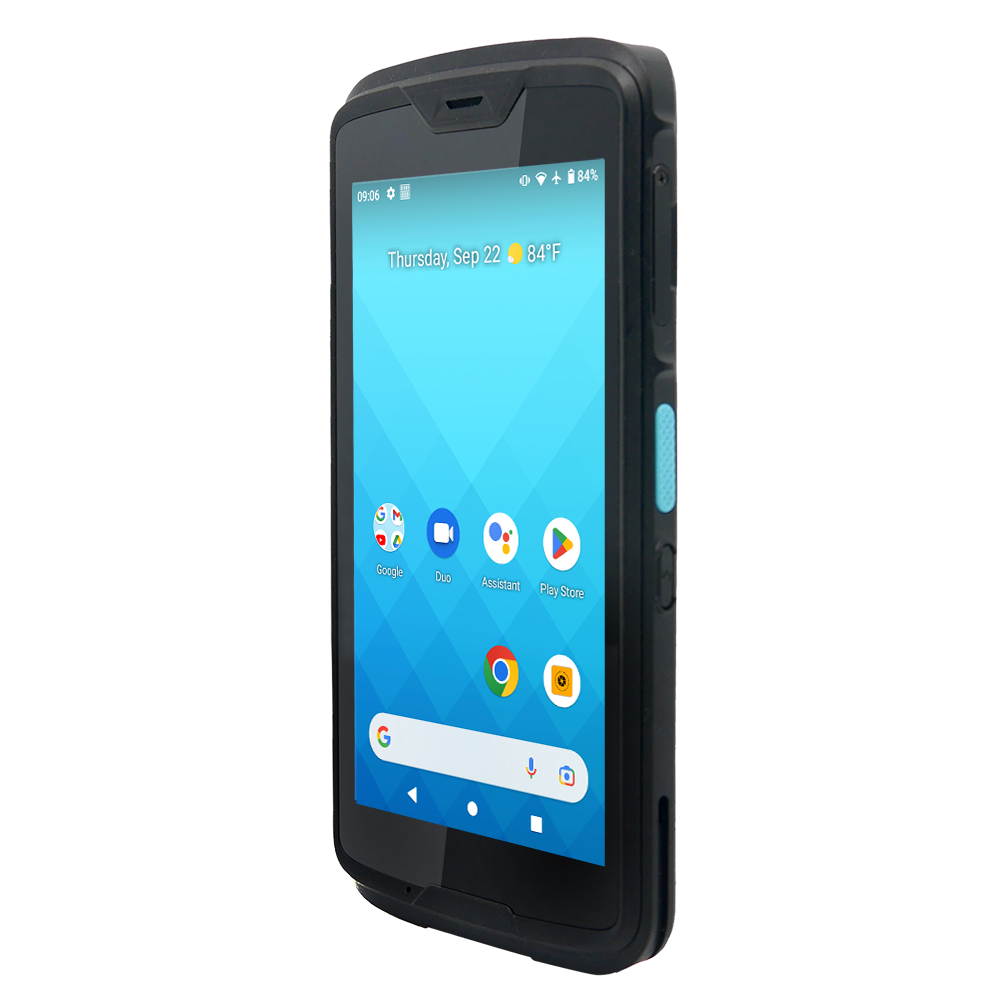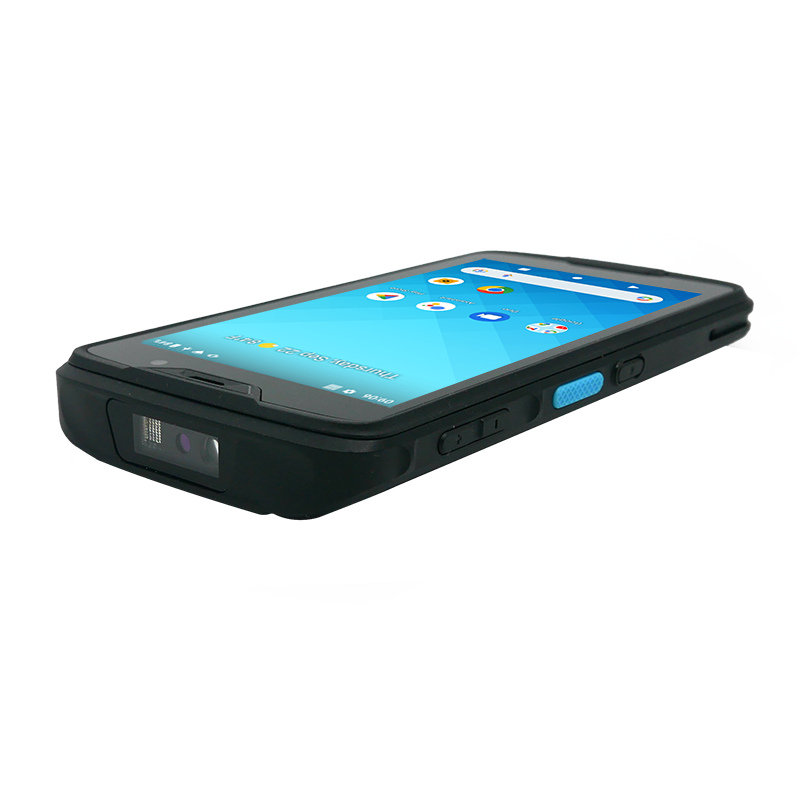 Introducing the EA520, the 5" cutting-edge rugged smartphone delivers powerful barcode reading performance, convenient connectivity, durable but the lightweight design that just fits in the palm of your hand. This enhances the service level for various vertical applications within the retail, hospitality, and field service sectors.
Features
• 5-inch display with 450nits sunlight readable
• Android 11 OS with GMS Certification
• Support most 1D / 2D barcodes on mobile screens, even DPM barcodes
• Lightweight design that just fits in the palm of your hand.
• All-In-One functionality: HF/NFC and 13MP camera
• Rugged: Corning® Gorilla® Glass 3 touch display, IP67 rated, and 1.5M drop (1.8M with boot case)
• Long-lasting removable 4250mAh battery
• Support Bluetooth® 5 / dual-band WLAN, fast roaming
• Support MDM Software Solutions and utilities such as MoboLink.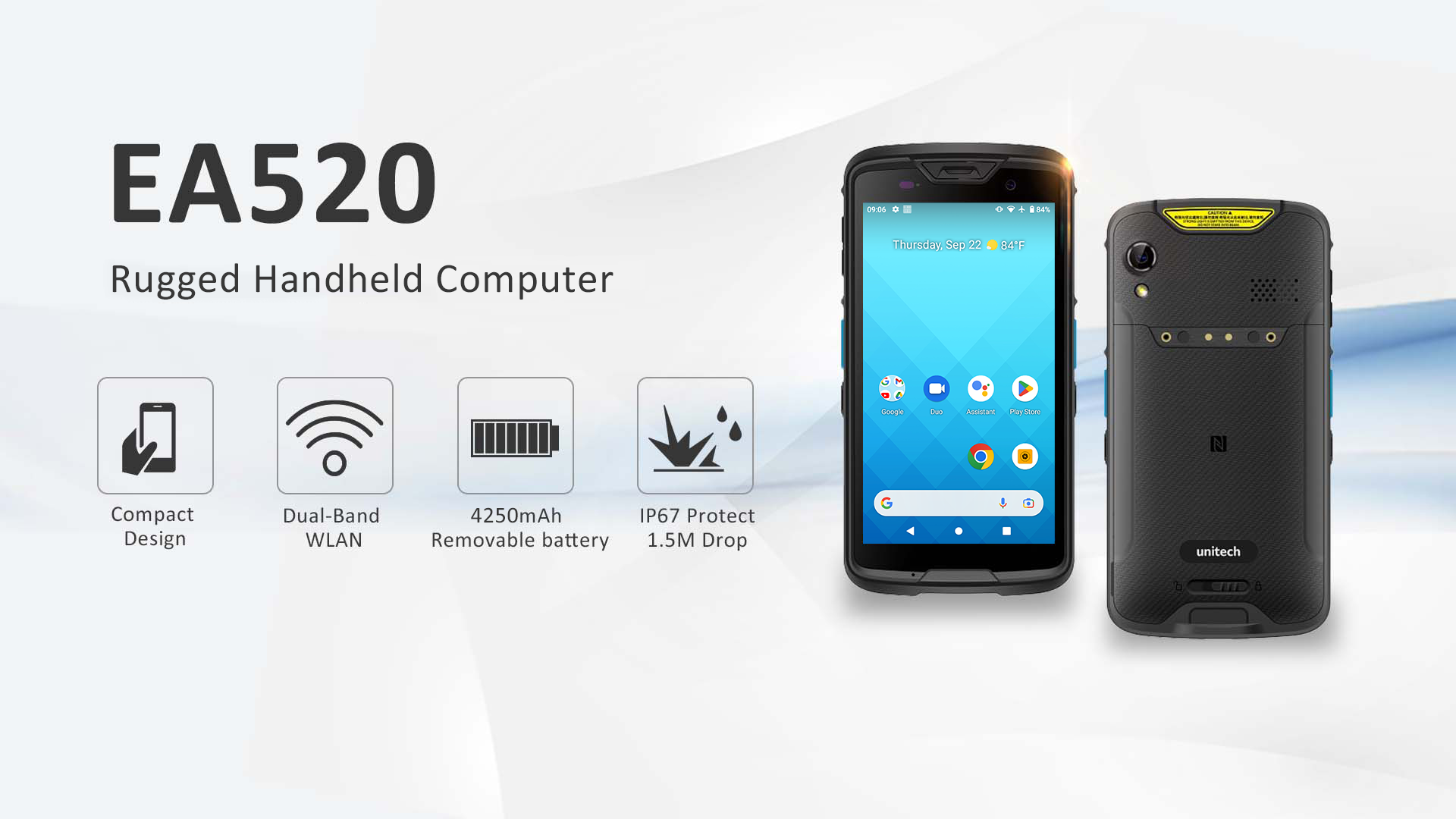 Portability for Better Retail Associate Experience
Powered by the Android 11 OS with GMS certification, the EA520 is equipped with an octa-core CPU to deliver users excellent performance for smarter, more intuitive interactions. Specially designed for portability and versatile functionality, this device is easy to carry around for inventory checking, communicating with supervisors, supporting customers on the sales floor that redefines the retail associate working experience with convenient tools.

Android 11
Operation System

GMS


Certification

Octa-Core




CPU

4 GB RAM
64 GB Flash
Powerful Barcode Reading Performance
Featuring powerful 1D/2D scanning capability, it also supports DPM codes and ensures read reliability for mobile phone screens and paper in any orientation. Powered by a removable 4250mAh battery, it is an integrated HF/NFC RFID reader/writer, GPS, and a high-resolution 13MP camera in a compact device. The EA520 gives your workforce the technology it needs to take your business to the next level.

1D/2D
Support

DPM

code


Support

NFC




Reader / Writer

13MP




Camera
Durable at Its Best
The EA520 enhances the industrial durable protection with features including IP67 dustproof, waterproof, and 1.5 meters resistance to fall protection (1.8 meters with boot case). That means it covers fully protected from dust and can survive in 1 meter of water for up to 30 mins.

IP67
Certification

1.5m


Drop Protection

1.8m




Drop with Bootcase
Seamless and Connectivity
Featuring Bluetooth® 5, wireless dual bands with fast roaming for real-time data collection, staff can scans the item and instantly connect to the backend system to find out the quantity in stock or make an online order for customers. The EA520 delivers a seamlessly work experience and improves productivity for various applications.

Bluetooth 5

Dual bands


Wireless
Specially Designed for Portability
The EA520 can improve service quality of various vertical applications within the retail, logistics, hospitality, and field service industries.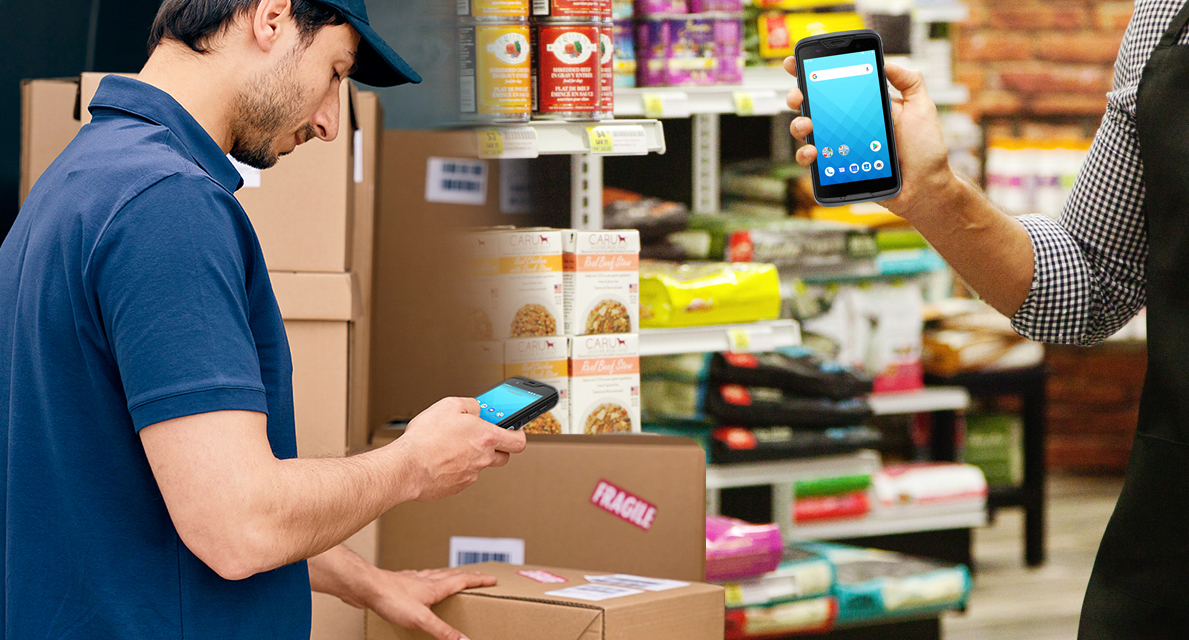 Support SOTI— MobiControl
SOTI MobiControl empowers organizations to remotely track the performance of mobile devices and easily configure the application settings through the entire lifespan of mobile devices. Business operations gain better visibility into where the devices are, what tasks they're carrying out, and how the productivity is going on. It's a mobile solution to help you effectively communicate and oversee end-to-end points without the time and location limitations!

Configure

Quickly & Easily

Manage Apps

Remotely & Securely

Eliminate

Devices Downtime

Optimize

Data Delivery
Optical Character Recognition (OCR)

EA630 provides Optical Character Recognition (OCR) technology in Unitech USS software to streamline your tedious typing process and minimize the typing mistakes when entering the numbers. Our OCR technology allows users to easily convert numbers or characters to digital formats on cardboards, paperwork, electronic chips, and any other readable surface.

Airline

Manufacturing

Logistics

✔The Airline Ground Services|Read ID numbers from passports

✔Manufacturing|Read vehicle registration numbers and electronic chips

✔ Logistics&Retail|Read lot numbers printed on the package
SmartPA: Better Audio Output

SmartPA(Power Amplifier) takes full advantage of the relatively smaller speaker to enhance better sound quality with maximum volume. Under distracted scenarios or noisy environments, outdoor workers access messages through a clearer, more natural, and high-quality audio experience while speaking on the mobile computer. The built-in SmartPA solution detects the current and voltage in speaker mode and minimizes circuit/ temperature damage, providing seamless communication between coworkers to achieve productivity.




Power Amplifier

Better Audio Output

Built-in Algorithm

Lessen Circuit / Temperature Damage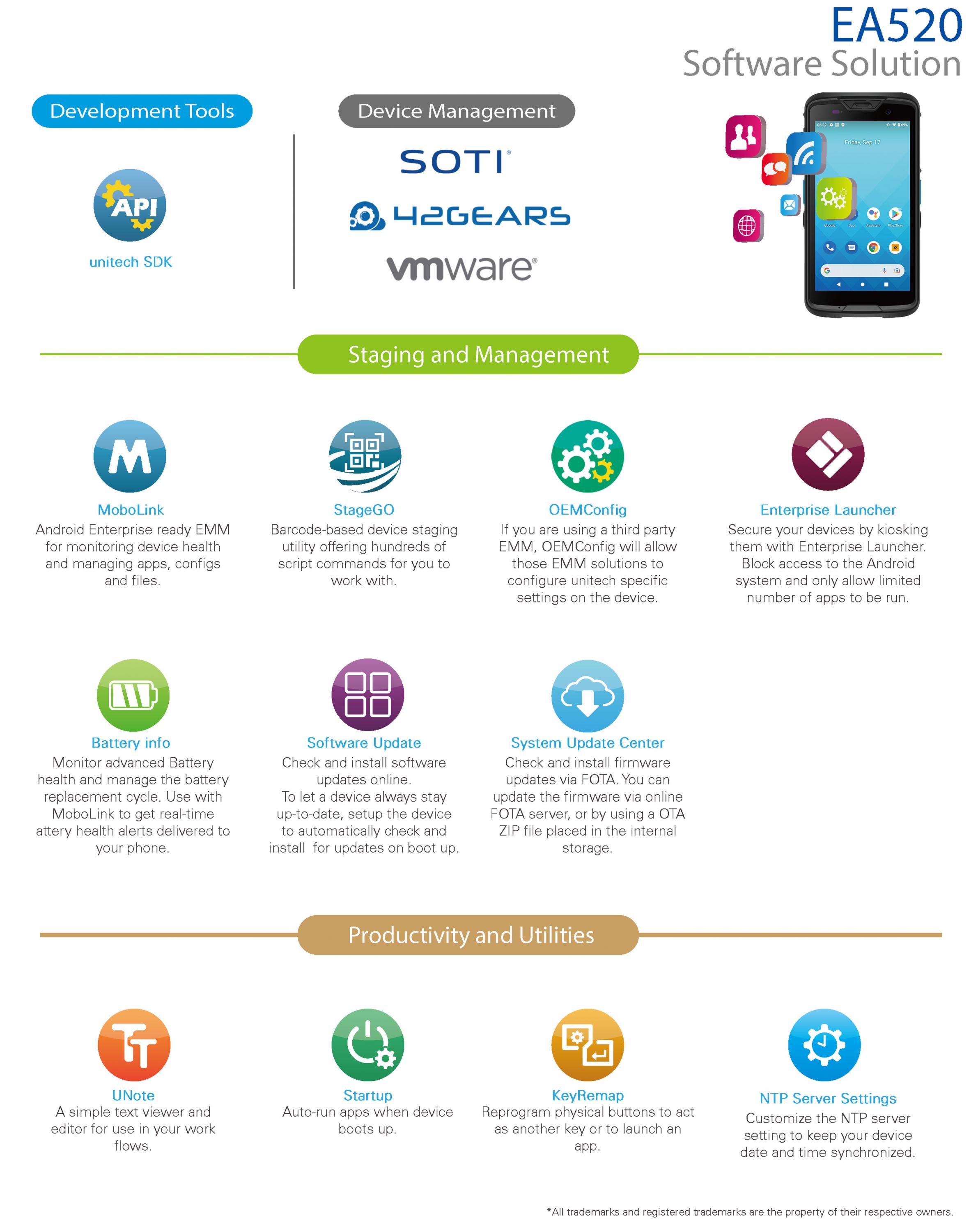 Operation System
OS

Android 11

GMS certified

GMS certified

CPU

Octa-core 2GHz Processor

Memory

4 GB RAM / 64 GB Flash

Languages support

Multiple languages

Others

Input Chinese/ English
Supports handwriting and soft keyboard
Display
Screen Size

5.0" TFT-LCD HD (720 x 1280) color screen

Touch Panel

Gorilla Glass 3. Ultra sensitive capacitive touch screen,
compatible with gloves and supports wet resistance
Buttons / Keypad
Buttons / Keypad

Side SCAN button x 2 (Left / Right), User-defined function button
(programmable key), volume up/down buttons, on/off button
Camera
Camera

8MP front camera
13M rear camera with LED flash and auto-focus function
Indicator Type
Type

LED, Speaker, Vibrator
Symbologies
2D Barcodes

Support all major 1D and 2D barcodes
RFID
HF RFID

Support HF/NFC, Frequency 13.56Mhz, ISO14443 A/B,
ISO15693, Felica(ISO/IEC18092), Mifare compliance
Communication
Bluetooth®

Bluetooth® 5 supported

WLAN

802.11 a/b/g/n/ac/d/e/h/i/j/k/r/v, 2.4G+5GHz, support fast roaming, VoWiFi, hotspot,
Compliant with WFA, WPA/WPA2

GPS

AGPS, GPS, GLONASS, Beidou, Galileo

Sensors

Light Proximity, Accelerometer

Fingerprint

Optional
I/O Interfaces
USB

USB 2.0 (Type-C)

OTG

Yes, over USB Type-C

POGO PIN

Charging via cradle

Expansion Slot

MicroSD, up to 256 GB

Audio

One speaker (1.5W / 95±3dB @ 10cm), One receiver
One microphone

Enclosure
Dimensions ( W x H x D )

151.1 x 76.8 x 13.7 mm

Weight

246g (with battery)
Durability
Drop Specification

1.5m, 1.8m with boot case

Sealing

IP67

Tumble test

0.5m tumbles for 300 cycles / 600 drops
Environmental
Operating temperature

-20°C to 60°C

Storage temperature

- 40°C to 70°C (without battery)

Charging temperature

0°C to 45°C

Relative Humidity

95% ( non-condensing )
Power Source
Main battery

3.85V 4250mAh Li-ion battery
Removable
Software
MDM Software

SOTI, AirWatch, 42Gears, and MoboLink
Regulatory Approvals
Regulatory Approvals

CE, FCC, NCC, CCC, SRRC, VCCI, TELEC, RoHS, BQB, N-Mark, BSMI
for battery
Accessories
Accessories

■ EA520 Battery 3.85V 4250mAh (PN#1400-900063G)
■ USB 2.0 type C cable (PN#1550-905919G)
■ 5V/2A Adaptor with US plug for terminal & cradle (PN#1010-900058G)
■ 5V/2A Adaptor with universal plugs for terminal & cradle (PN#1010- 900067G)
■ Single Slot Charging Cradle* (PN#5000-900092G)
■ Single Slot USB Cradle* (PN#5000-900093G)
■ 4-Slot Battery Charging Cradle (PN#5100-900033G)
■ Gun Grip- For EA520 Without Boot Cover On (PN#5500-900097G)
■ Glass Screen Protector(PN#401621G)
■ Glass Screen Protector w/ packing, 10pcs/ box (PN#5400-900047G)
■ Boot Case (PN#3210-900031G)
■ Hand Strap with fixed arm- individual package (PN#5400-900046G)
■ Stylus (8mm: PN#384896G / 5.5mm: PN#386534G)
■Coiled Strap (PN#383642G)
■ EA520 Wearable Kit w/ Bracket, Strap, Pad (PN#3210-900032G)
■ EA520 Vehicle Cradle (PN#5000-900097G)
■ RP902 Bluetooth UHF RFID Pocket Reader (PN#RP902-33E8S0G (EU), PN#RP902-43A8S0G (US), PN#RP902-43F8S0G (JP))
* Use USB Cable & Power Adapter from EA520