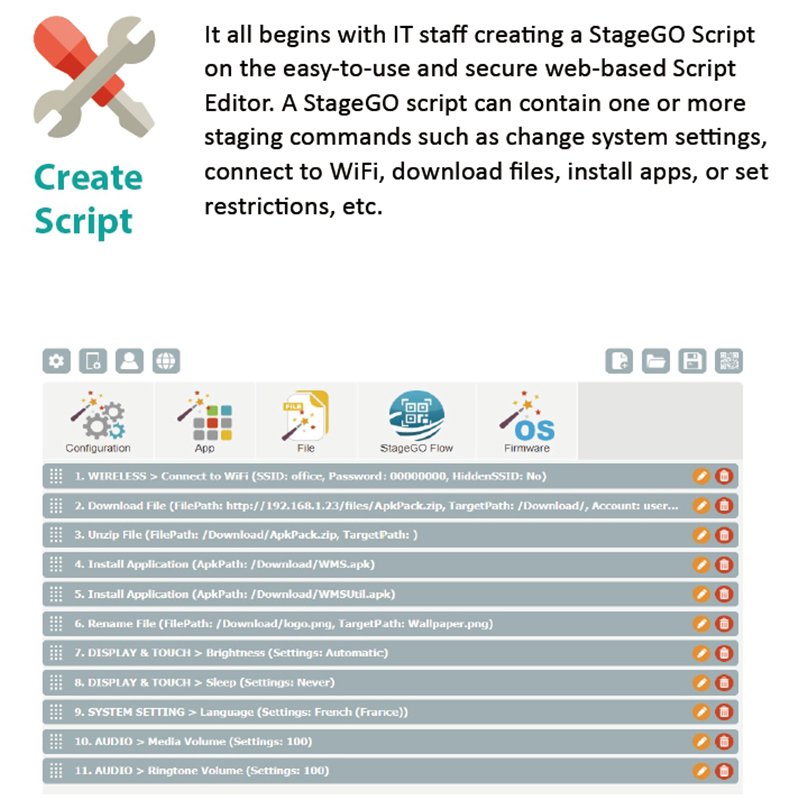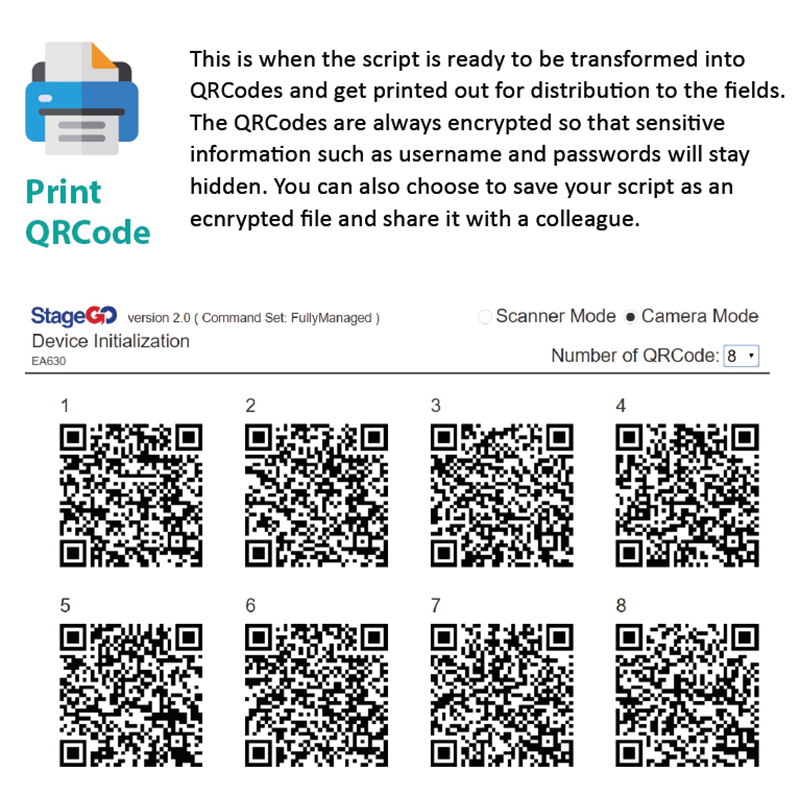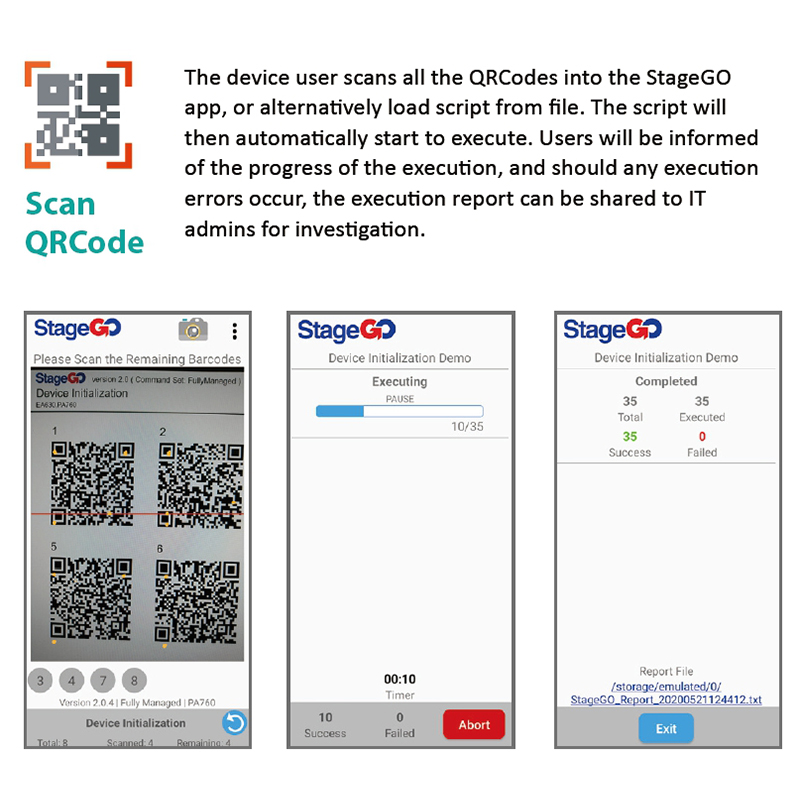 StageGO is a barcode-based device staging solution from unitech. StageGO helps IT admins to swiftly set up a device by just a few barcode scans.
Features
• Swift and Effortless Device Staging for Unitech Android Mobile Devices
• Device Staging Becomes More Accessible, Time-Efficient, and Secure
• Complete Device Control at your Fingertips
• Data Compression
• Security and Privacy
• No Installation Required
Ready! Set! StageGO! The Ultimate Device Staging Solution for Unitech Devices
One of the most tedious jobs of setting up tens and hundreds of freshly unboxed unitech devices is the repeated routine actions such as file copying and tapping through dozens of onscreen menus just to setup one device. StageGO is here to help simplifying those challenging work by allowing IT admins to use the onboard barcode scanners inside unitech mobile devices, and with just a few simple barcode scans, a device is fully configured and ready to go to work.
Link to the StageGO Website



Set up your account and

click here

to log in to the website.


​​​​​
Device Staging made Simple for Everyone
StageGO transforms complex device configuration commands into QRCodes. To configure a device, simply scan all the QRCodes into the StageGO app and let it takes care of the rest. StageGO works in a way that only the IT staff needs to be tech-savvy and all other device users only need to know the basics of barcode scanning.

Follow 3 Steps to create and finish staging & deployment:

● Step 1: Create Script
It all begins with IT staff creating a StageGO Script on the easy-to-use and secure web-based Script Editor. A StageGO script can contain one or more staging commands such as change system settings, connect to WiFi, download files, install apps, or set restrictions, etc.

● Step 2: Print QR codes
This is when the script is ready to be transformed into QRCodes and get printed out for distribution to the fields. The QRCodes are always encrypted so that sensitive information such as username and passwords will stay hidden.

● Step 3: Scan QR codes
The device user scans all the QRCodes into the StageGO app, or alternatively load script from file. The script will then automatically start to execute.
Fully Manage your devices with Android Enterprise Device Enrollment
StageGO 2.0 works with Android Enterprise Device Enrollment, bringing a seamless, instant and secure device deployment experience across all your unitech mobile devices. StageGO 2.0 supports both the QRCode and the zero-touch enrollment options. Each option requires a different but relatively effortless preparation task but all lead to the same end results, that is, a fully configured device out of the box.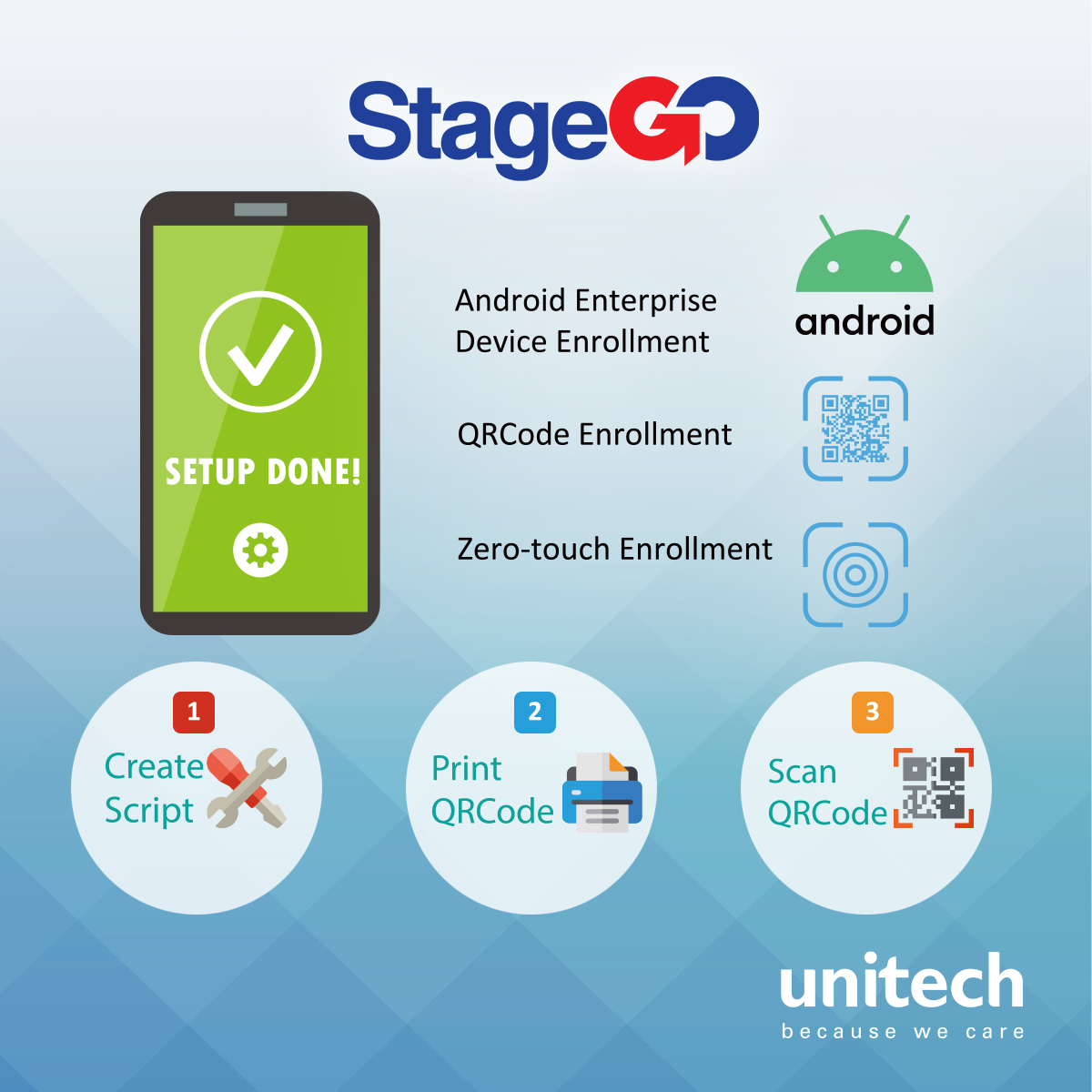 Data Compression

A barcode is designed to contain only a finite amount of information, one of the StageGO's technological highlight is that the script commands are compressed and optimized in a way that only the least amount of barcodes are required to represent the script itself when the script is printed. The device users who are scanning the staging barcodes on a mobile device will considerably appreciate this technology because they would know that they are working under the optimal scanning workflow.

Security and Privacy
Another technological marvel of StageGO is how it tries to combat the problems of privacy with typical barcodes where anyone can pick up a camera or barcode scanner to see the content of the barcode in clear text. StageGO takes the industrial standard AES strong encryption that often seen in the finance applications, and employs it onto the StageGO scripts and barcodes. This makes IT staff comfortable in placing sensitive information such as accounts, passwords, and web links etc. into the script and barcodes, and know that those sensitive information will be almost impossible to be cracked.
For an extra layer of security and privacy, the web-based StageGO Script Editor supports SSL encryption, and it does not store sensitive script data on our web servers. When you have an unfinished script in the editor, export the script to an encrypted file onto your own storage space. Safely store the script with you until the next time when you are ready to resume working on it, then import the script back into the web editor to continue editing. StageGO only processes the script locally on your PC or mobile device and does not remember the contents of your script when you close your web browsers.
Complete Device Control at your Fingertips
StageGO supports over 150 commands in the Fully-Managed command set. The Fully-Managed command set is available when you deploy your devices with Android Enterprise device enrollment. StageGO supports commands to configure, for example, Android system settings, unitech specific settings, applications management, file management, and firmware update. All the commands are available at your fingertips and you are welcome to show your creativity mix-and-matching the commands to suite your needs.
Enterprise Ready Features
StageGO can be run with specific options to meet your business needs or corporate policies. For example, you may setup StageGO to run as a kiosk application or to run silently in the background when configuring a device. StageGO can also be setup to auto-run one or more Bootup Scripts when a device boots up, ensuring that the device configurations are kept compliant and up-to-date every time when the device turns back on. StageGO also allow you to place a lock password on the QRCode, the script file, and the application Settings Menu, so that only the authorized personnel can execute a script or change app settings.
Upgrade path to MoboLink
StageGO is the prime device staging solution from unitech. When your business requirement starts small, you may begin fine with just the StageGO deployment. As your business grows or when your business starts to seek online-based EMM solution, you may choose to upgrade to unitech's Ultimate EMM solution "MoboLink" at a later stage. With MoboLink, you will be able to monitor and manage in real-time the device health of your devices, the locations, non-compliance event reports, online status, as well as manage the application & file deployments, or schedule to run StageGO configuration scripts remotely.

No Installation Required
The StageGO web-based script editor supports RWD designs for IT staff to work with both desktop and mobile workstations. StageGO application is also preinstalled inside the supported unitech mobile devices, ready to work when the device is boot up from factory.
Supported Devices
StageGO 2.0 will be supported on selected unitech Android mobile computers with Android OS 7 or later.