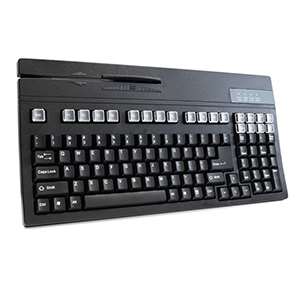 K2714
Dual Track Keyboard
The K2714 Unitech POS keyboard is a trusted accessory for your check-out counter or work station.

• Fully integrated magnetic stripe reader card reading


• Slim, space saving design to fit in any work space


• 1 year warranty to cover device from normal wear and tear
When looking for keyboards to oufit your business, you'll want a tool that works seamlessly with your existing technology. The K2714 can take care of your data input needs and help you work smarter and faster.
Features
• Built-in magnetic stripe reader
• Rugged: IP65, 4-foot drop rating and MIL-STD-810G certified
• Space-saving design
• Spill-resistent construction
• 1-year warranty
POS Ready
The K2714 was designed with your front-counter in mind. Durable, spill-resistant, and packed with features, it is space-saving at its best. The K2714 keyboard features a built-in, dual-track magnetic stripe reader and 104 keys.

Unlike consumer-grade keyboards, Unitech POS keyboards are expected to take the occassional spill. The K2714 is sealed against moisture, protecting against accidents such as water spills.
Faster Transactions
The K2714 features 21 customizable keys (or relegendable keys) for adding color, icons, or text. This customization will give your employees easy visual recognition of their most frequent functions and key combinations.

Color-coded keys will streamline the data input in your stores or work station, speeding up transactions or freeing up your team member for other tasks.

Supervisors and trainers will also enjoy a faster and easier training process.
Your Data Your Way
The K2714 is a plug-and-play keyboard. However, you can choose to set-up and program the keyboard just how you like it.

The Keyboard Configuration Manager simplifies configuration and provides data editing functions to customize output.
Model Numbers
SKUs
K2714U-B:
K2714, USB Cable, Black

K2714U:
K2714, USB Cable, Beige

K2714:
K2714, PS/2 / AT Cable, Beige
General
Interface
AT (5 pin DIN)
PS/2 (6 pin mini-DIN)
DIN (IBM AT)
Magnetic Stripe Reader


Tracks I & II (ISO 7811)

Keys

104 total
21 relegendable

Key Durability

20 million strokes

Key Mechanism

Membrane switch

Key Travel


4.0 ± 0.3 mm
Mechanical
Dimensions

15.8"L x 8.3"W

Weight

2.8 lbs
Environmental
Operating Temperature

32ºF to 131ºF

Storage Temperature

-4ºF to 149ºF

Humidity

10 to 95% RH non-condensing
Electrical
Source

Keyboard port

Voltage

+5V DC ± 5%
Warranty
Main Unit

1 Year

Cables

90 Days