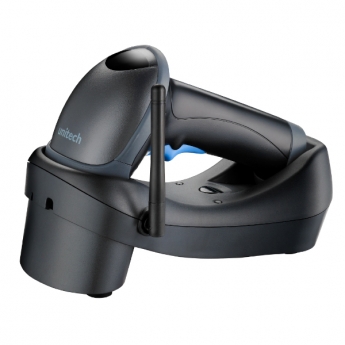 MS840B
2.4GHz Wireless Laser Scanner (1D)
The MS840B rugged 2.4GHz Wireless barcode scanner is a premier wireless barcode scanner ready to be deployed in the most challenging of work environments.

• Reads all 1D barcodes including GS1 Database

• Tough enough to survive drops of up to 6 feet onto hard surfaces

• Ability to sync up to 3 scanners per optional cradle
Go wireless and do more. With the MS840B 2.4GHz Wireless barcode scanner you'll never have to worry about losing your connection or losing data.
Features
• High-performing laser scan engine
• Capable of scanning all 1D barcodes; including GS1 Databar
• Ergonomic design for maximum user comfort
• Multiple scanning modes
• Volume-adjustable audible beep
• 6-foot drop threshold
• Environmentally sealed against moisture and dust
• Cradle available
• Can sync 3 scanners per cradle
• Warranty: 1 Year
Powerful Scanning
The MS840B features Unitech's Mantis decoder for fast and aggressive reads. This wireless barcode scanner optimizes data capture with its powerful laser scan engine. Never struggle to read a damaged or poorly printed barcode again.
Easy
Move without restrictions: enjoy 300 feet of wireless freedom. This will bring your business the flexibility it requires to run smoothly and efficiently–and then some.

You can set up the MS840B to transmit scans to your host in real-time. Just download our Quick Start Guide to get running immediately. Unitech recommends using the included cradle to transfer data via 2.4GHz Wireless for easy data collection, BT connection via computer, tablet, or smartphone is also possible.

This 2.4GHz Wireless barcode scanner has a cradle accessory that can mount to a desk or wall (though the device is fully functional without a cradle). If you misplace the device, pressing the locate button on the charging cradle allows the scanner to emit loud beeps so you can find it quickly.

You can also sync up to three MS840B scanners to a single cradle for added convenience and communication.
Rugged
Once you invest in all the great features the MS840B has to offer, you'll want to enjoy them for as long as you can. Conveniently, our 2.4GHz Wireless barcode scanner repels dust and water, protecting the technology within. It can also withstand falls of up to 6 feet to concrete, bringing durability and lasting value to your team.