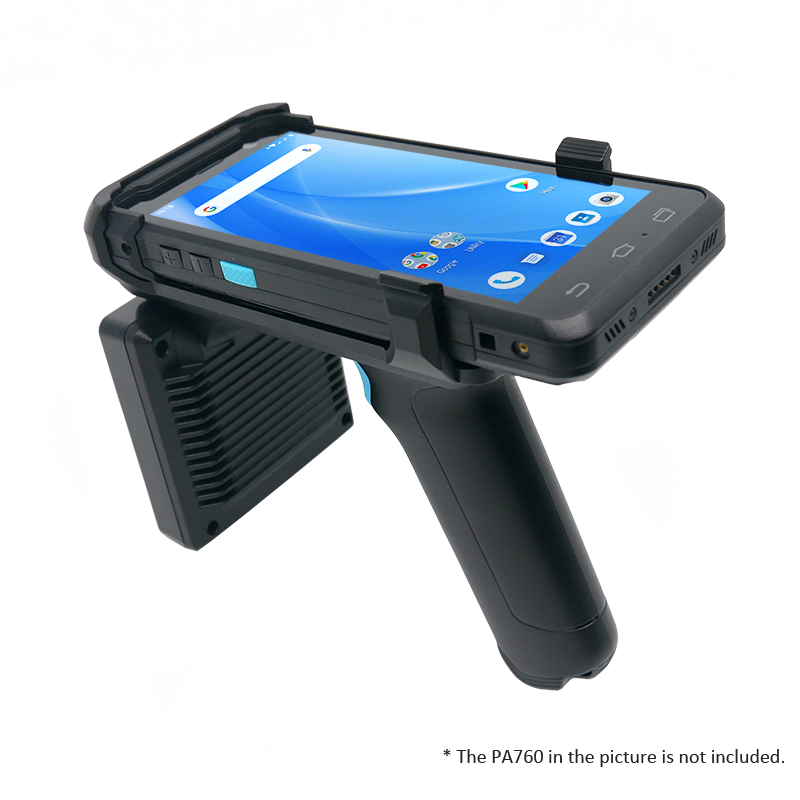 RG760
PA760 with RFID Sled
El RG760 viene con un soporte diseñado específicamente para PA760. Simplemente deslice la PA760 en el soporte y ciérrelo. La PA760 está preparada para la lectura de códigos de barras y RFID/UHF.

• Capaz de leer 750 etiquetas por segundo para una rápida recopilación de datos

• Un cable USB tipo C de carga rápida para más carga, menos desgaste

The RG760 features an easy-to-operate and sled design with UHF RFID data collection that is easily for users to attach the PA760 to the RG760 sled and get ready for both barcode and RFID/UHF reading solutions.
Features

• User-friendly operation with a sled enclosure
• Standards supported: EPC Class1 Gen2 V2
• Reading up to 19 feet (6 meters) away
• Fastest Read Rate: 750 tags/second
• IP52 dustproof, waterproof and 4 foot (1.2 meters) resistant to fall protection
Built on the Latest Android 9 Platform
Applications run faster, downloads are speedier, and web pages load quickly on the newest operating system, created on the trusted Android platform.

• Android 9 OS rugged mobile computer
• Advanced 64-bit Qualcomm Snapdragon™ 660 Octa-Core CPU (2GHz) with 4GB RAM and 64GB (optional) Flash
• GMS certification coming Q2 2019

Advanced Touch Screen Technology
Work tasks are completed simply with the PA760's large screen and capacitive touch screen.

• A generous 5.45" screen to read text and view images clearer
• 5-point capacitive touch screen with Gorilla Glass 3
• Fingerprint recognition technology allows users to unlock devices with ease
Superior Data Collection
Read barcodes efficiently with the PA760's agressive scan engine and snap photos for documentation in high definition.

• Integrated 1D/2D barcode scanner reads digital and printed barcodes
• High resolution 16MP full HD rear camera and 5 MP front camera
Sheer Durability
Falls, bumps, dirt, dust, water, and liquids can't stand up to the PA760's powerhouse protection.

• 5-foot drop-resistant housing / (6-foot drop-resistance with bumper)
• Dual tested: IP67 & IP65 heavy-duty protection against water and dust
• Rugged pogo-pin design protects the handheld from the wear and tear of frequent charging and docking
Multiple Connections
Get connected quickly and securely with PA760's fast-roaming WiFi, Bluetooth, 4G LTE, and GPS offerings.

• Leading 4G dual nano SIM slot
• Support WLAN : Dual Bands with fast roaming & WWAN: 2G/3G/4G LTE with full bands
Learn more about the PA760 rugged smartphone...
Model Numbers
SKUs

PA760-WALFRMDG:
PA760, 2D Imager, Android 9, 4G LTE, Power Adapter and Battery (4000mAh), Bumper Protection

PA760-WAL3UMDG:
PA760, 2D Imager, Android 9, 4G LTE, Fingerprint Module, Power Adapter and Battery (4000mAh), No Bumper Protection

PA760-WALFRMHG:
PA760, 2D Imager, Android 9, 4G LTE, Power Adapter and Extended Battery (6000mAh), Bumper Protection
Operation System
CPU

2.2GHz Qualcomm Snapdragon™ 660 Octa-Core Processor, ARM A53 64bits

Memory

4 GB RAM
64 GB Flash (Optional)
RFID
UHF

Standards Supported : EPC Class1 Gen2 V2
UHF RFID Performance
RFID Module

RFID Engine : M6e-Micro (RAIN RFID supported)

Reading Distance

6m (Circular antenna

Tag Read Rate

750 tags/sec

RF Power output

TW: 922-928 MHz
US: 902-928 MHz
EU: 865-868 MHz
Japan: 916-921 MHz
I/O Interfaces
Automatic Reboot Trigger

Trigger

Connector

Host Computer: Connected with PA760 via pogo pin
Host Connection : Electrical 10-pin connection
Enclosure
Dimension

5.7 in x 2.9 in x 6.2 in (L x W x H)
(147.1 mm x 74.5 mm x 158.1 mm)

Weight

7 oz / 193 g (without terminal)
Durability
Drop Specification

4 feet /1.2m (with terminal)

Sealing

IP52 (with terminal)
Environmental
Operating temperature

-4°F to 122°F (-20 to 50°C)

Storage temperature

-22°F to (-30 to 60°C)

Relative Humidity

5% ~ 95% (non-condensing)

Electrostatic Discharge

+/- 8kV air discharge
+/- 4kV contact discharge
Power Source
Main battery

From PA760

Power

From PA760

Push Button

Trigger
What comes in the box
The standard package contents

■ RG760
■ Hand Strap
■ ALN-9654 RFID Tag
■ QSG