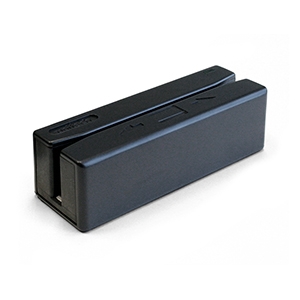 MS246
Magnetic Stripe Reader
The Unitech MS246 magnetic stripe reader is the easiest way to obtain your card data. A simple swipe and you'll be capturing up to three tracks of data quickly and accurately.

• Lots of mileage! The MS246 can be swiped up to 1 million times.

• Long two year warranty covering damage from normal wear and tear

• Bi-directional card swiping to read cards in either direction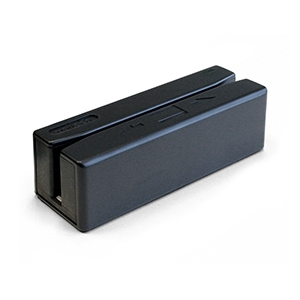 The MS246 magnetic stripe reader is a handy and compact data collection solution easy to integrate into any gym, retail store, restaurant, library, or office.
Features
• Small footprint to fit in tight places
• Reads up to 3 tracks of information
• Bi-directional card swiping
• Superior reading of high jitter, scratched, and worn cards
• Reliable for over 1,000,000 card swipes
• Velcro pads for easy mounting
• USB-KB or USB-HID interface, no external power supply required
• OPOS driver available (Compatible with Windows 7, Vista and XP)
• 2-year warranty
Compact Design, Rugged Format
Swipe your way to efficiency. With absolutely no set-up or programming required, the MS246 is a true plug-and-play solution.

The MS246 magnetic stripe reader is compatible with any Windows or Mac computer. Simply plug the device into a USB port and information will appear on the screen as if entered from a keyboard.

The efficient device requires no external power to perform its duties.
Flexible
Although the MS246 magnetic stripe reader requires no programming to operate, Unitech software can help you program the device to output the data the way you want it.

It's simple to customize the way you receive data with the MS246. Cards can be swiped in both directions, with a LED indicator for a successful or unsuccessful scan.
Model Numbers
SKUs

MS246:
MS246, USB Cable (Keyboard Emulation / HID Mode), Black
Electrical
Magnetic TTL

Power +5 VDC +/-10% (50mV ripple maximum).
Ground 0 VDC (GND). Chassis ground connected to GND and magnetic head case

Operating Current

1mA per track maximum when reading a card
About 70mA for decoded magnetic stripe
Environmental
Operating Temperature

32°F to 131°F (0°C to 55°C )

Storage Temperature

-22°F to 158°F (-30°C to 70°C )

Humidity

Maximum 95% non-condensing
Reliability
Magnetic Head Life

1,000,000 passes minimum

Rail and Cover Life

1,000,000 passes minimum

Conformance

ISO 7811 1-6
Mechanical
Magnetic Stripe Formats

ISO 7811, AAMVA

Swipe Speed

5 to 50 inches per second, bi-directional

Card Thickness

.015 to .045 inches

Slot Width

.050 inches (1.37mm)

Indicators

Tri-colored LED, beeper

Interface

USB-KB, USB-HID

Dimensions

Length: 3.94 inches (100mm)
Width: 1.38 inches (35mm)
Height: 1.18 inches (30mm)

Weight

7 oz.

Cable Length

6-foot side exit cable