MSR120
Magnetic Stripe Reader
The MSR120 is a unique mag stripe reader with RS232 emulation with a USB cable, allowing greater compatibility to older back-end systems.

• Space saving design fits neatly on keyboards or in small spaces

• Ability to edit data to suit the needs of your business

• Cards can be used bi-directionally allowing more versatility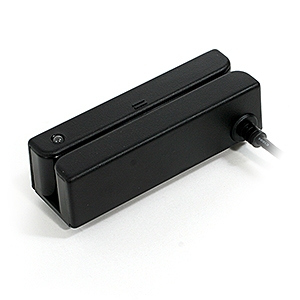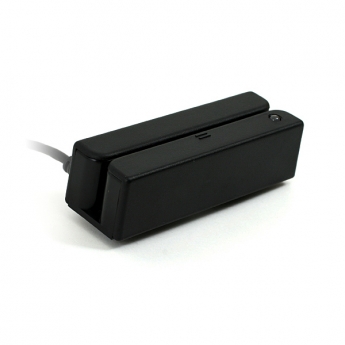 The MS246 magnetic stripe reader is a handy and compact data collection solution easy to integrate into any gym, retail store, restaurant, library, or office.
Features
• Compact design
• Reads up to 3 tracks of information
• Bi-directional card swiping
• RS232 emulation on USB interface
• Reliable for over 1,000,000 card swipes
• Velcro pads for easy mounting
• Windows compatible
• Data Editing capabilities
• 1-year warranty
Reliable
The MSR120—easy to mount on any keyboard, POS system, or flat surface—has a minimum lifespan of 1,000,000 swipes. The expertly crafted MSR120 can withstand the heavy use of customer-facing environments.

Compatible with Windows computers, the MSR120 easily decodes ISO cards, driver's licenses, credit cards, and more. The information will appear on the screen after a swipe in either direction.
Simple to Use
The MSR120 is a plug-and-play device, with no installation or software required. The MSR120's streamlined design does not require external power to start decoding your mag stripe cards.

An LED indicator provides visual confirmation of each successful or unsuccessful scan.
Model Numbers
SKUs

MSR120B-33UE:
MSR120, USB (with RS232 Emulation), Black
Environmental
Operating Temperature

32ºF to 131ºF

Storage Temperature

-22ºF to 158ºF

Humidity

Maximum - 95% non-condensing
Reliability
Magnetic Head Life

1,000,000 passes minimum

Electronics MTBF

125,000 POH

Read Rate

Less than one error in 100,000 bits on cards conforming to ISO 7811 1-5 (not caused by operator error)
Mechanical
Magnetic Stripe Formats

ISO 7811, AAMVA, & CA DMV

Swipe Speed

3 to 55 inches per second, bi-directional

Card Thickness

0.010 to 0.050 inches

Interface

Unitech standard decoding with advanced output data editing

Dimensions

Length: 3.94 inches
Width: 1.38 inches
Height: 1.18 inches

Weight

Approximately 9 oz. with cable