TB170
10.1 Inch Windows 11 Rugged Tablet
Wi-Fi 6 Technology|800 nits Sunlight Readable |Sensitive Digitizer Support
Windows

10.1"

IP65

1.5M

WLAN

Bluetooth

Warehousing

Field Service

Manufacturing

Healthcare

Government

Android 11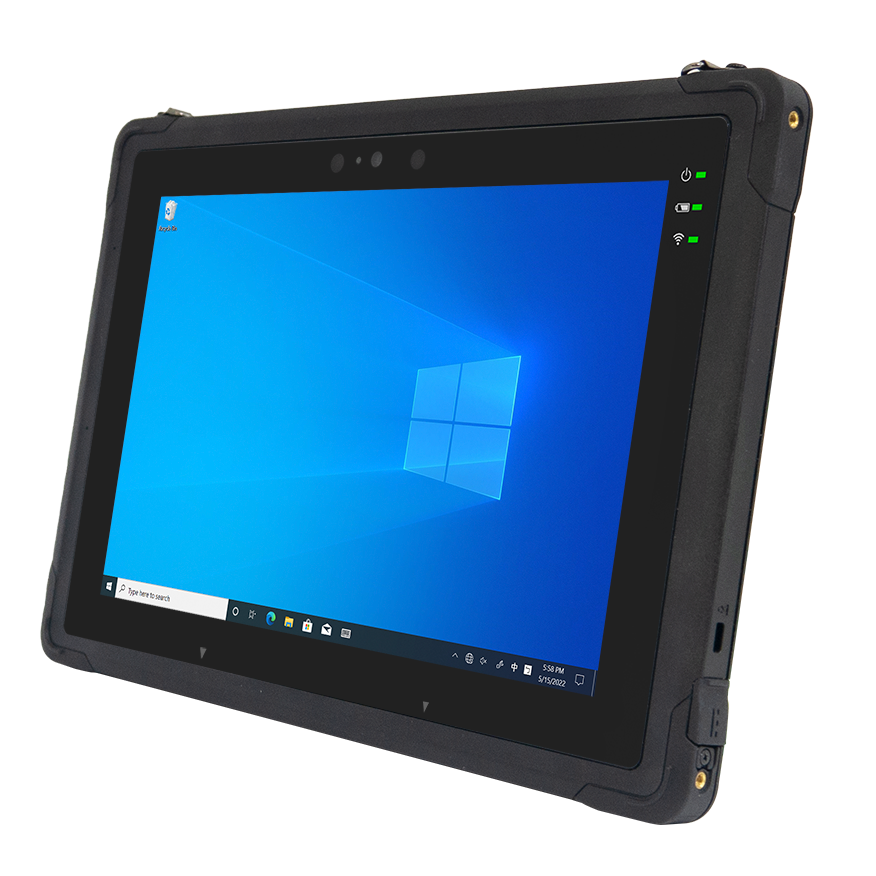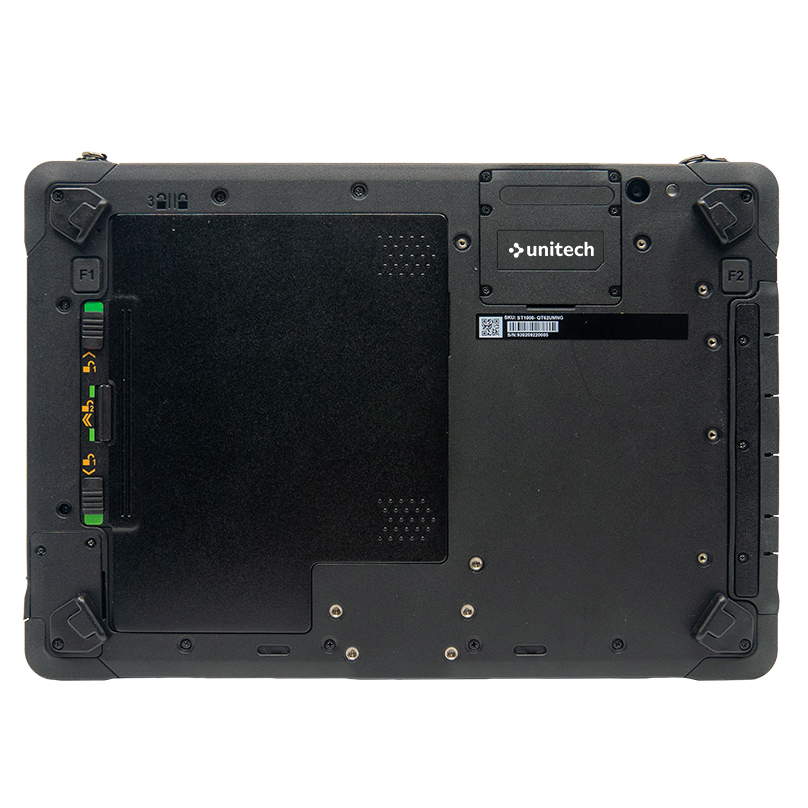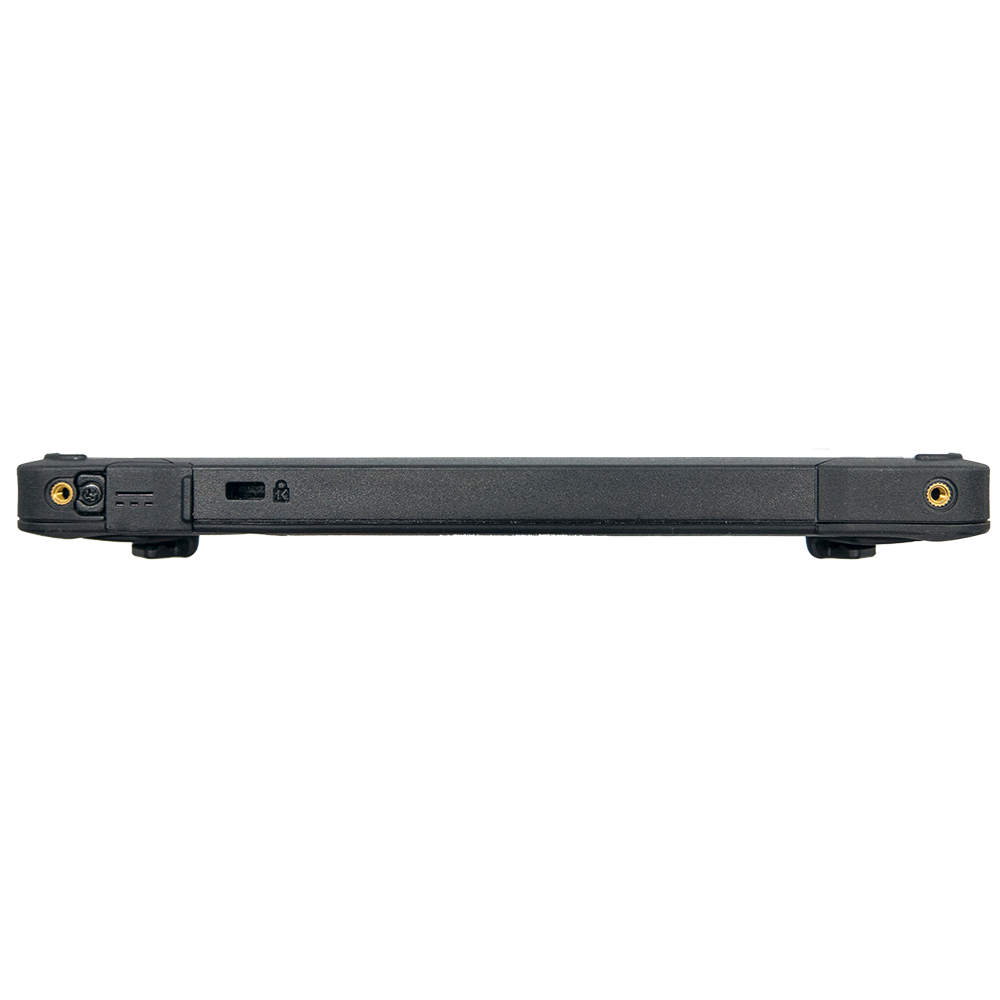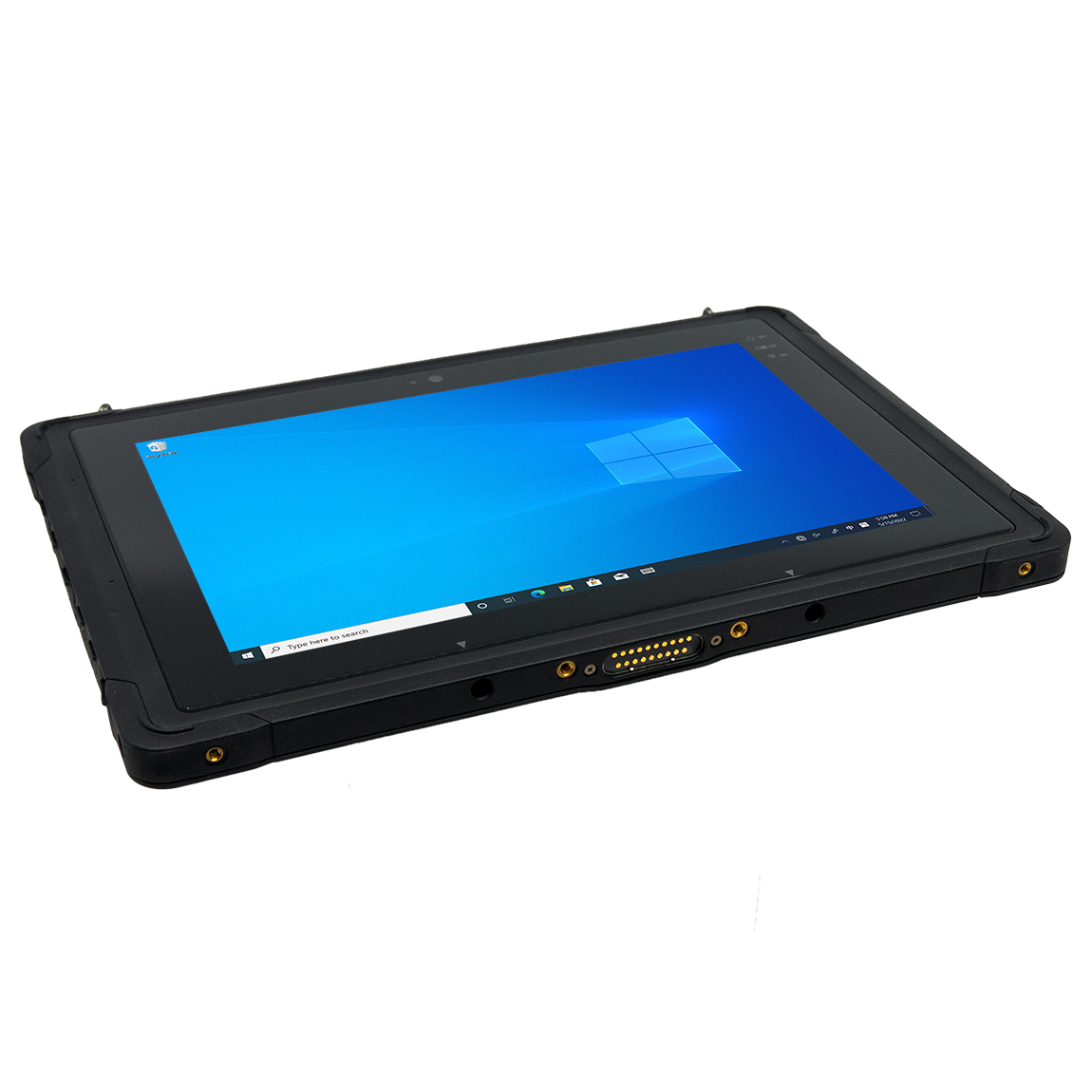 Now introducing our new TB170, the thinnest and lightest rugged tablet to ramp up your work production. This 10.1-inch rugged tablet is engineered to be extremely portable and efficient. Programmed with Windows 11 and a speedy Wi-Fi 6 connection, the TB170 is extremely stable and accurate under a variety of working conditions such as manufacturing, field services, and warehousing.
Features
• Windows 11 operating system
• 10.1" (1920 x 1200) IPS 800 nits sunlight readable
• Hot-swappable battery design with a capacity 4800mAh - up to 10 hours (depending on usage function and environment)
• Lightest and thinnest casing at only 990g &15 mm
• Rugged Design: IP65, MIL-STD-810G, 5ft (1.5m) drop resistance
• Latest wireless technology: Wi-Fi 6 802.11ax. & Bluetooth® 5.2
• Simple write and highlight system using the EETI digitizer pen
• Common and efficient I/O ports including USB Type-A, Type-C, and Ethernet
• Accessories: Shoulder strap, hand strap, EETI digitizer pen, briefcase handle, and vehicle/office docking
• Support Trusted Platform Module (TPM) 2.0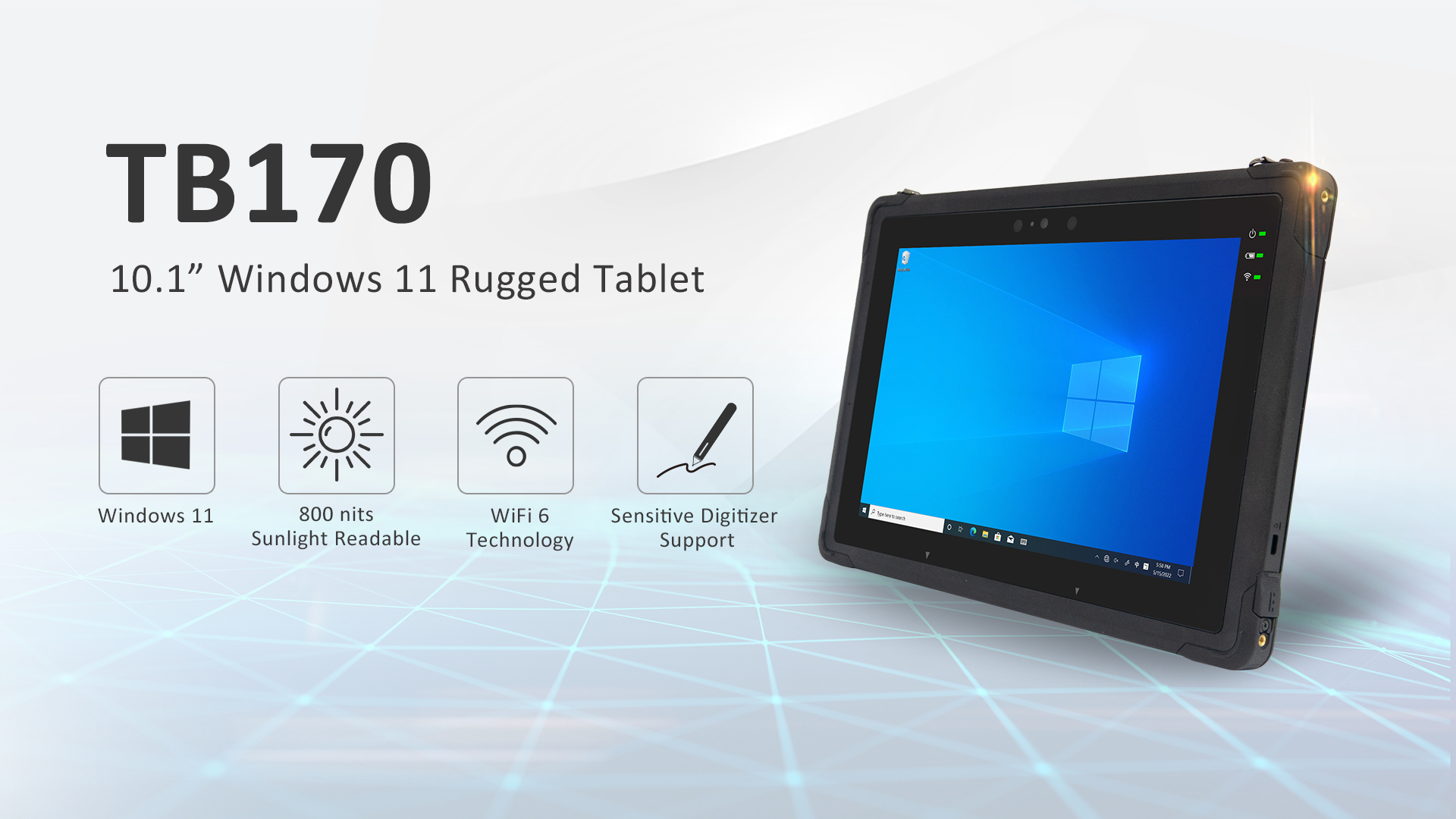 Advanced Technology: Wi-Fi 6, Bluetooth 5.2, and Windows 11 OS
The TB170 is equipped with dependable Bluetooth® 5.2 and low-latency Wi-Fi 6 connection capabilities. It's perfectly suited for various industries requiring large space movements, such as large warehouses and distribution centers. The fast 9.6 Gbps speed rate stabilizes the wireless connection for internet phone calls and meetings, even when a cluster of devices is connected. The leading Windows 11 operating system brings another level of modernity and efficient functions made to provide workers with the best workdays.
Wi-Fi 6

Bluetooth

® 5.2

Windows 11

Operation System

11th Intel® Celeron
Thin and Light, yet Durable.
The light tablet features a slim 1.5cm edge design, making it extremely portable any time of the day. The 10.1-inch display supports both glove and wet touch modes. Using the TB170 in the daytime is a breeze with it's sunlight-readable display of 800 nits. To meet the rigorous requirements of field business, the TB170 is able to withstand dust and water with an IP65 rating. Our device is also tested for drops of up to 5ft (1.5m) onto concrete. The MIL-STD-810G standard assures an overall quality by testing a broad range of tests such as temperature, humidity, sand and dust, rain, vibration, and shock.



10.1"
Display

800 nits
Brightness

IP65




Certification

5

ft




Drop Protection

MIL-STD-810G


Military Standard
Smooth Input and Greater Output

The TB170 features a sensitive EETI digitizer, when paired with the 10-point multi-touch panel, usage of the touch display is effortless. The superior 2D engine collects data quickly and efficiently with its programable keys. The integrated I/O ports (USB TypeA&C, SIM Card Reader, RJ45 Ethernet Port, Replaceable DC jack, Micro HDMI, SDXC Card Reader, 3.5mm Audio jack) allow external equipment to synchronize data troublefree.

EETI Digitizer

10 points

Touch Panel

2D engine

Support

I/O Ports
Full-shift of battery life

The high-capacity 4800mAh battery ensures efficiency through long work hours of up to 10 hours. (Usage may vary depending on functions and environment) With our easily hot-swappable battery design, users can effortlessly continue work activity without interrupting work flow.

4800 mAh

Hot Swap
Flexible Transformation Accessories

In our field of work, mobility is very important. The TB170 is perfect, as it can be carried around on a shoulder strap or hand strap. For static environments, the TB170 can be docked on an office dock or vehicle dock.

Mobility

Shoulder Strap / Hand Strap

Static
Office Docking / Vehicle Docking
Model Numbers
SKUs

TB170 Wifi Only:

TB170-0D62UMNG: TB170 without Scan Engine, Windows 11,WiFi, BT, Camera, GPS, with Battery and Adapter
TB170-QD62UMNG: TB170, 2D Engine, Windows 11,WiFi, BT,  Camera, GPS, with Battery and Adapter


TB170 with 4G LTE:

TB170-QDL2PMNG: TB170, 2D engine, Windows 11,WiFi, BT, 4G LTE (for US), Camera, GPS, Multi Language, with Battery and Adapter
TB170-0DL2PMNG: TB170, without Scan Engine, Windows 11,WiFi, BT, 4G LTE (for US), Camera, GPS, Multi Language, with Battery and Adapter


Operating System
OS

Windows 11

CPU

2.6Ghz, Intel® Gemini Lake-R Celeron N4120

Languages Supported

8GB RAM / 128GB Flash

Other

TPM (Trusted Platform Module) 2.0 support
Display
Screen Size

10.1" (1920 x 1200)
IPS 800nits
Brightness sunlight readable display

Touch Panel

10-point multi-touch, support glove mode, and wet-touch mode
Buttons / Keypad
Buttons / Keypad

5 Physical Buttons
[power, vol+, vol-, 2 programmable keys]
Camera
Camera

2MP front camera
8MP rear camera, Auto Focus, Flash
Symbologies
1D Barcodes

Optional 1D/2D Barcode Reader
Communication
Bluetooth

Bluetooth® 5.2

WLAN

Wi-Fi 6 [802.11ax] (2X2 MIMO)

WWAN

Optional: Quectel EM06-E (EMEA/APAC)
Optional: Quectel EM06-A (North America)

GPS

GPS/ GLONASSS/ GALILEO

Sensors

9 Axis MEMS sensor [Accelerometer, eComass, Gyroscope]
Ambient Light Sensor
Proximity Sensor
I/O Interfaces
USB

USB 3.1 Type A x 1
USB 3.1 Type C x 1

POGO Pin

POGO pin

SIM Slot

SIM Card Reader [Nano] (LTE Version)

Audio

Microphone, speaker and 3.5mm audio jack

Expansion

Docking connector
RJ45 Gigabit Ethernet Port
Replaceable DC jack
Micro HDMI
SDXC Card Reader [Micro]
Reset hole
Enclosure
Dimensions ( W x D x H )

283 x 192 x 15 mm

Weight

990g
Durability
Drop Specification

5ft (1.5m)

Sealing

IP65

Vibration and Shock Test

MIL-STD 810G, shock & vibration
Environmental
Operating Temperature

14°- 122°F (10~50°C)

Storage Temperature

-4°-140°F (-20~60°C)
Power Source
Main Battery

Battery: 7.6V, 4800mAh / 36.5 Wh
Backup Battery: 7.4V, 142mAh / 1.05Wh
Hot-swappable
Battery Operation: up to 10 hours (depends on usage function and environment)

Hot Swap

Yes; Hot swappable
Regulatory Approvals
Regulatory Approvals

CE, FCC, BSMI, NCC
What's In the Box
Standard Package Contents

■ TB170
■ Power Adaptor
(AC/DC adapter and AC power cord US)
■ Battery pack
Accessories
Accessories

■ 3-Pin EU Power Cord (PN#1550-905899G)
■ 3-Pin UK Power Cord (PN#1550-905900G)
■ 3-Pin US Power Cord (PN#1010-900001G)
■ X-Strap (Hand Strap) (PN#3210-900022G)
■ Shoulder Strap (PN#3210-900034G)
■ EETI Digitizer Pen, B-type (PN#1979-900007G)
■ Brief Case Handle (PN#3210-900037G)
■ Office Dock (PN#5000-900101G)
■ Vehicle Dock (PN#5000-900102G)