Introducing RP902 MFi Bluetooth UHF RFID Pocker Reader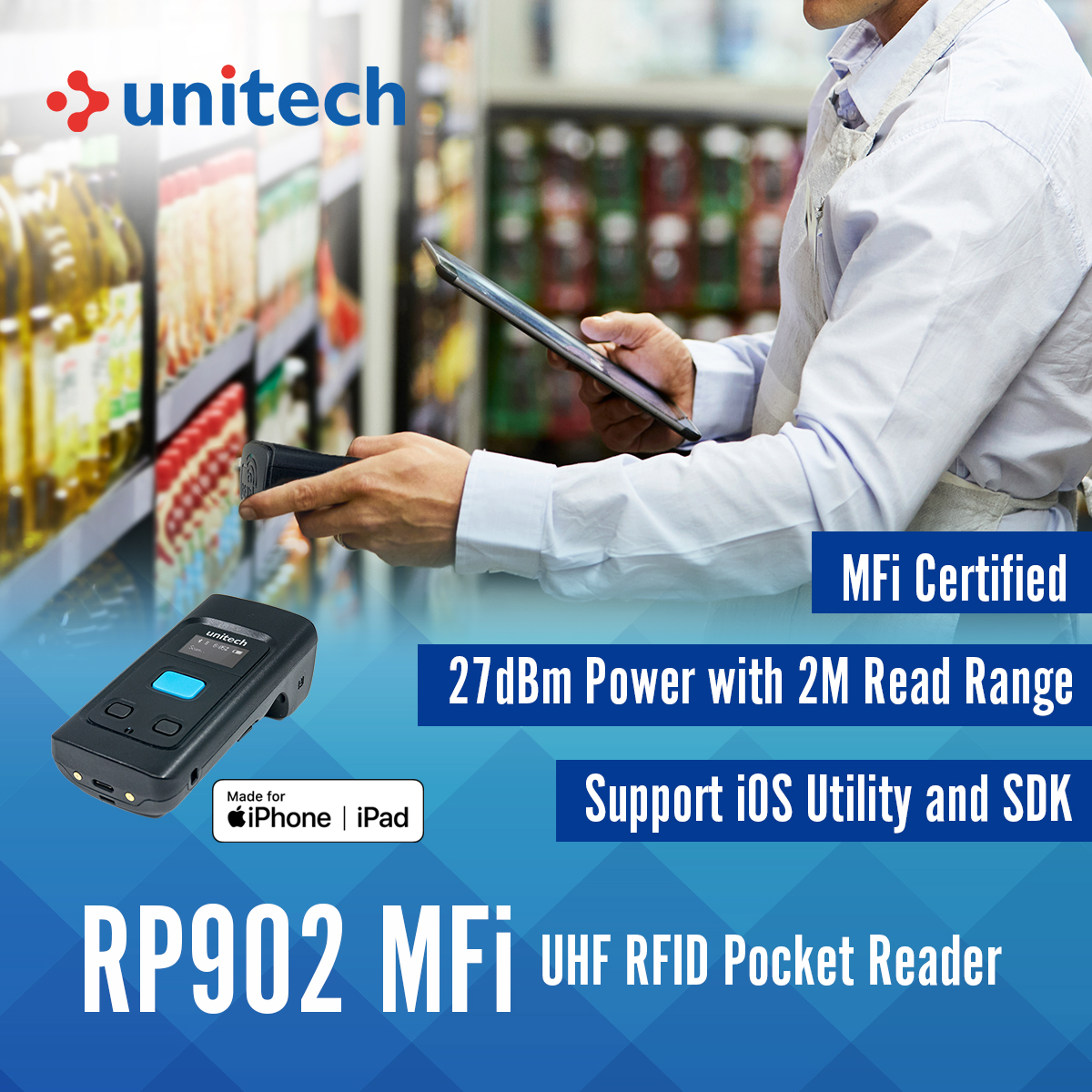 Looking for a durable RFID reader that is easy to carry around? Unitech's new RP902 MFi Bluetooth UHF RFID Pocket Reader can satisfy your need! With MFi certified (Made for iPhone/iPad), RP902 MFi supports iOS operating system.
The compact yet durable design of RP902 MFi provides IP65 Sealing protection against water and dust while being light enough to fit into your pocket.
It can reach up to 2m read range under 27dBm signal, and reads 75,000 tags over 12 hours! Enhance overall productivity and provide better customer service with RP902 MFi!

MFi Certified RFID Solutions

Following MFi (Made for iPhone/iPad) certified, Unitech RP902 MFi portable RFID reader is supported by the iOS utility and SDK.

The RP902 MFi is a compact and durable UHF RFID reader

that maximizes your compatibility and enhances scanning efficiency.It facilitates your operations at every task, including inventory check,cycle counting, asset management, and more!

Lightweight Reader in Durable Design

Well-fitting in your shirt pocket, the RP902 MFi RFID reader

has high mobility to solve your customer's inquiry

around the store environment. Coming with a sturdy design,

the IP65 sealing for dust and water protection and the 1.2-meter drop to concrete provides you a durable design you can trust with.

Optimized Capture for Multiple RFID Tags

Our RP902 MFi optimizes the RFID capture performance

along with more tag reads per second and a longer read range.

Workers achieve better productivity with the read of 75,000 tags

over 12 hours. The 2-meter-long read range and strong 27dBm

signal on RP902 make stock picking, shipping, and delivery more precise, quickly, and accurately - creating a better customer experience.