PA768 (WLAN only)
6.3-inch Rugged Touch Computer
WLAN 6E|Longevity QCS6490 Processor | 10m Reading Distance|Hot Swappable 5100mAh Battery
Android 12

2D

Pogo pins

16MP

IP67

IP65

1.8 m

WLAN 6E

GMS certified

AER certified

Retail

Hospitality

Logistics

Warehousing

Field Service

Government

6.3

AI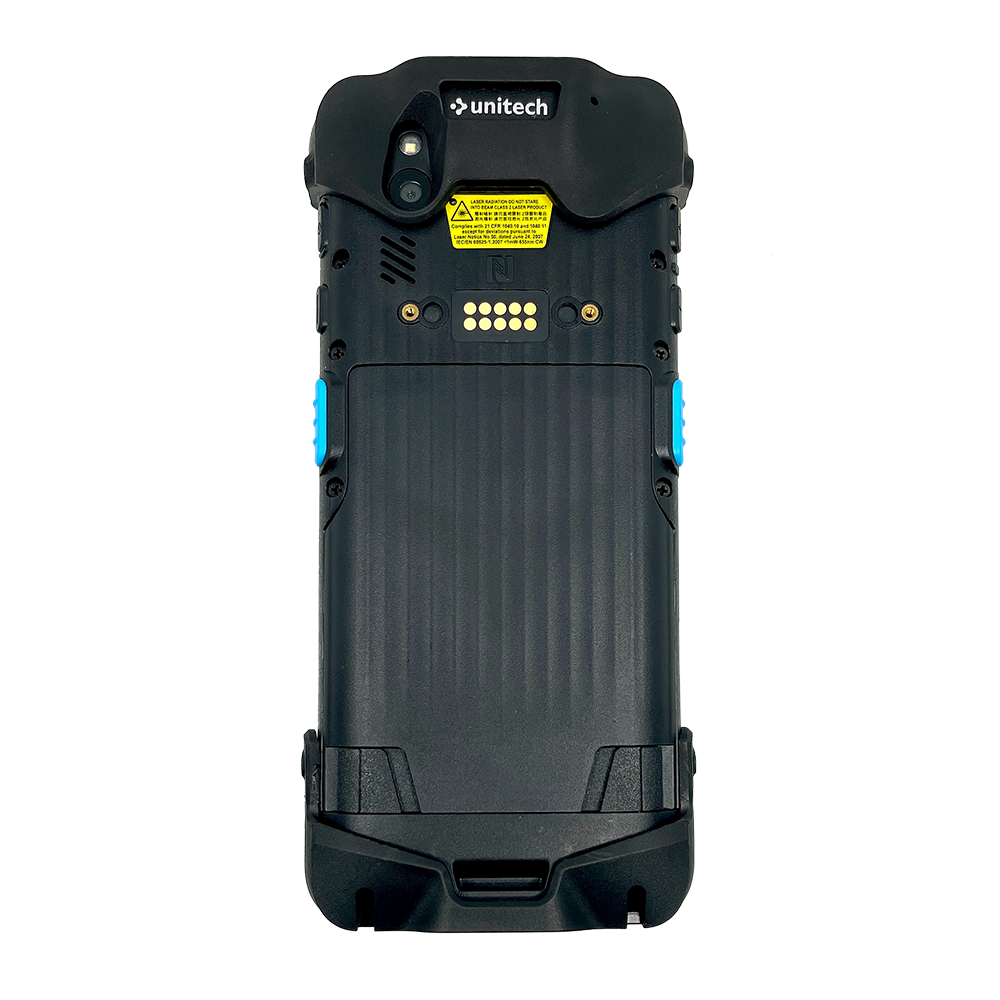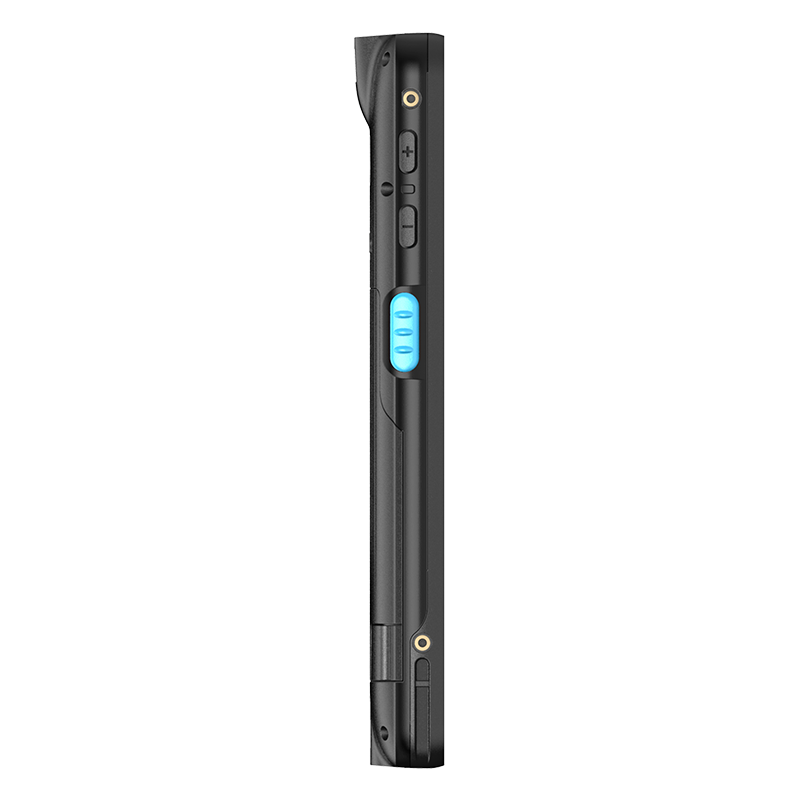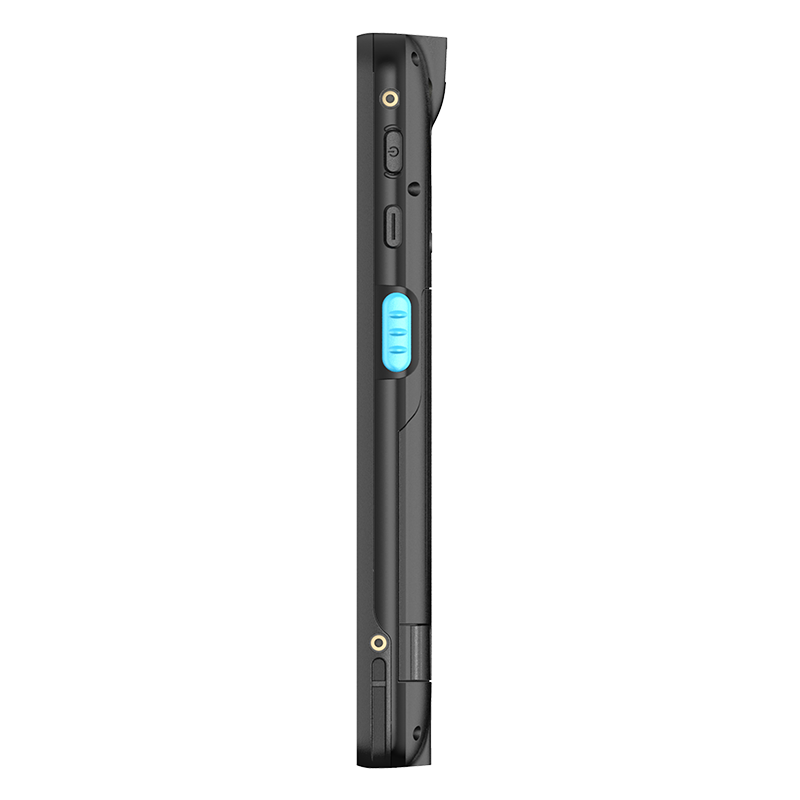 Unitech is thrilled to present its latest innovation, the PA768 rugged mobile computer (WLAN version), designed to provide dependable and efficient mobile computing for indoor warehousing operations. Boasting high-speed and low-latency data transfer capabilities with WLAN 6E technology, the PA768 ensures fast and reliable information access for maximum user benefit. With its durable and ergonomic design, the PA768 is the ideal solution for streamlining warehouse operations and increasing productivity.
Features
• Android 12 OS with GMS & AER certified
• Support WLAN 6E : 2.4 and 5 GHz frequency as well as the 6GHz band
• Multi-Scan function: Available to read 10 barcodes at one time
• Premier barcode reading distance : up to 10 m
• Superior barcode engine : 1D/ 2D/ DPM/ DOT code/ barcodes on screens/ OCR
• 1.5M drop-resistant housing (1.8M with bumper)
• IP65 & IP67 heavy-duty protection against water and dust
• True Hot-swap battery design without downtime
• Support MDM Software Solutions and utilities such as Airwatch, SOTI, Ivanti Wavelink, and MoboLink.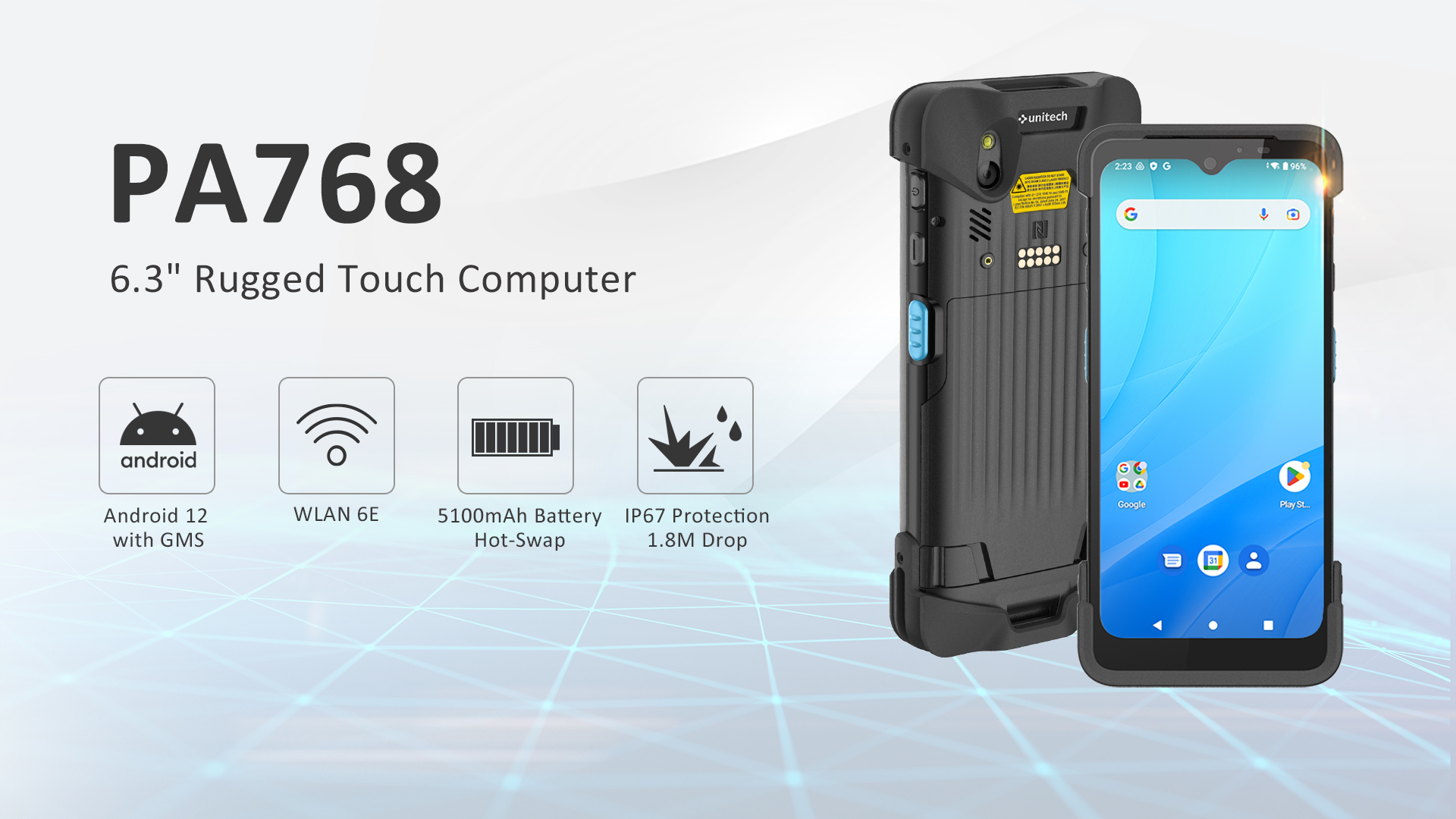 Powered by Android 12 OS with GMS & AER Certified

• 6.3 inch (20:9) Android 12 rugged mobile computer with Split Screen function
• Advanced 64-bit Octa Cores CPU up to 2.7 GHz
• Google Certification: Google Mobile Service(GMS)/ Android Enterprise Recommended (AER)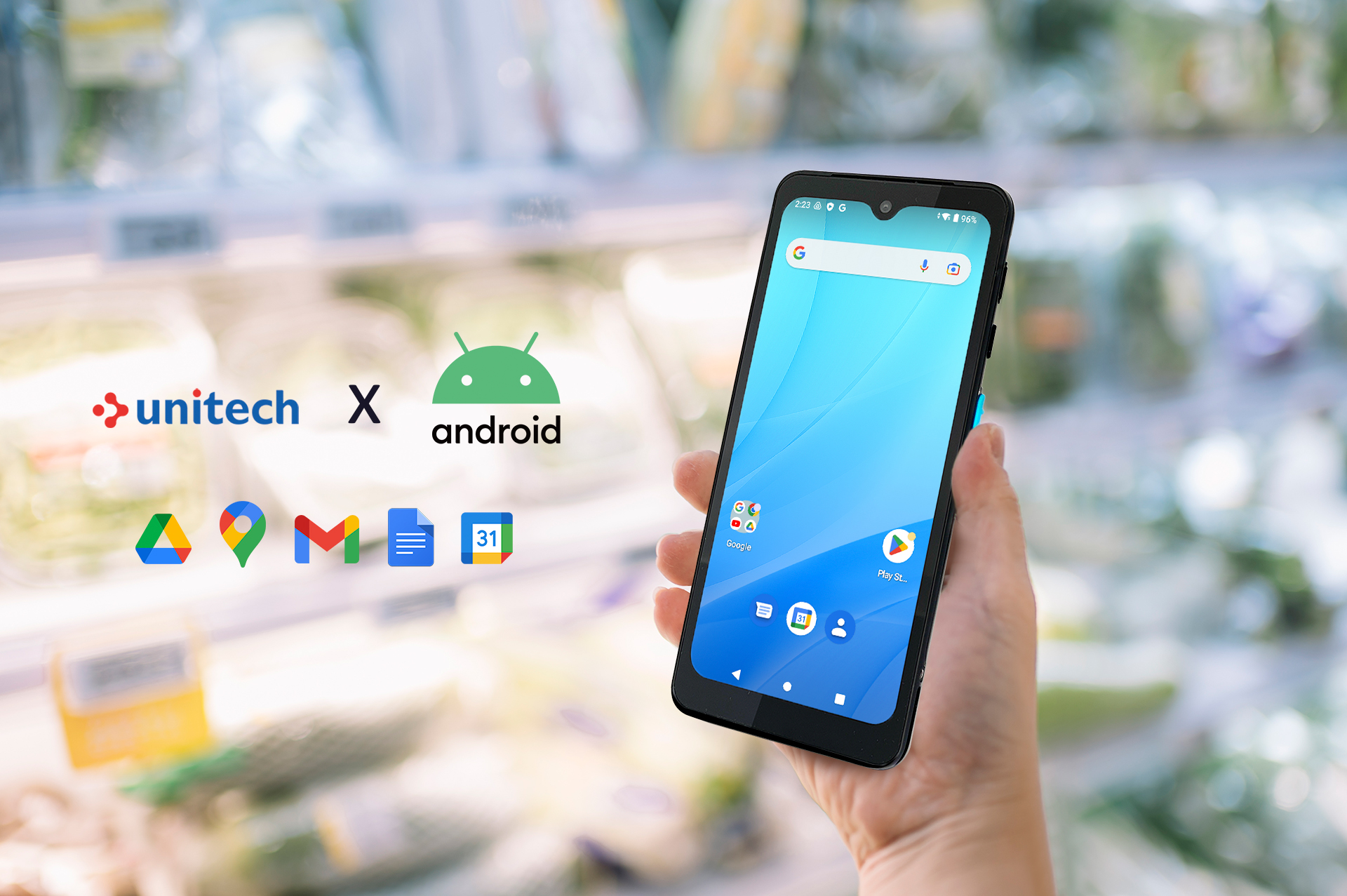 Outstanding Long Range Barcode Reading Technology
Utilizing a premier 2D barcode scanning technologies, the PA768 rugged touch computer enables barcode reading at distances up to 10m* with WLAN6E connectivity. It delivers a perfect solution for the warehousing environment that users can enjoy the high performance of barcode reading even from a short or a long distance and optimize work efficiency.
*Optional Middle range engine support read range up to 10 meters.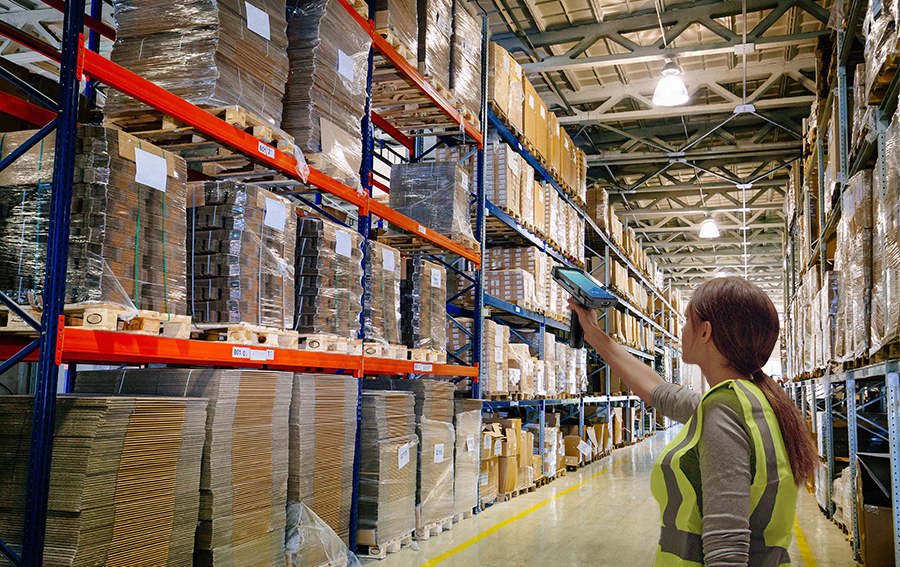 Support ARCore Technology
The PA768 rugged touch computer supports ARCore technology that allows developers to create augmented reality apps to sense its environments and interact with information. The PA768 enhances the CPU and built in the quality of both the camera and the motion sensors, it gives users stable performance to handle everything.
The ARCore technology transforms the way people work that helps to locate and identify the elements in warehouse management, allows training for the user while executing the production processes, and precise details of the areas at risk allow for increased vigilance limiting accidents in field service applications.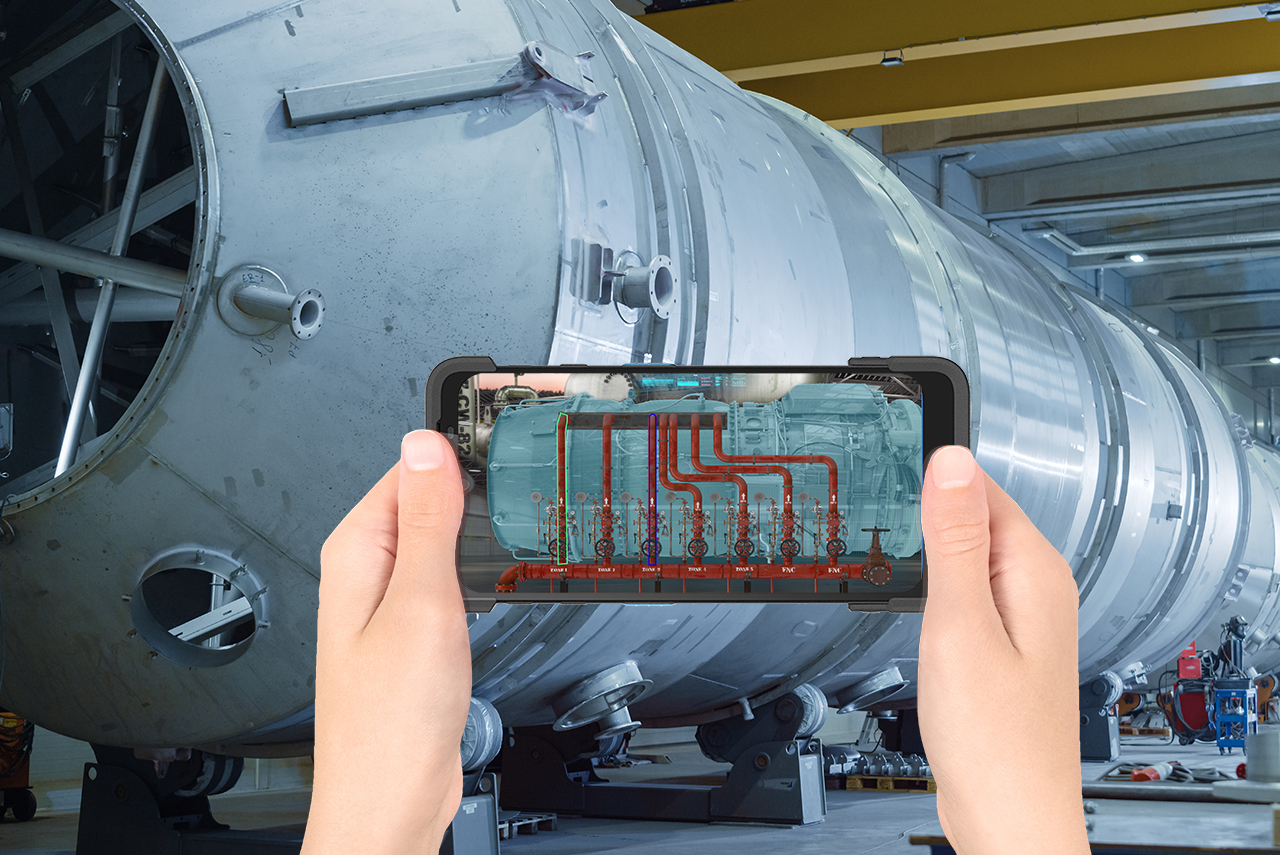 Reliable at its best
The PA768 also comes with the GMS certified that makes your toughest workdays easier. Reaching IP65 & IP67 enterprise protection and withstanding 1.8M drop makes PA768 a perfect tool to maximize data collection, management, and traceability in nearly every practice of transportation & logistics, field service, manufacturing, and more!

IP65 & IP67
Certification

1.5m


Drop Protection

1.8m




Drop with Bumper
User-Friendly Functionality
• True Hot-swap battery design without downtime.
• Ergonomic handle design for long time use with a durable trigger key.
• Workers can run more smooth operations while wearing gloves (thickness ≤ 4mm) or wet-fingers.
• Various Accessories for customer needs.
• Support MDM Software Solutions and utilities such as Airwatch, SOTI, Ivanti Wavelink and MoboLink.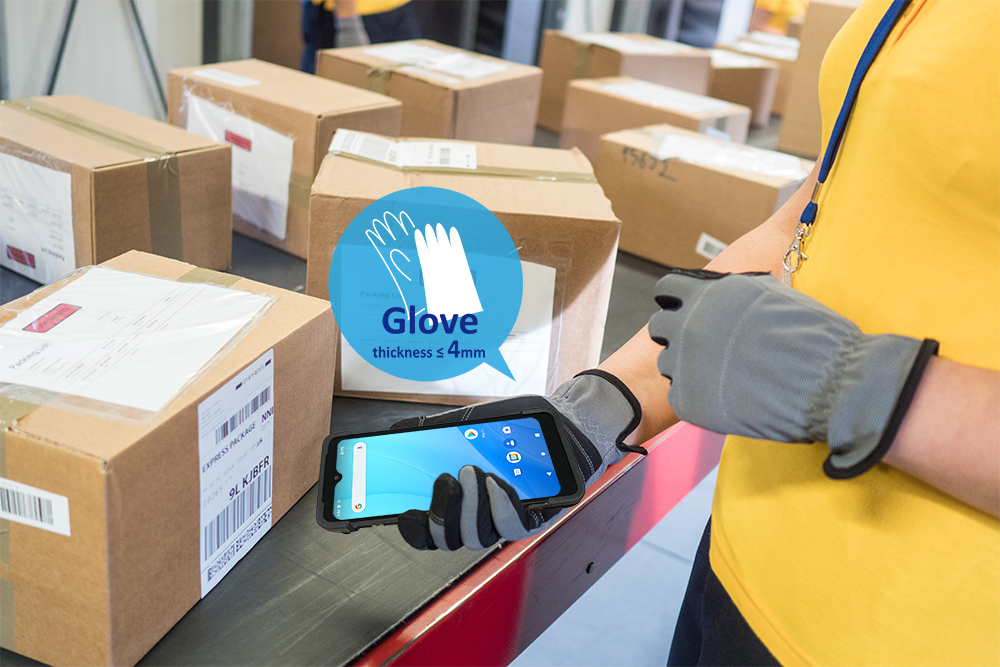 SmartPA: Better Audio Output
SmartPA(Power Amplifier) takes full advantage of the relatively smaller speaker to enhance better sound quality with maximum volume. Under distracted scenarios or noisy environments, outdoor workers access messages through a clearer, more natural, and high-quality audio experience while speaking on the mobile computer. The built-in SmartPA solution detects the current and voltage in speaker mode and minimizes circuit/ temperature damage, providing seamless communication between coworkers to achieve productivity.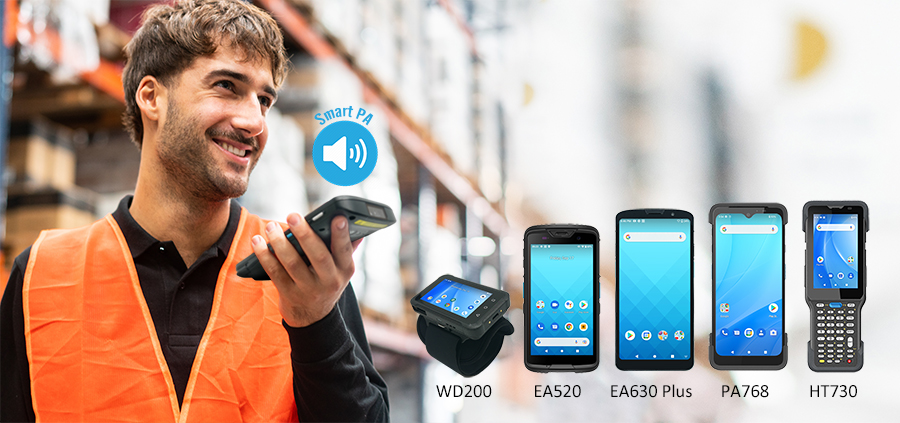 Power Amplifier


Better Audio Output

Built-in Algorithm




Lessen Circuit / Temperature Damage
Optical Character Recognition (OCR)

• Easily convert numbers or characters to digital formats on cardboards, paperwork, electronic chips.
• Minimize the typing mistakes when entering the numbers.
• Streamline your tedious typing process.


| | | |
| --- | --- | --- |
| Airline | Manufacturing | Logistics |


✔The Airline Ground Services|Read ID numbers from passports
✔Manufacturing|Read vehicle registration numbers and electronic chips
✔ Logistics&Retail|Read lot numbers printed on the package
Effortlessly Process Payments with Softpay
The Unitech PA768 offers support for the Softpay softPOS application, providing a unique mobile point-of-sale solution. This empowers store staff to assist customers on the shop floor and process payments anywhere within the store, eliminating the need for traditional cashier counters. By simply downloading the Softpay solution onto your existing PA768 device, it transforms into a versatile contactless payment terminal. Over time, this innovation allows users to reduce the number of conventional checkout counters in their stores, resulting in a more streamlined and seamless customer experience.

* Learn more about Softpay: https://softpay.io/
TAA Compliant Mobile Computers

MoboLink

Android Enterprise ready EMM for monitoring device health and managing apps, configs and files.


StageGO

Barcode-based device staging utility offering hundreds of script commands for you to work with.

OEMConfig

If you are using a third party EMM, OEMConfig will allow those EMM solutions to configure unitech specific settings on the device.
Operation System
OS

Android 12

GMS certified

GMS certified

Android Enterprise

AER certified

CPU

Qualcomm Snapdragon™ 6490 Processor, 64bits, Octa Cores up to 2.7GHz

AI

6th Gen Qualcomm AI Engine

Memory

6GB RAM / 64GB UFS Flash (128GB option)

Languages support

Multiple languages
Display
Screen Size

6.3" Color LCD 1080 X 2340 (FHD+) High Resolution Display
High sunlight visibility- LCD backlight up to 500nits

Touch Panel

Gorilla Glass with Multi-Touch Capacitive Touch Panel, support stylus, glove (thickness ≤ 4mm), wet-finger Compatibility

Buttons / Keypad
Buttons / Keypad

Programmable key, Volume up/down key, Left/right scan key, Power key
Camera
Camera

5 MP Front camera
16 MP Rear Camera with LED flash and auto-focus function,
Support Google ARcore
Indicator Type
Type

LED, Speaker, Vibrator
Symbologies
1D Barcodes

Codabar, Code 11, Code 128, Code 2 of 5, Code 39, Code 93 and 93i, EAN/JAN-13, EAN/JAN 8, IATA Code 2 of 5, Interleaved 2 of
5, Matrix 2 of 5, MSI, GS1 Databar, UPC-A, UPC E, UPC-A/EAN-13 with Extended Coupon Code, Coupon GS1 Code 32 (PARAF),
EAN-UCC Emulation, GS1 Data Bar

2D Barcodes

Codablock A, Codablock F, PDF417, MicroPDF417, Aztec Code, Data Matrix, MaxiCode, QR Code, Chinese Sensible (Han Xin), Grid Matrix, Dot Code

Postal

Australian Post, British Post, Canadian Post, China Post, Japanese Post, Korea Post, Netherlands Post, Planet Code, Postnet
RFID
UHF RFID

UHF gun grip (see RG768)


HF RFID

Support HF/NFC
Frequency 13.56Mhz
Support: ISO14443A/B, ISO15693, Mifare,
Felica(ISO/IEC18092)
I/O Interfaces
USB

USB 3.1 Type-C, support fast charging
Support Display Port Mode by dongle or USB-C of Ethernet cradle

OTG

Yes, over USB Type-C

POGO PIN

Bottom pogo pin for cradles, rear pogo pin for gun grips

Expansion Slot

Micro SD x 1, up to 1 TB

Audio

1.5W output, One speaker with SmartPA (100 dB at 10cm)
Dual-Microphone support noise cancellation
Power Source
Main battery

Hot Swappable 5100mAh Li-Polymer battery / battery with cover in one piece

Extended battery

7700mAh / battery with cover in one piece (optional)

Hot Swap

Keeps applications active up to 1 minute
Communication
Bluetooth®

Bluetooth® 5.2 , BLE 5, Class 1.5

WLAN

WLAN 6E, 2.4GHz & 5GHz & 6GHz, support Dual-Band Simultaneous (DBS)
IEEE 802.11a/b/g/n/ac/d/h/i/k/r/v/ac/ax (2x2 MU-MIMO)
Security WPA3, WPA2, WPA & WEP

Sensors

Gyroscope, G-sensor, E-compass, Light & Proximity Sensor
Software
MDM Software

SOTI, AirWatch, 42Gears, and MoboLink
Enclosure
Dimensions ( W x H x D )

167mm x 75.5mm x 17mm

Weight

270 g (with standard battery)
Durability
Drop Specification

1.8m drops with bumper to plywood over concrete at room temperature of 25°C per MIL-STD 810H

Sealing

IP65 & IP67 per IEC 60529

Tumble test

600 tumbles @ 0.5 m
Environmental
Operating temperature

-20°C to 55°C (-4°F to 131°F)

Storage temperature

-40°C to 70°C (-40°F to 158°F), without battery

Charging temperature

0°C to 45°C (32°F to 113°F)

Relative Humidity

5% ~ 95% (Non-Condensing)
Accessories
Accessories

■ USB 3.0 Type-C Cable(Support Fast Charge) (PN#1550-905908G)
■ Fast Charge Adaptor via USB Type-C Cable (PN#1010-900061G US Plug/ #1010-900062G EU Plug)
■ Hand Strap (PN# 5400-900052G)
■ 9H Glass Screen Protector (PN#401661G/ #5400-900053G 10pcs with Packing)
■ Stylus (5.5mm PN#386534G)
■ Coiled Strap (PN# 383642G)
■ Bumper (PN#5400-900059G, 1 Set with Package)
■ Single Slot Charging Cradle*(PN# 5000-900105G, PSU Only)
■ Single Slot USB Cradle*(PN# 55000-900106G, PSU Only)
■ Single Slot Ethernet Cradle*(PN# 5000-900107G, PSU Only)
■ Power Supply in the 1-slot Cradle (PN#1010-900043G)
■ 4-Terminal+ 4-battery Charging Cradle (PN#5000-900109G , PSU Only)
■ 5-Slot Terminal Charging Cradle (PN#5000-900110G, PSU Only)
■ 5-Slot Terminal Ethernet Cradle (PN#5000-900111G, PSU Only)
■ 4-Slot Battery Charger (PN#5100-900034G, PSU Only)
■ Power Supply in the Multi-slot Cradle (PN#1010-900068G)
■ 3-Pin Power Cord(US) (PN#1010-601551G)
■ 3-Pin Power Cord(EU) (PN#1550-602333G)
■ 3-Pin Power Cord (UK) (PN#1550-602689G)
■ Power Adapter 5V/3A (EU,UK,US,AU) (PN#1010-085001G)
■ Standard Gun Grip (PN#5500-900102G)
■ RG768 UHF RFID Gun Grip (PN# 5500-900103G (US) & PA768 with bumper / PN#5500-900104G (EU) & PA768 with bumper)
■ Standard Battery 5100mAh (PN#1400-900069G)
■ Extend Battery 7700mAh (PN#1400-900072G)
What comes in the box
The standard package contents

■ PA768 Terminal
■ Battery
■ Hand Strap
■ USB 3.0 type C cable
■ Adaptor (US or EU plug)


The basic package contents

■ PA768 Terminal
■ Battery
■ Hand Strap
■ USB 3.0 type C cable

Regulatory Approvals
Regulatory Approvals

CE, FCC, NCC, VCCI, TELEC, CCC, SRRC, BQB, N-Mark, RoHS 2.0
Warranty
Hardware

1 year

Statement

This product is warranted against defects in workmanship and materials for a period of one year from the date of shipment. Accessories are warranted for three months to one year. Our different regions have varying warranty terms, and offer extended and comprehensive warranties, so please contact your local representative for more information.