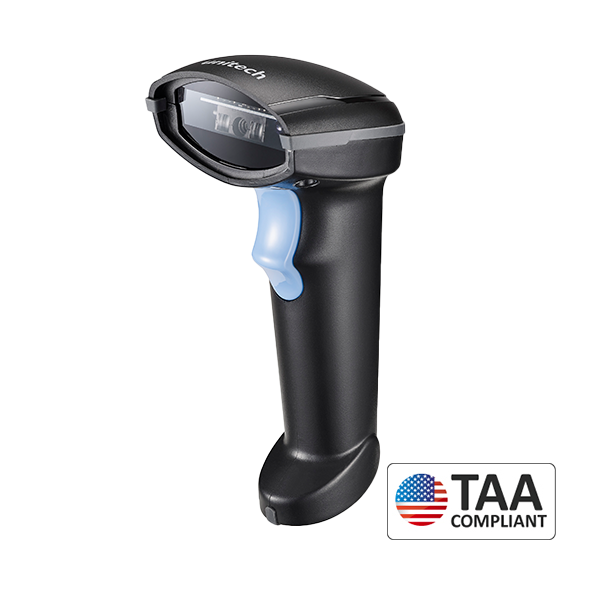 MS340
Handheld Imager Scanner (1D)
The MS340 is a long range CCD scanner for field service, warehouse and manufacturing applications.

• Capable of long-range scanning (up to 15 inches) for a wide range of uses

• Ruggedly built to withstand 5-foot drops and IP42 rated for tough jobs

• Aggressive 1D scanning with capability of up to 500 scans a second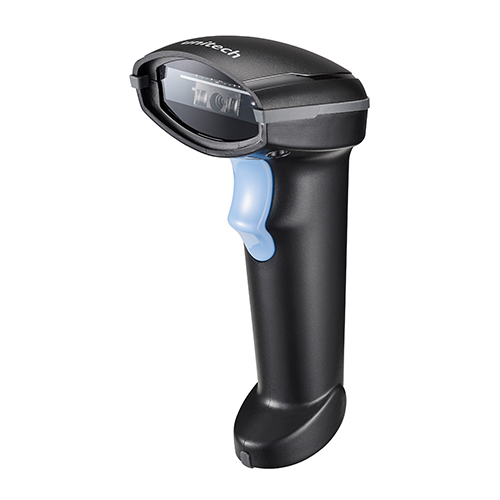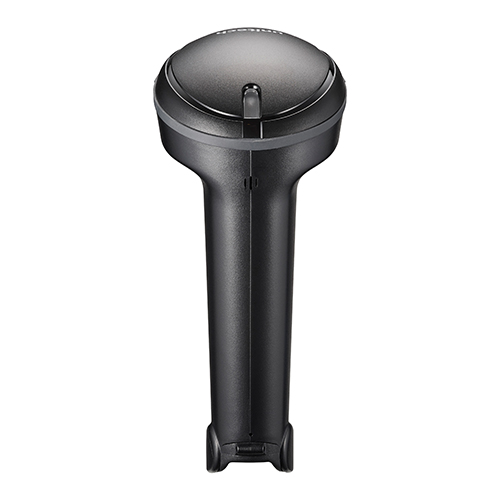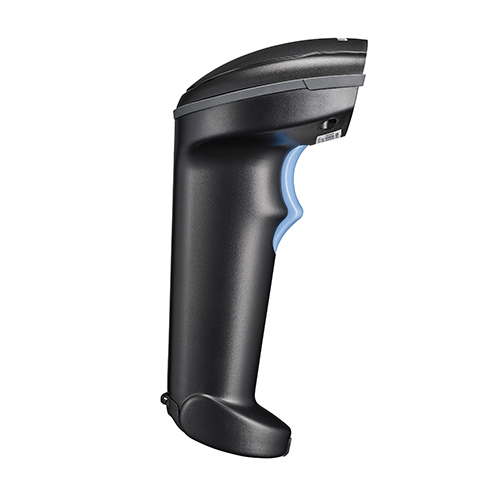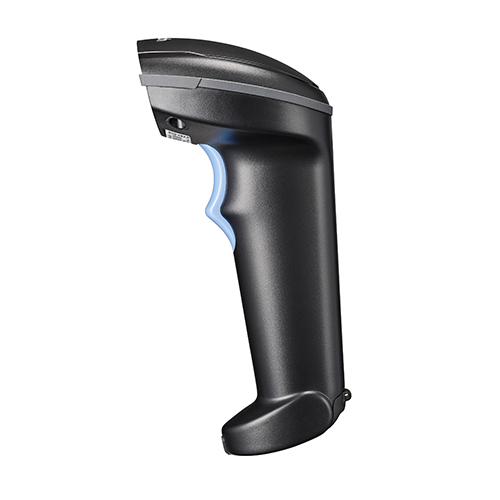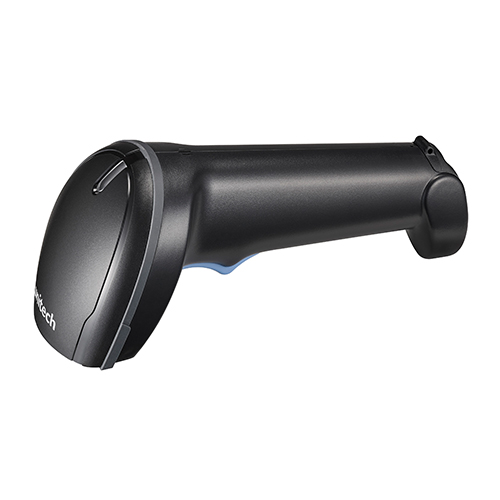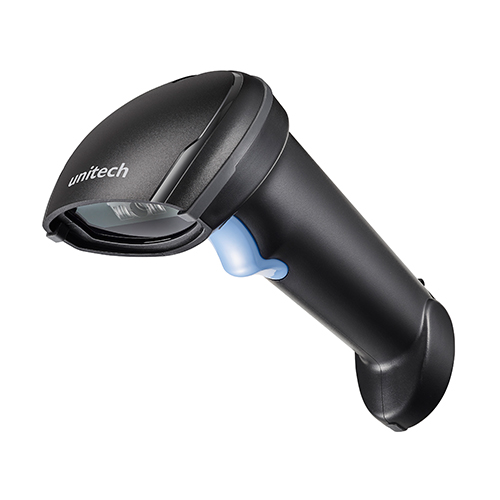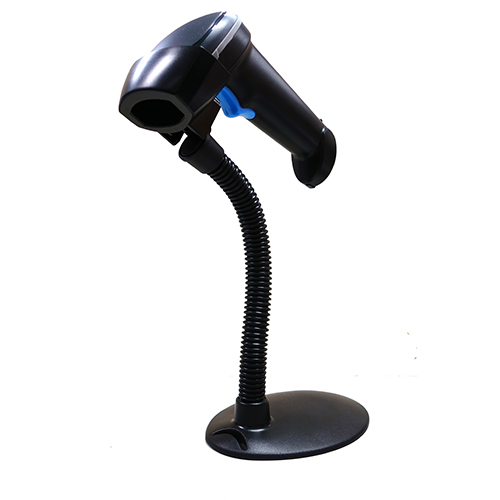 The MS340 is a long-distance scanner, meaning you don't have to make contact with a barcode to read it. Bring greater flexibility and lasting durability to your data collection process.
Features
• Long-range scanning: up to 15 inches
• Superior scanning: up to 500 scans/sec
• Reads all common 1D barcodes including GS1 DataBar and stacked codes
• Hands-free stand available
• Withstands 5-foot drops to concrete
• Interface options: USB, RS232, Keyboard Wedge
• Environmentally sealed against moisture and dust
• Warranty: 5 Years
Next Generation Scanning
It's possible to get the most advanced scanning technology for your business without blowing your budget. Get the quickest read with an aggressive and accurate scan engine that reads barcodes over a foot away. The MS340 can decode all common 1D barcodes in both manual and presentation mode.
Ergonomic Design
Featuring a lighter and more streamlined design, the MS340 barcode scanner weighs just 6 ounces. A comfortable and ergonomic grip makes scanning a breeze. Go completely hands-free with the optional stand by switching to Presentation Mode and the MS340 will auto detect your barcodes.
Dependable & Rugged
It's important to choose a scanner that will last. Our MS340 is certified to meet the highest standards of durability. Its rugged design is sealed against potential hazards and resists dust and moisture. The MS340 is proven to withstand multiple 5-foot falls to tough surfaces such as concrete. All of this is backed by a 5-year warranty.
TAA Compliant Barcode Scanners

Learn more about Unitech TAA Compliant Product List :

Wired Barcode Scanners
- MS852
- MS852+
- MS282e
- MS340
- MS250

Wireless Barcode Scanners
- MS851B
- MS842P
- MS840P
Wearable Scanners
- MS622
Pocket Scanners
- MS912+
- MS910+
ESD Safe Barcode Scanners
Anti-microbial 2D barcode scanner
- MS925 HC
Optical & Performance
Sensor

Linear CCD Sensor
Processor type:ARM Cortex™-M3, 32-bit

Aiming Element

N/A

Illumination

Visible Red light 635nm LED

Ambient Light

100,000 Lux (Sunlight)

Scan Rate

Smart detection, up to 500 scans per second

Skew Angle

± 60°(±5°)

Pitch Angle Sensor

±10°~65°(±5°)

Roll Angle

±25°

Optical Resolution

4mil/0.1mm@PCS90%, Code39

Printing Contrast Scale

Minimum 30%

Depth of Field

Up to 400 mm@20mil/0.5mm, PCS90%, Code39
Density | Near | Far |
------------------------------------------------------------
0.1mm / 4mil | 80mm | 120mm
0.127mm / 5mil | 70mm | 140mm
------------------------------------------------------------
0.15mm / 6mil | 60mm | 170mm
0.26mm / 10mil | 40mm | 220mm
------------------------------------------------------------
0.33mm / 13mil | 40mm | 330mm
------------------------------------------------------------
0.39mm / 15mil | 40mm | 370mm
------------------------------------------------------------
0.5mm / 20mil | 40mm | 400mm
Communication
Host Interface supported

KBW / RS232 / USB
Mechanical
Dimension

6.5 in. H x 2.8 in. W x 2.8 in. D
72 mm x 70.3 mm x 164 mm

Weight

6.1 oz.
173.5 g

Trigger Switch Life

1,000,000 times
Functionality
Operation Mode

Handheld / Presentation
Symbologies
1D Barcodes

All UPC/EAN/JAN, EAN128 Code, Code 39,
Code 39 Full ASCII Code32 / Italian Pharmacy,
Code 128, CODABAR/NW7 Interleave 25,
Industrial 25, Matrix 25,MSI/PLESSEY,
Telepen Code 93, Code 11, China Postage,
Code 26,LCD25, GS1 DataBar
Electrical
Operation Voltage

DC 5V ± 5%

Current Consumption

Operation mode: <145mA, Standby mode: <60mA

Indicator

Buzzer, LED
Environmental
ESD Protection

Functional after 8K Contact and 12K Air

Mechanical Shock

5-feet (1.5M) onto concrete - scanner only

Operating Temperature

0 °C to 50 °C (32 °F to 122 °F)

Storage Temperature

-20°C to 70°C (-4°F to 158°F)

Relative Humidity

20% to 95% (Non-condensing)

IP Rating

IP42
Accessories
Items

■Hand-free stand (Optional) (PN#5200-900006G)
Regulatory Approvals
Regulatory Approvals

CE, FCC, VCCI, BSMI, TAA Compliant
What comes in the box
The standard package contents

■ MS340 Scanner
■ Interface cable