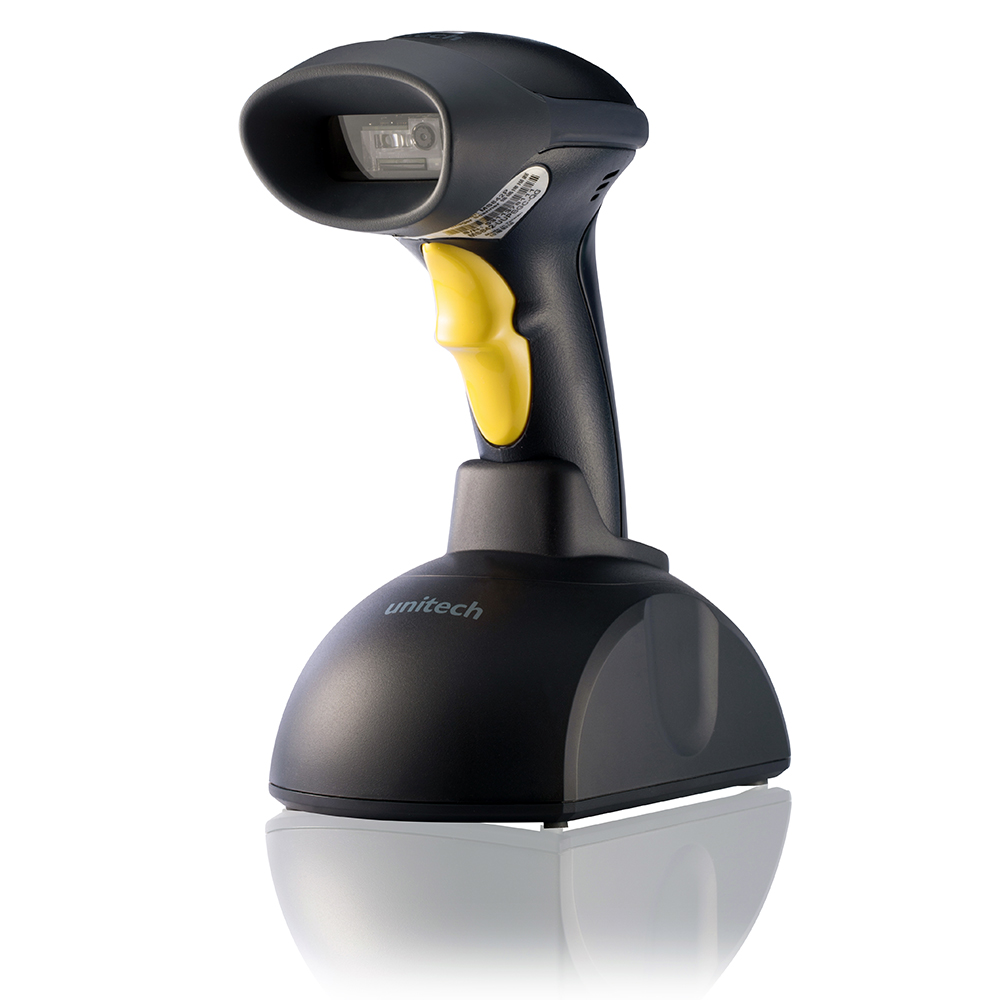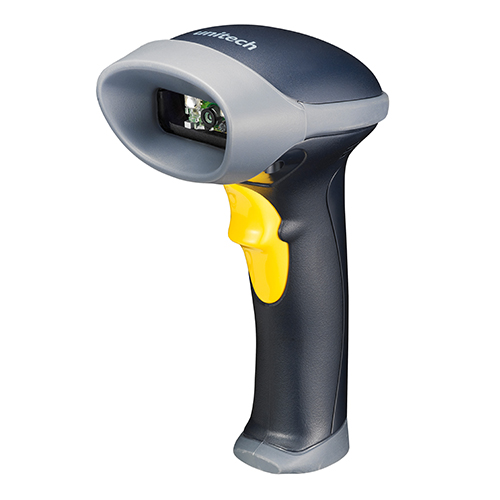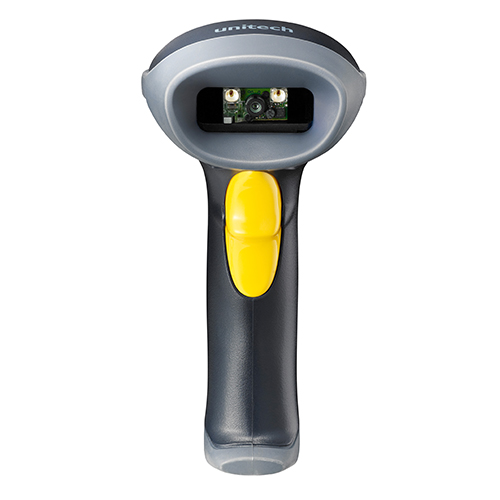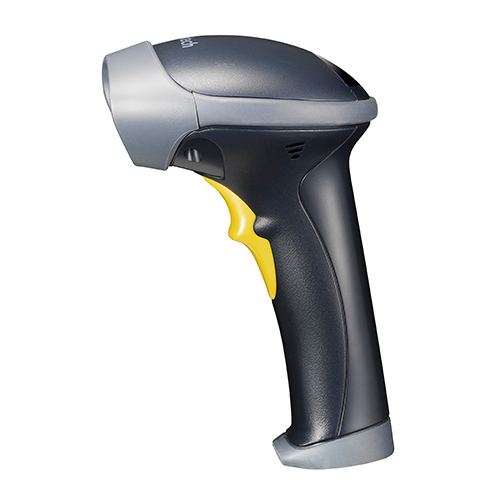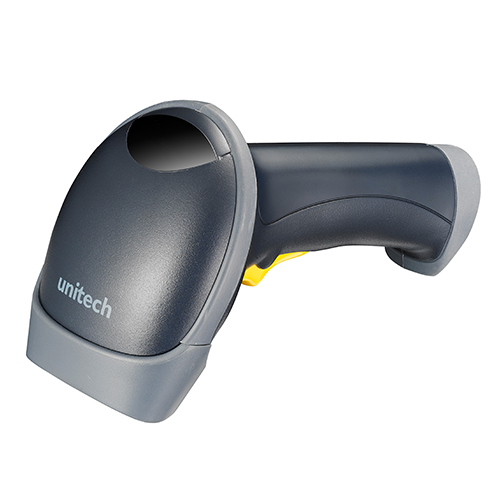 Experience the freedom of wireless scanning with the unitech MS842P DPM (wireless version of the new MS842 DPM series) high-performance barcode scanner. Delivering efficiency, durability and compact size, the device combines superior 1D and 2D barcode, as well as direct part marks scanning with the freedom of wireless technology.
Features
• Mobility wireless design with 10M operation range
• Advanced barcode reading technology for decoding Direct Part Marking (DPM)
• Supports most 1D and 2D barcodes and direct part marking (DPM)
• Durable, Compact and Long life trigger design
• Rugged design by IP42 and 1.8m drops
• Buffer mode for out-of-range reading
Direct Part Marking
Direct Part Marking is a process that allows users to mark a barcode directly on an item instead of printing the barcode on a label, such as plastic and metal. There are three main technologies available for DPM: laser etched marking, dot peening and ink jet printing, with the intent to create a permanent identifier for the item. The permanent nature of the marking, assures that the item can be identified throughout its full life-cycle during the supply chain, even while being exposed to harsh environmental conditions. When it comes to identifying DPM parts throughout the manufacturing process, tracking your valuable assets though their lifecycle or quality control – the unitech MS842P DPM really gets the job done! The MS842P DPM is the ideal solution for the Manufacturing, automotive, aeronautical, medical care, electronic equipment and healthcare markets, where assets are critical.
Durable / Versatile Design
While sustaining a 1.8 meter drop to concrete, MS842P DPM incorporated with IP42 rugged design for protection against dust and moisture. In additions to offer a 10M operation range via its USB dongle, the simple plug-and-play design of MS842P DPM makes the installation much easier without complicated set-up. Moreover, the built-in long life trigger of 10 million times guarantees a continuous productivity for best reliability. In addition to all of those benefits, the MS842P DPM helps to store data in a buffer mode while it is out of range of the wireless signal, and also upload the data when it gets back in range.
Improved Efficiency / Productivity
Beyond its versatility, the desktop charging cradle is provided to store and recharge the scanner, as well as to check the charging status by the power LED indicators. Featuring high speed decoder and high performance engine, MS842P DPM is a great tool to improve productivity at the point of sale, industrial shipment management and inventory management. There is no doubt that MS842P DPM is one of the most efficient wireless scanning solutions in its class.
TAA Compliant Barcode Scanners

Learn more about Unitech TAA Compliant Product List :

Wired Barcode Scanners
- MS852
- MS852+
- MS282e
- MS340
- MS250

Wireless Barcode Scanners
- MS851B
- MS842P
- MS840P
Wearable Scanners
- MS622
Pocket Scanners
- MS912+
- MS910+
ESD Safe Barcode Scanners
Anti-microbial 2D barcode scanner
- MS925 HC
Optical & Performance
Sensor

Image Sensor, 1280 x 960 pixels

Aiming Element

Aiming : 655 nm VLD

Illumination

2* Warm white LEDs

Skew Angle

± 60°

Pitch Angle Sensor

± 60°

Optical Resolution

HD: 3 mil (code 39), 4 mil (PDF417)

Depth of Field

(DOF PCS=80%)
-------------------------------------------------------
Decode Range | Near | Far
3 mil Code 39 | 1.7 in./4.3 cm | 4.3 in./10.9 cm
5 mil Code 128 | 1.7 in./4.3 cm | 4.3 in./10.9 cm
5 mil PDF417 | 1.7* in./4.3 cm | 4.7 in./11.9 cm
6.67 mil PDF417 | 1.9 in./4.8 cm | 4.0 in./10.2 cm
10 mil DataMatrix | 1.6 in./4.1 cm | 4.9 in./12.4 cm
5 mil QR Code | 1.9 in./4.8 cm | 4.0 in./10.2 cm
10 mil QR Code | 1.1 in./2.8 cm | 5.0 in./12.7 cm
100% UPCA | 2.4* in./6.1cm | 7.3 in./18.5 cm
-------------------------------------------------------
Communication
Radio

Unlicensed 2.4GHz

Wireless Coverage

10M( line of sight)

Protocol

Wireless,SPP & HID profiles

Host Interface supported

USB(via Cradle or dongle)
Mechanical
Dimension

176 x 74 x 89 mm

Weight

210g (without cable)

Trigger Switch Life

10 million time

Cradle Dimension

98 x 107 x 45 mm
Functionality
Operation Mode

Trigger Mode, Presentation Mode
Symbologies
1D Barcodes

Code 39, Full ASCII Code39, Interleave 2 of 5,
Standard 2 of 5, UPC A/E, Delta Code, Label Code,
MSI/ Plessy, Codabar, Code 11, EAN8/13, Code 93,
Code 128, EAN128, Code32,Toshiba Code, GS1
databar Code.

2D Barcodes

2D: PDF417, MicroPDF417, Datamatrix, QR Code,
Micro QR Code, Aztec, RSS , Composite, TLC -39,
MaxiCode. Postal: US PostNet, US Planet, UK Postal,
Australian Postal, Japan Postal, Dutch Postal (KIX)

DPM Barcodes

DPM Barcodes

Data Formatting

Prefix, Suffix, Code ID, Reformatting Date
Electrical
Operation Voltage

DC 3V to 5V

Current Consumption

Operation mode:80.6mA , Standby mode:14.6mA

Battery Type

Lithium-ion

Battery Capacity

1600mAh charged via the cradle

Battery Charging time

Fully charged in 4 hours

Operating Time

Over 12 hours
Environmental
ESD Protection

Functional after 8K Contact and 12K Air

Mechanical Shock

1.8m onto concrete (scanner only)

Operating Temperature

0°C to 50°C

Storage Temperature

-30°C to 70°C

Relative Humidity

5% to 90% non-condensing

IP Rating

IP42
Accessories
Items

■ Cradle (PN# 5000-900039G)
■ Dongle (PN# 5500-900086G )
■ Battery pack (PN# 1400-900014G)
■ USB Cable for dongle (PN# 1550-900058G)
■ USB cable for cradle (PN# 1550-600626G)
■ Power adaptor (PN# 1010-900014G)
Regulatory Approvals
Regulatory Approvals

CE, FCC, BSMI, VCCI, TAA Compliant
What comes in the box
The standard package contents

The standard package with dongle only:
■ MS842P DPM scanner
■ Power adapter
■ Dongle
■ USB extension cable for dongle

The standard package with dongle & cradle:
■ MS842P DPM scanner
■ Power adapter
■ Dongle,
■ Cradle connection cable
■ Cradle
Warranty
Hardware Warranty

Up to 1 year

Statement

The warranty covers natural failures due to regular usage. Damages caused by drops or other incidents are not covered. And different regions may have varying warranty terms. Please contact your local representative for further extended information.